ABInvesting review – Take trading to another level with this broker
Finding a trustworthy Forex broker is not easy. This is especially true for beginner traders because they are having a very hard time understanding what to look for in a broker. Today, we have decided to review ABInvesting, a newly established Forex broker that has already managed to attract thousands of traders.
This is not something that happens frequently in the Forex trading market. Usually, it takes years for brokers to become well-known in the market. So, how did ABInvesting manage to become so popular in such a short time? The answer to this question can be found in the services of the broker.
ABInvesting offers traders access to more than 350 trading assets, with the well-known MetaTrader 4 platform. The Forex broker has noted many times that safety and security are the number one priority of ABInvesting. This makes it a perfect broker for experienced and beginner traders alike.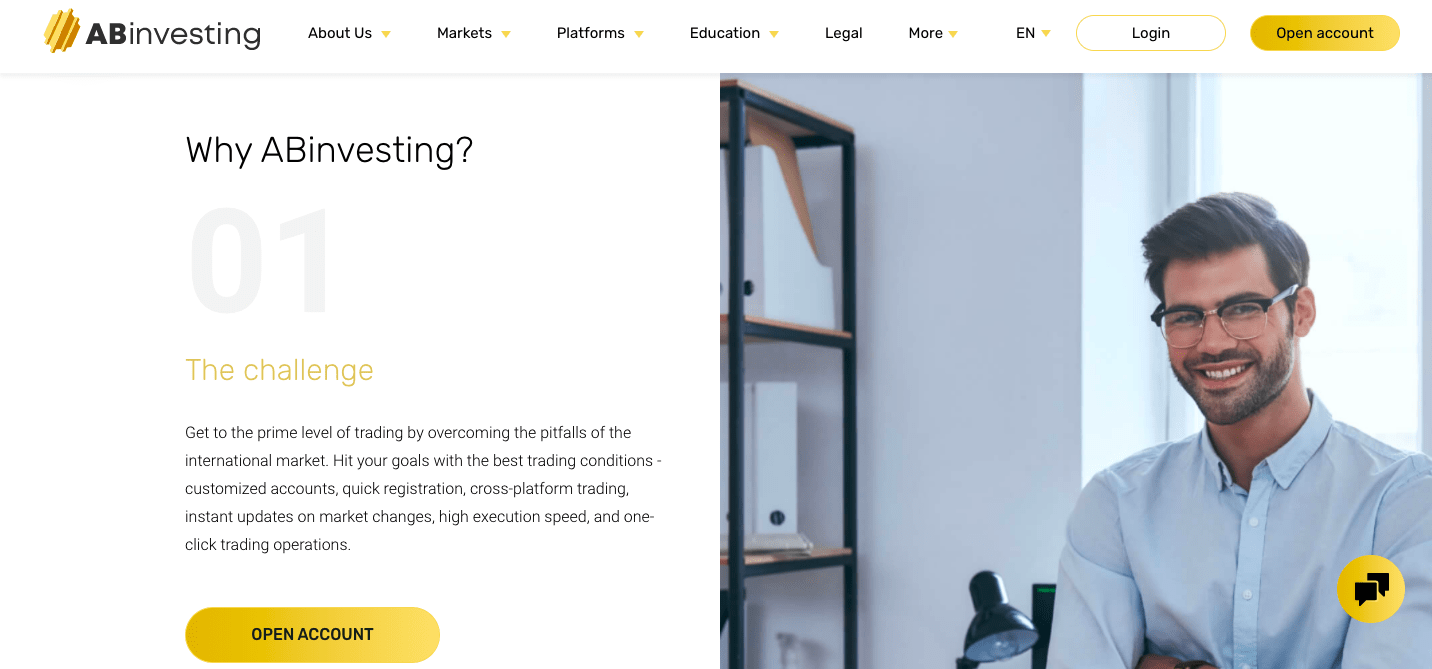 Review of ABInvesting – A quick overview
The Forex broker was established just recently, in 2020. The broker mainly focuses on the regions of Asia, Africa, and South America. The broker was created by a team of professional traders, who have decades-long of experience in Forex trading. This means that the team behind the broker knows exactly what traders are looking for and does its best to make sure everyone can find something to enjoy.
There are three different types of accounts available for Forex traders, making sure that traders of every level can start investing at ABInvesting. The trading platform of the broker, MetaTrader 4, is one of the most loved and appreciated platforms in the market.
All of this makes this broker a great choice for traders of every level. The company is committed to creating a safe and secure environment and there are certain policies that it has adopted to make sure every trader stays safe. We will discuss more details about ABInvesting's offerings later in our review.
The safety of your funds – Reviewing ABInvesting
The most important thing while choosing a Forex broker to start trading with is the safety and security that it offers. One way that you can make sure that you are trading with a trustworthy broker is to trade with regulated companies. ABInvesting is very strictly following the regulatory framework of the Mauritius Financial Services Commission, FSC.
The Forex broker is required to follow every rule that was set out by the regulatory authority, which is aimed at making the market more transparent and reliable. The broker is dedicated to offering its clients high liquidity instruments to guarantee success in the market. The broker focuses on many different factors to make sure that everyone can stay safe while trading Forex. It takes good care of the funds of its clients and focuses on the growth of the trader.
The broker also makes sure that all of its clients are well-educated about the Forex trading market. For this purpose, ABInvesting offers traders a great deal of educational material, which is full of very useful webinars, ebooks, tips, and masterclasses prepared by very successful traders.
Steps to start trading at ABInvesting
Getting started at this Forex broker is fairly easy. It will only take you several minutes to create a live trading account and start opening positions. That said, you will still have to provide different types of documentation to prove your identity. This is required by the Know Your Customer policy, which the broke every strictly follows.
The KYC policy is a great tool to fight against money laundering. Because of this policy, you will have to provide a copy of your national ID or passport to the broker, while also showing them a copy of a utility bill issued over the last three months. This way, you will be verifying your identity as well as your location.

There are three types of accounts available at ABInvesting, they are:
Silver Account
Gold Account
Platinum Account
All of these three are very different from one another and are created for different types of traders. The leverage differs according to the trading account that you are using. The lowest average is offered to silver account holders, while platinum account users can trade with the highest leverage.
Demo account of ABInvesting reviewed
Demo trading account is an amazing way to start trading Forex. While using a demo account offered by ABInvesting, the broker will provide you with a certain amount of virtual cash that you can use for trading. Although it is true that you won't be able to gain any profits with a demo account, it still is considered to be a great way to start trading in this market.
A demo account can also be used by more experienced Forex traders to learn more about their skills. It can be used to try out different types of trading strategies and see which one works better for you. All-in-all, a demo account is a great offering that lets traders learn more about the market and the broker as well.
Islamic account of ABInvesting
While in Islam trading is mostly considered to be haram, it is still very much possible to trade while also respecting your religious beliefs. The key in this is using an Islamic Forex trading account. To those of Muslim faith, this account offers swap-free trading.
The Swap-Free Islamic account is a halal trading account that is offered by ABInvesting to those who respect the Quran and want to start trading following the principles of Islamic finance. The Sharia law of the Quran prohibits the accumulation of interest, because of this, traders with Islamic accounts do not pay or receive any interest rates.
Depositing funds on your account
After you have decided which account type you want to create, it is time for you to make your first deposits. There are several options that you have to make payments. First of all, you have the ability to use more traditional payment solutions, such as credit/debit cards and bank transfers, or go with modern payment methods line E-Wallets, including Neteller.

The broker charges no commissions on payments, and they are processed in a very short time. The minimum deposit to create a live trading account is $250.
After you have deposited funds on your trading account, it is time to choose which asset you want to trade, open a trading platform and start opening and closing positions.
What can you trade at ABInvesting?
As we have already said, the Forex broker offers access to more than 350 trading assets. This means that the clients of ABInvesting will very easily find something that they like, and those looking forward to diversifying their trading portfolio will love the offering of ABInvesting.
You can trade the following assets at this Forex broker:
Forex Currency Pairs
Stocks
Indices
Commodities
Cryptocurrencies
Precious Metals
Our review of ABInvesting shows that the broker largely focuses on currency trading. There are more than 45 currency pairs available for traders, including Major Currency Pairs, Minor Currency Pairs, and Exotic Currency Pairs. The leverage available for Forex traders largely depends on the trading account they are using. For silver account holders, the maximum leverage on Forex is limited to 1:200, for Gold Account traders the leverage can go up to 1:400. The highest leverage offered for Platinum Account holders trading Forex, which can go up to 1:500.

ABInvesting also offers precious metals trading, including Gold and Silver. They are very popular assets among traders for long-term investment. Gold is also known as the safe-haven asset, which means that financial crisis and unexpected news can only slightly alter its price. Traders can also have access to stocks trading at ABInvesting, which is one of the biggest markets online. There are stocks of leading companies available at ABInvesting, including Apple, Microsoft, and others.
You can also trade indices with this broker, and two types of commodities, soft and hard. The leverage for metals, indices, and commodities is 1:50 with a silver account, 1:100 with a gold account, and 1:125 with the platinum account. As for stock and equities, the leverage is only 1:20 with a silver account, gold account holders can access slightly higher leverage, 1:40, while platinum traders can access leverage of 1:50.
The lowest leverage is available for crypto traders, who can trade with a maximum leverage of 1:2.
Trading platforms of ABInvesting reviewed
The trading platform is an integral part of Forex trading. It is something that you will spend most of your time using while trading Forex. As a trader, you will be opening and closing positions using a trading platform, which means that it is absolutely important to use the one that offers a user-friendly experience.
You can use the following trading platforms at ABInvesting:
MetaTrader 4
WebTrader
Mobile Application
MetaTrader 4 is by far the most popular trading platform, developed by a famous Russian company called MetaQuotes. MT4 was created in 2005, and after 16 years, it stands to be used by more than 90 Forex brokers online. MetaTrader 4 has forever changed the way people trade Forex, and it has made everything more accessible for everyone.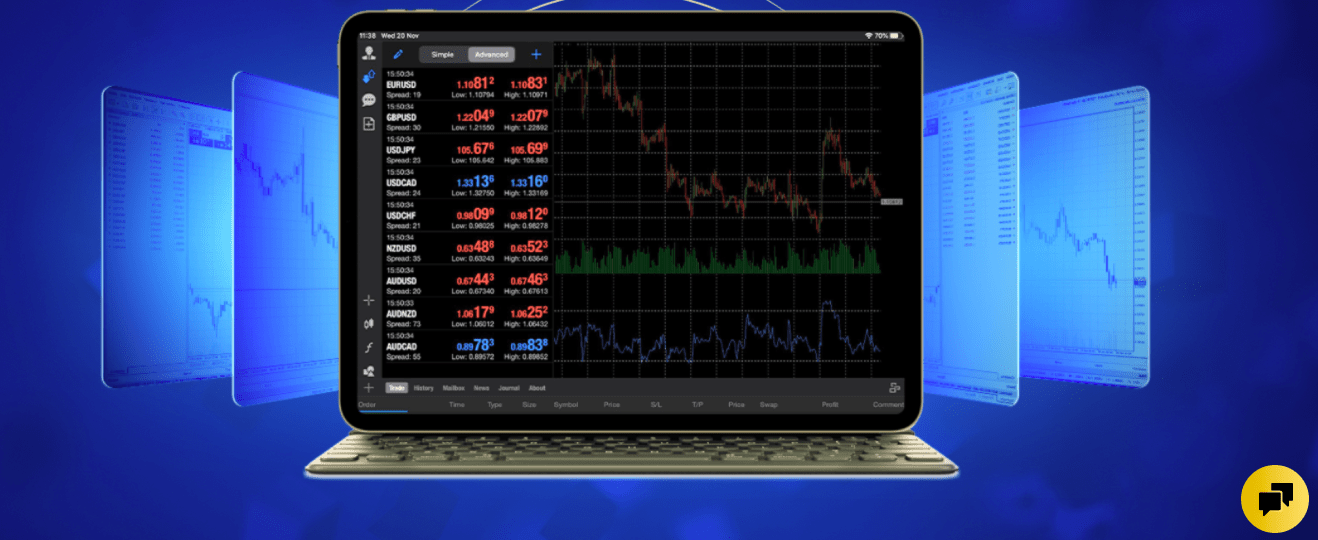 MetaTrader 4 will give you access to trading indicators designed to make trading much. The trading platform also offers different types of tools that can be very helpful for traders. The best thing about this platform is that it can be used for much more than the actual process of trading.
You will be able to do charting on MetaTrader 4 as well and work on your analysis. This can be a very great thing, because, instead of using different applications for analyses and trading, at MetaTrader 4, you can do both to them together.
As our review of ABInvesting shows, the Forex broker also offers traders access to the browser-based trading platform, known as the WebTrader. If you are someone who does not want to download additional applications on their computer, WebTrader is an amazing offering. With this platform, you will be able to access the trading market directly from the browser in just a few clicks.
The interface of the WebTrader is very similar to MT4, which makes using it very easy. If you are familiar with MetaTrader 4, you will not. have any problems with using the WebTrader. It is very user-friendly and can be used very successfully by even those who have just started Forex trading.
Trading Forex using your smartphone at ABInvesting
Where reviewing ABInvesting, we were very glad to see that the broker offers traders specially created mobile applications. These applications can be used by traders to invest in any market using only their phones. This way, no matter where you are what you are doing, you will always be able to access the Forex trading market.
Another great thing about the ABInvesting mobile application is that it offers traders different types of indicators and tools, you can also do charting at ABInvesting's mobile application, which is an amazing offering. The mobile application can be used on both iOS and Android devices and can be downloaded through App Store and Play Store.
Reviewing ABInvesting – The customer support team
We were very glad to see that the customer support team of the Forex broker is very helpful and is always ready to provide needed information and/or assistance to the clients of the Forex broker. There are different ways you can contact the customer support team, which includes:
Online live chat
Special Email – support@Abinvesting.com
Phone number – +441214682461

We have tried contacting the Forex broker through all available methods and were very glad to see that we received feedback very fast. The best thing about it is that the answers were very detailed and showed that the customer support team is full of professionals who are always ready to provide much-needed help to traders.
The website of the broker
While reviewing ABInvesting, we wanted to focus on different parts of the Forex broker. We have reviewed the website of the broker and we were very glad to see that the website is full of information that is necessary for traders. The website looks very modern and professional, the pages are created in a very logical manner, providing detailed information on every little thing about the broker.
Learn more while trading Forex with ABInvesting reviewed
In Forex trading, one of the most important things is your education. The more you know about Forex trading, the easier it is for you to make it far in this market. If you are someone who is just getting started in the market, it is even more important to learn everything about every little detail in Forex.

Some regulatory agencies require Forex brokers to offer their clients educational material because of its importance in trading. We were very glad to see that this Forex broker offers traders a huge list of educational material. This includes everything from webinars, to E-Books, to special video conferences.
The educational material of ABInvesting is created by the most experienced traders, which means that it is full of things that necessary for traders to know. The best thing about the educational material of ABInvesting is that it can be useful for beginner and experienced traders alike.
Can you trust ABInvesting?
We have reviewed ABInvesting and discussed every little detail about the Forex broker. After our very detailed review, we are able to say that ABInvesting is a legit Forex broker. It offers amazing services to its clients and focuses on the safety and security of their funds.
Although the broker was established just recently, it has already managed to attract thousands of traders. The main reason for this is the amazing services that it offers to traders. Because of this and many other reasons, we are very confidently recommending this  Forex broker to our readers.