HFTrading Review – is it legit?

People engage in online trading for the sole reason of earning a profit. And for many of them, the industry proves to be lucrative indeed.
However, it's not to say that online trading is all sunshine and rainbows. The danger of making an incorrect trade and losing money lurks at every corner. Not only that, even the service providers – brokers – pose a threat to the customers because some of them turn out to be scammers.
That's why it's of the utmost importance to choose brokers very carefully. Finding the right one can positively influence one's trading experience.
In this review, we'll take a look at yet another broker, HFTrading FX brokerage, examine its offerings, and see whether it's worth traders' attention. So, without further ado, let's get straight to the review.
First impressions do matter!
HFTrading has started its career as in 2010, establishing an online brokerage company. In its decade-long existence, the broker has managed to receive some prestigious trophies from famous award ceremonies, proving to be among the most elite service providers on the market.
This fact alone, that HFTrading is a widely-acclaimed online Forex broker, speaks volumes about its credibility and fame. But worry not, you'll find more proofs later in the review.
Is HFTrading legit?
The first main point that is worth noting is the licensing materials that regulate the broker's financial activities. At the time of establishment, in 2010, HFTrading became a subject of regulatory oversight of Australia's ASIC organ, which is the country's main financial regulator.
But since the broker also established its headquarters in Christchurch, New Zealand, and London, UK, the two countries have also put it under their financial control with FMA (NZ) and FCA (UK) licenses. Having the three fully-working licenses in its check, the rumors of HFTrading fraud couldn't be further from the truth.
Spot-on website
The next point that's worth our readers' attention is that the website, where all the trading and informative exchange takes place, is also pretty well-polished. The interface has a nice feel to it – not too complicated, yet not lacking the informativeness.
Not only that, but the account separation is also quite spot-on. For the regular traders, who have already kickstarted their career and have mastered the art of trading, the broker has three accounts – Silver, Gold, and Platinum.
But there's another type of account that is specifically designed for beginner traders. It's called a demo account and it provides a full-fledged online trading experience with a virtual $10,000 account size. More about how this method works down below.
And since we're here, the trading software has a lot of flexibility and sophistication as well. The broker uses the conventional WebTrader software complemented with MetaTrader 4 that works on every major device, be it a laptop or a smartphone, that exists on the market today.
Down-to-earth trading conditions
The final point in our brief overview is the HFTrading promotions and trading conditions. The broker doesn't seem to be boasting with flashy offers and prefers playing a down-to-earth game. What this means is that leverages, spreads, and other trading conditions are pretty decent but not too bloated. For example, 0.1 pips on spreads is quite a good offering, yet it doesn't look too good to be true.
And that's the main idea here: a broker that doesn't want to trick its customers with seemingly impressive offerings is far more believable than those who claim to have no spreads or 1:1000 leverages, only to turn out to be regular scammers.
And when it comes to deposit and withdrawal methods, the broker is still playing it low without too-fancy financial platforms. A trader can find the regular credit card and bank wire transfers, as well as Neteller and Skrill e-wallets, that have been tested and proven effective in these kinds of payments. And the transactions with these platforms are impressively flexible, allowing traders to deposit/withdraw large sums of money per day.
So, the overall initial impression is that the HFTrading Forex broker seems credible with its licensing, website, and trading offerings.
How the HFTrading rating stacks up against its license
Okay, now it's time to actually review each of the points individually and in detail. Let's begin by the licensing part.
As you already know, HFTrading has three separate licenses from three different countries. Right after it was established in 2010, the broker received a license from Australia – more precisely, the Australian Securities and Investments Commission which is the country's main financial regulator. Australia is one of the biggest online trading markets in the world, and while some people would be skeptical about its regulatory abilities, the country is very much capable of controlling its subjects. And the ASIC license, therefore, is as legit as it can get.
The next two licenses are FMA and FCA, provided by New Zealand and the United Kingdom. Since the broker has headquarters and offices in Christchurch and London, it is no wonder these countries have put the company under their regulatory oversight. And maybe New Zealand's Financial Markets Authority might not be as powerful as ASIC, the UK with its Financial Conduct Authority is certainly not an institution to be trifled with.
All in all, the three licenses – ASIC, FMA, and FCA – are constantly monitoring all the activities of the broker, not allowing any HFTrading scam to occur.
In-depth website review
Let's now move to the website and software review. The overall interface of it looks pretty polished, without complicated visual and transitional effects and rich vibrant colors. A 10-year-long experience has taught the broker that when it comes to conveying a piece of information, it's best to do that straight away without beating around the bush.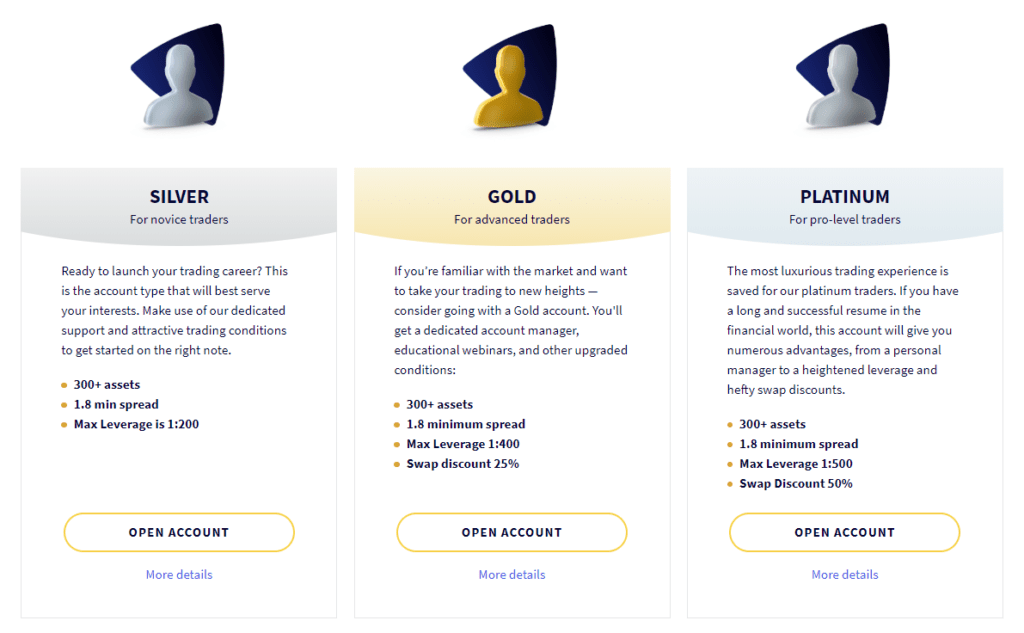 And this method works: the informational side of the website is not being sacrificed for some unnecessary design decorations. Instead, a trader can head over to any section and look for trading conditions, indicators, different account types, etc.
The trading software is also worth noting because if it's not streamlined, that is, not keeping up with current trends and market events, it can have a negative influence on a trader's online venture. That's why the broker has chosen a WebTrader software that works with every major online browser, be it Google Chrome, Mozilla Firefox, Safari, etc. On top of that, the HFTrading MT4 (MetaTrader 4) is allowing traders to start trading on their desktop device and carry on on their Android/iOS smartphone at any point of the trade. For what it's worth, they can even start trading on mobile from the beginning.
As noted above, there's actually one additional account type – a demo account. Brokers usually offer the demo accounts so that the newcomers in this field can easily learn all the major elements and indicators of online trading, as well as gain experience by actually trading. This is made possible by a virtual account size that is constantly refilled so that traders can go on trading in real-time while not risking any of their or the broker's money.
Decent trading conditions to round up our HFTrading opinion
Last, but not least, the trading terms and conditions. As we've already established, the broker doesn't boast with the fancy leverages, spreads, and other indicators and uses down-to-earth promotions. Let's begin by examining the leverage.
HFTrading has a maximum leverage of 1:500 ratio which is somewhere in between the market average. Leverage is often offered by Forex brokers to allow the traders to control bigger position sizes. For instance, if a trader makes a deposit of $500, it's not going to be enough for them to receive sufficient payouts. However, when the leverage applied, the initial deposits are increased by the amount indicated in the ratio.
In this case, the initial $500 deposit would be increased by x500 to become a $250,000 position size. And since the average percentage of usable money is around 1-5%, traders can get withdraw about $2,500-$12,500 from their accounts. So, the 1:500 leverage is quite beneficial to HFTrading's customers. But it's not like those artificially bloated 1:1000 leverage ratios that really are too good to be true.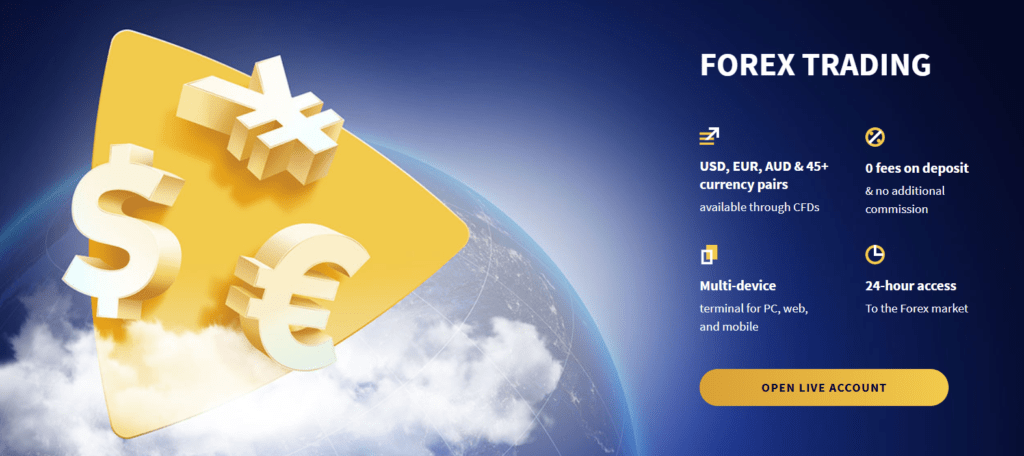 Next up, spreads. Spreads are basically a difference between the bid and ask prices for a certain asset, be it currency pair, stock, or anything else. Since we're talking about Forex, let's focus on currency pairs. For example, if the EUR/USD pair has a bidding price of 1.1897 and the asking price of 1.1899, the spread will be 2 pips (0.0002). This means that brokers are buying currencies more cheaply and selling them more expensively. That's because most of the time, brokers generate their own profit using spreads – not commissions.
So, HFTrading has a minimum spread of 0.1 pip which is pretty good, not taking up too much of a trader's profits away. But it's not like the broker isn't taking away anything – that would seem too unrealistic.
Payment platforms and bonuses
And when it comes to the minimum deposit requirements, the broker doesn't have any specific demand from the traders – they can deposit as much as they want and do trading whenever they want. This is especially beneficial for beginner traders who want to minimize risks that accompany every trade. Sure, they can use demo accounts, but some traders still want to experience the risk – but not too much. And HFTrading offers them just that.
Then come the deposit and withdrawal platforms. HFTrading isn't any regular broker that follows the unfounded financial trends and incorporates every new platform into its services. Here's what I mean: many brokers offer cryptocurrencies as a main method of payment, and they claim that these digital currencies are safe, secure, and fast. But in real life, there are many uncertainties associated with them.
With HFTrading, the game is simple and safe. The broker uses conventional credit cards and bank wire, complemented with Skrill and Neteller, to execute transactions. And, to make the platform even more special, there are no commissions to the transactions whatsoever.

Final thoughts
Brokers are incremental to the online trading industry. Be it Forex, stocks, commodities, or any other market, their presence and service are necessary to provide a trading platform that works in favor of the traders.
With HFTrading, that's the feeling one gets when they check out its regulatory measures, software, or the trading terms and conditions. Right after it emerged on the market in 2010, the broker became a subject of regulatory oversight of three different institutions – Australia's ASIC, New Zealand's FMA, and the UK's FCA. And these bodies ensure that there are no fraud or scam activities that can undermine HFTrading's customer safety.
The broker's website looks slender and simplistic, while not sacrificing the informative side of the website. As for the trading software, there are WebTrader and MetaTrader 4 – two of the most popular programs – ready to serve the traders. And the account separation is also spot-on – three live accounts and one demo account, that works for both experienced and beginner traders.
As for the trading terms and conditions, the broker doesn't boast with its 1:500 leverage, 0.1 pips, or no deposit requirement. But it's not to say that these offers aren't beneficial for the traders.
All in all, kudos to HFTrading Forex broker for making a credible platform for traders all around the world!