Equiity Full Review

Equiity is a regulated broker licensed and registered in Mauritius. The broker also has a registration and a payment services provider license in Cyprus. The broker is young but has a well-designed website and well-thought trading conditions. The fact that the company ensured it had not only a license from FSC Mauritius but also a license to provide payments in Cyprus increases its legitimacy. Equity is a serious business oriented to accumulating experienced traders base and promote stability and transparency. There are no hidden costs, and every little detail is shown on the website clearly and in an easily understandable manner.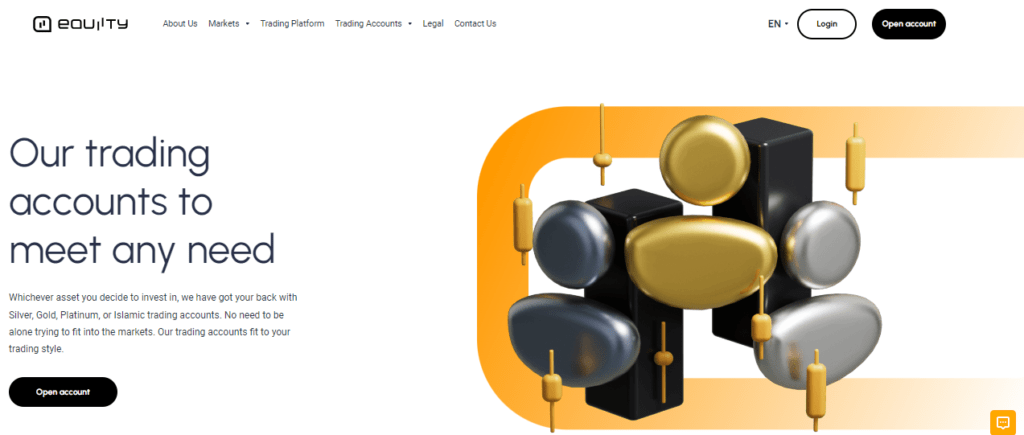 Equiity Brokers History
The Equiity website is owned and operated by the company MRL Investments (MU) Ltd. The company is registered in Mauritius and holds the Financial Services Commission license as a Forex and derivatives provider. The broker has a wide rich but does not provide contracts for differences (CFDs) to certain jurisdictions such as the USA, Iran, Iraq, North Korea, and Canada.
MRL Investment is represented by Equiity, and it strictly follows all safety rules and guidelines proposed by the MU FSC. Despite the FSC being less restrictive regarding leverage, Equity offers only up to 1:200 leverage. With this leverage limit, traders will not easily get overleveraged, reducing the chances of experiencing substantial losses.
Besides the reasonable leverage limits, Equity has also several other security policies protecting its clients and investors in case something goes wrong. Negative balance protection prevents traders from losing more than their initial investment. To say it more clearly, traders can not go into minus if they trade on a highly volatile market. All negative balances will reset to zero, and Equiity will account for any losses beyond the client's funds.
Traders' money is saved in top-tier segregated bank accounts, effectively preventing the broker's employees from touching client funds. This policy ensures that if something happens inside the company, traders' funds are untouched.
Another important policy is that Equiity is a member of the investor compensation fund and in case it goes insolvent, eligible investors will get compensation.
Features offered by Equiity Broker
Equiity is a regulated company that takes client safety very seriously, but it does not end here. The company managed to develop trading services and appealing conditions. Let's explore all the essential features of Equiity below.
Diverse trading instruments
Equiity offers over 350 tradable instruments in a multitude of asset classes such as Forex pairs, precious metals, commodities, indices, stocks, and cryptos. All these assets are CFDs, which give traders greater flexibility during trading. With CFDs, any underlying asset can be traded without actually owning it. Both short selling and buying are possible at a moment's notice, and the execution speeds are defined in milliseconds. CFDs are especially useful for crypto trading because of their execution speed. Cryptos are known for their slow transfer speeds, and traders can speculate instantly with CFDs. Generally, CFDs are cheaper to trade and have more preferable conditions, including lower spreads.
From Forex pairs, 50-plus currencies can be traded. From majors and minors to a multitude of exotics, traders will find it easy to select their favorite currency pair and start trading. As for stock CFDs, all popular stocks are present including Amazon, Tesla, Google, Facebook, and many more.
From cryptos, Bitcoin, Litecoin, Ethereum, BNB, and other popular instruments can be traded as CFDs at lightning speeds. From precious metals gold and silver are offered at moderate spreads, and crude oil comes with the lowest spreads similar to forex major pairs which is very advantageous. A multitude of E-mini and other indexes are accessible through the Equiity web platform with attractive spreads and without hidden costs.
Attractive trading conditions
The leverage system is very appealing and the same on all trading accounts. The maximum leverage for Forex pairs and precious metals is capped at 1:200 which is more than enough. For stocks, max leverage is up to 1:10, 1:50 for commodities other than metals, and indices, and up to 1:5 for digital currencies. While the majority of brokers offer cryptos for 1:2 leverage, Equity excels with 1:5 leverage, appealing to crypto traders and enthusiasts.
There are three trading accounts, silver, gold, and platinum. All accounts offer a minimum lot size of 0.01 lots and the same leverage limits. However, the spreads and trading services accessible are different. For the silver account, spreads on major pairs and crude oil start from 2.6 pips, while for minors it is from 3.4 pips. Gold can be traded from 7.4 pips, which is a bit expensive, but still within an acceptable range. From services, only dedicated support and hedging are available for silver account holders.
For gold accounts, spreads are even lower from 2 pips on major pairs and crude oil. On minors, the gold account offers spreads from 2.8 pips and gold can be traded with 5.6 pips. As for services, a multitude of benefits are available such as a dedicated account manager, webinars & videos, a 25% swap discount, dedicated support, and hedging.
The platinum account offers the lowest spreads among the three accounts. For major currency pairs spreads start from 1.4 pips, the same is true for crude oil. For minor pairs, minimum spreads are 1.8 pips, and for gold, it is just 3.8 pips. Gold trading with 3.8 pips is very attractive as it is known for its higher spreads. The platinum account also excels in the multitude of services it offers to clients. News Alert, dedicated account manager, webinars & videos, 50% swap discount, dedicated support, and hedging.
All trading accounts also come with Islamic or swap-free alternatives, ensuring Sharia law followers can trade comfortably with their preferred account.
For deposits and withdrawals, all popular options are available such as Visa, MasterCard, Neteller, and Skrill.
As we can see, Equity really offers value to its clients with top-notch security and reasonable trading spreads. There are no trading commissions and hidden fees, and the leverage system is very beginner-friendly.
The company also has a network of support in several countries, providing 24/5 hotline assistance to clients. There is also a live chat, email support, and online form to send a message to the broker. Both the websites of Equiity and Support are multilingual and available in English, German, and Arabic languages.
Trading platforms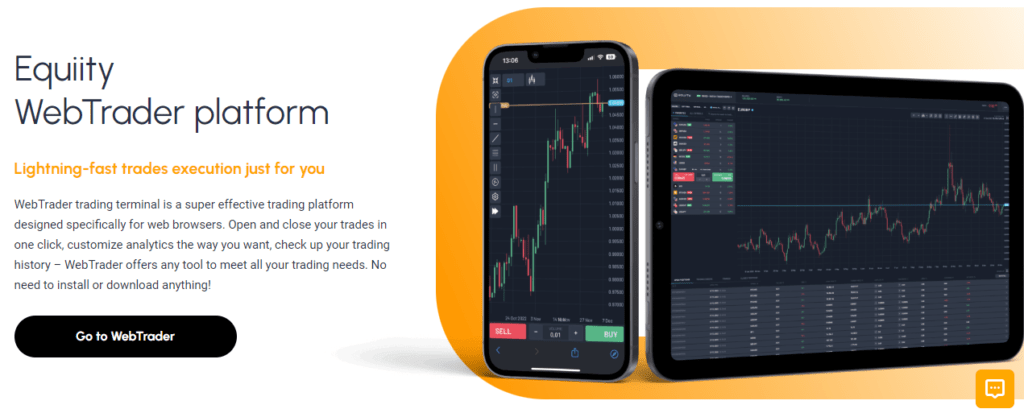 Equiity WebTrader platform is a proprietary trading platform offering all basic functionality. The platform executes trades at lightning speed and allows trade execution with just one click. There are numerous inbuilt indicators like Moving Averages and tools to analyze markets. Stop Loss and Take Profit can be set on each trade and make it easy for a trader to manage their risks.
WebTrader is also accessible from any device with an internet connection and a browser and is mobile-friendly as well.
In conclusion, despite being a relatively young broker, Equity has already shown its serious attitude towards its business. Trading conditions are attractive, and the trading environment is safe, making it a good choice for traders who want to do business with a reliable partner.