Ally Invest Review

One of the most important things you are looking for in a stock broker is their commissions, right? It is absolutely essential that you find somebody who's commissions are directly correlated to the value you will receive with them. In our Ally Invest review we will not only help you find out more about their commissions, but we will also help you to learn about the key features you should be looking for, in order to find a reliable broker.
First Impressions

We don't want to get petty here but we honestly have to. Looking at the webpage, it is not the best we've seen. It certainly isn't the wors but the design choices actually gave us quite a scare making us thing that Ally Invest scam was like any other scammer we've seen. Maybe it's just us, but we believe that a good and customer friendly design is very important to reach your customers well. Sometimes, what we see is actual scammers having better-designed webpages than legit and trustworthy brokers. In this case Ally Invest's website wasn't very easy to navigate in, the information was very scattered and hard to reach, but all in all first impressions didn't make this broker be one of the best we've seen.
Ally Invest Fees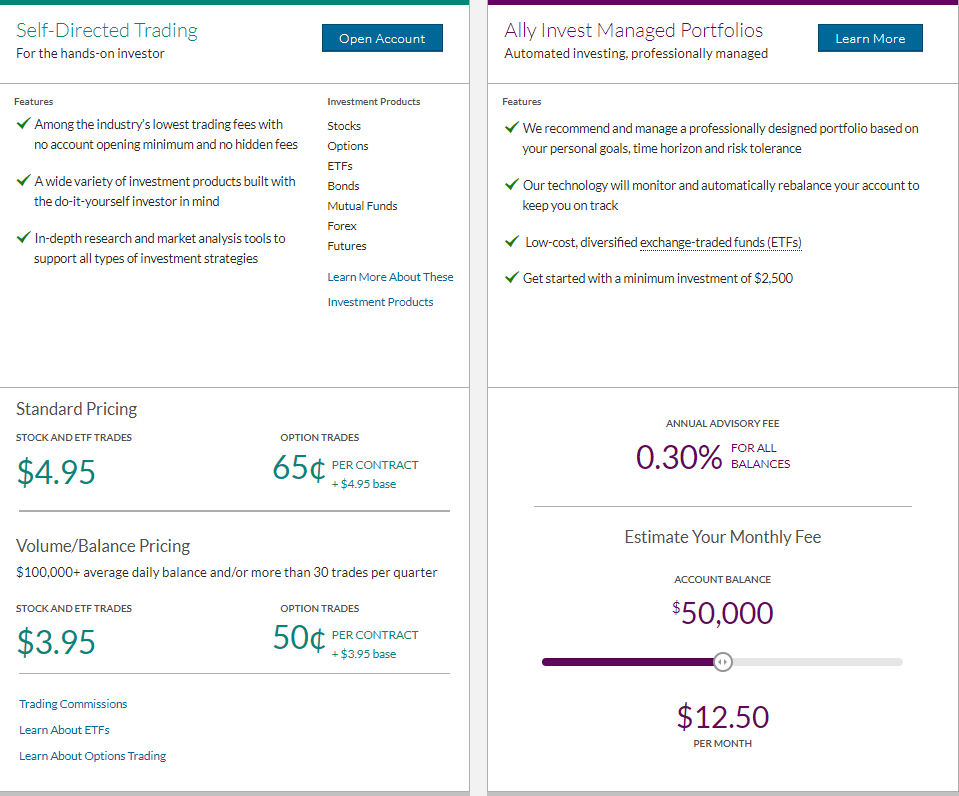 When looking at the commission it may be a far cry about price efficiency. But the fact is that good, regulated and reliable brokers know their price, know the price of the market and will charge for it the best possible way they can so that they the company and you the customer can both win. The platform features stock trades at $4.95 with additional costs of $.65 per contract. This may not be the cheapest deal you've seen with stock brokers but it's the best one you'll get for sure. Also, if you maintain a balance of $100,000 you will get a discount of $3.95 for stocks and $.50 as additional costs per contract.
Even the pre-2017 statistics are showing how efficient and value-based these commission fees were. Ally Invest scam was impossible with all the attention they were getting. They were able to outperform all of the cheaper brokers in the blink of an eye, only proving the fact that their services were based on actual value and that's why they had those costs. AllyInvest was smart enough not to take part in the price war that Charles Schwab started with stock brokers in the United States. They remained on their fixed price of $4.95. Eventually, when everything calmed down, all the cheap and famous stock brokers like Fidelity Investments started to raise their prices as well. Ally Invest fees remained the same because the broker knew their price all along.
In today's numbers, there is absolutely no competition on mutual funds for the stock broker. Unfortunately, however, when it comes to its stock commission fees, they are no longer the best deal you'll receive.
Ally Invest Managed Portfolios
One of the best features that Ally Invest is offering to its customer is the Managed Portfolio. Basically, what the offer is that you create an account and a professional broker will manage it for you, he will generate income for you, he will take positions for you. The good side of it is that you won't have to go to Finance school or do some kind of trading boot camp to start understanding the industry
Ally Invest brokers are one of the best professionals in the country and will take good care of your accounts. The Managed Portfolio has a few features like:
A Low Advisory Fee – One of the most affordable advisory fees that will help you create a lot better future for yourself. They even have a calculator that helps you determine the advisory fee that you will have with your account. One of the most convenient ways of finding out actually, before you actually begin the process.
24/7 Support – A customer service specialist is always one phone call, email or a text message away. In case you start having problems with your investments you can always ask them for some help and within minutes you will have resolved your issue
Better Tools – Some of the trading tools they feature are actually award winning. They are known to be one of the most useful and game-changing tools you can use during your trading activities.
Ally Invest Regulators

Ally Invest proudly demonstrates that their regulators are all the financial regulatory bodies within the United States, it is no secret actually that they are a well-regarded stock broker in the country, given the fact that they have been one of the most popular ones so far.
When it comes to regulators, it is critically important for you to always check whether or not the broker is regulated, for example, if we had checked and found that this broker wasn't regulated we would immediately assume that Ally Invest login was just a trap for the unaware trader.
Ally Invest review summary
All in all, Ally Invest is a solid stockbroker. It definitely is not one of the cheapest ones you can find, but it definitely will show you value for your investments. In regards to commission fees, it used to be the leader, but better technologies managed to bring it down. There is still a lot to be learned about this broker so we encourage you to go and try it out yourself. Give a good look at their website and conduct your own research in order to make a decision best suited for you.