Questrade Review

In order to be as efficient as possible in your trading activities, you need to have a very reliable broker. When it comes to brokers it doesn't matter if they are specifically Forex or stock, the rules apply to all of them. It is always very important to look at all the information provided on their website and base your decision on it. In this Questrade review, we will be looking at all the good factors of a broker that you can deem as a "pass" when researching some. But first…
The essentials of broker searching
When you are looking for brokers, always imagine what type of a customer they would like to look at them if they were to be a scam. Always imagine yourself as the scammers and you'll be able to find quite a lot of features hidden away in the information. You see, a lot of brokers are trying to hide away from the eyes of their regulators but still want to have their name attached to their brands. In order to do this they state everything in their terms & conditions for you to look at, but honestly, nobody expects you to.
Questrade review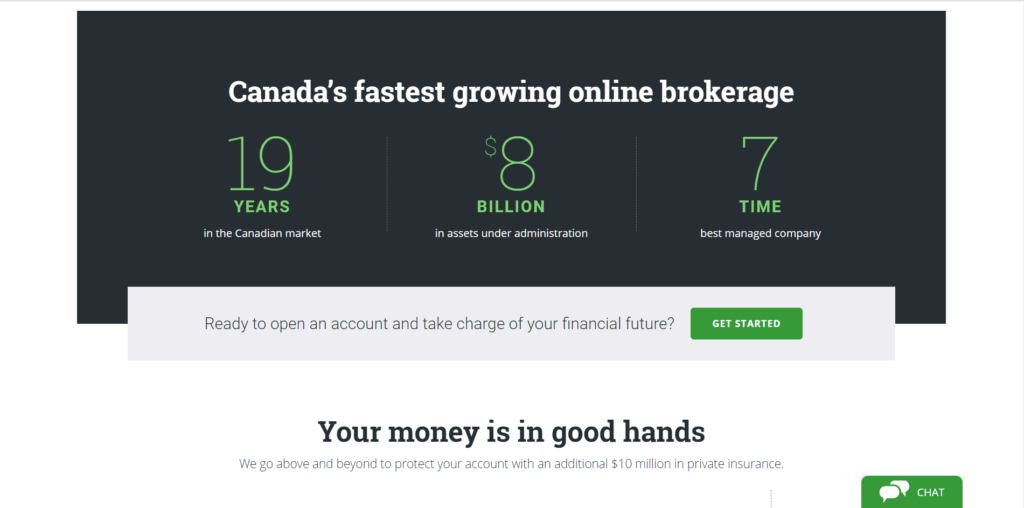 To be honest, we decided to venture to the website with a mindset for finding scams. The reason behind us doing so is that all of the shady activity becomes a lot more clear when your mind is in the right place. We honestly wanted to find a Questrade scam, but all we could find was a good deal.
We stayed true to our philosophy and started with first impressions. Which were quite nice actually, the website was looking nice, all of the information was quite easily accessible and the interface was fairly user-friendly. However we didn't base our decision on the website's first impressions only, we ventured deep into the features of this broker so that you don't have to, let's take a look at them.
Questrade contact solutions
It is important to state how happy we are about this broker featuring quite a sizeable amount of social media as their contact information. Many financial institutions are disregarding the new generation of customers that are coming to them. Questrade was fast to acknowledge them as real customers and was able to quickly identify that this new generation always prefers contact through social media and not conventional ways like phone or email.
Questrade contact can be a blessing if you are a millennial, they are accessible in every popular social media except Instagram, which isn't surprising given the fact that they're a financial company. And, if you're brave enough you can go pay them a visit in North York, Canada 5700 Yonge St.
Questrade Fees
There are two types of payment methods you can choose on Questrade. The pricing systems are dedicated towards stocks, options, and ETFs trading. they are the Democratic pricing and the Questrade Advantage. Let's break them down.
The democratic payment system is pretty much you default stock commission fee system. All of the regular stock trades will send you back $.01 per share and the minimum charge will be the classic $4.95 with a maximum coming in at $9.95. All of these are stock prices, Options have their own system of having an added $1 per contract to the $9.95 and ETFs will cost you nothing in commission fees.
In order to access the Questrade Advantage, you will have to subscribe to at least one advanced market data offering. After this, you will need to select a variable or a fixed rate of pricing. Remember that a fixed rate may get pretty high if you like to buy or withdraw frequently. However, a variable rate may prove pricy as well when buying or withdrawing large amounts. The pricings are quite similar but still different. Stocks come at a cost of $.1 per share with a minimum of $.01 and a maximum of $6.95 for trading. That was the variable plan, however, the fixed plan will be your default pricing like $4.95.
Questrade Regulators
Just like any other broker review, we need to look at how this broker is regulated. It didn't take us too long to find out that they are regulated by the IIROC and CIPF, the main regulatory bodies in Canada, making them a safe bet to start trading with. Please note that even though a broker could be regulated by somebody, they can still manage to scam you. In this case, a Questrade scam was impossible because of the sheer numbers of evidence and customer reviews about the company.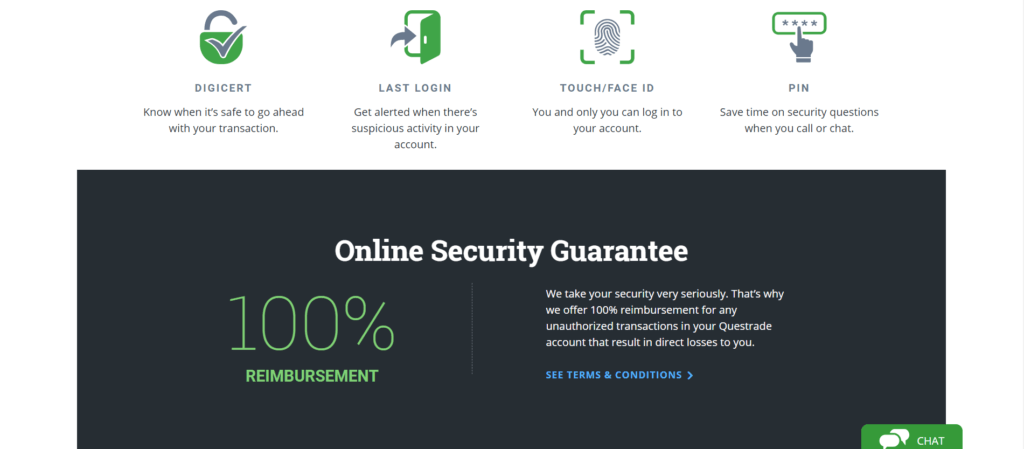 As you can see the Questrade Account system is one of the most secure ones out there, requiring ID verification in order to access your account, therefore completely eliminating any potential hacking or unauthorized access. Even though the company believes in their security they still agree to completely guarantee your safety, in the very unlikely case of an unauthorized login and a loss from some assets you will be 100% reimbursed, if of course, it was because of a technical error from the company.
Questrade Review summary
In the end, we wanted to mention how impressed we were with Questrade, they truly demonstrated to us the power of first impressions and the delivery upon them. This Canadian stockbroker is surely worth your time to look into and trade with. But as always, we encourage that you venture out by yourself and give them a look. After you've seen them for yourself you can easily just come back and compare the findings. Whether or not you decide to start trading with this broker, We wish you good luck!