The most important aspect of Forex trading is the credibility of the broker itself, as well as what trading conditions it offers to the clients. If the broker has a shady license that radiates fraudulence and the trading conditions themselves are underwhelming, you can be sure that the chances of getting the profit are very slim.
On the flip side, brokers with a credible license and decent leverage/spread offerings have more chances of attracting new customers. But there are also other offerings that make up the overall trading experience, for instance, bonuses.
With various promotions and contests, brokers make trading a much better endeavor for their users. That's why it is of no less importance to review bonuses just as we review brokers. And today, we'll review the Atirox Welcome Bonus promotion.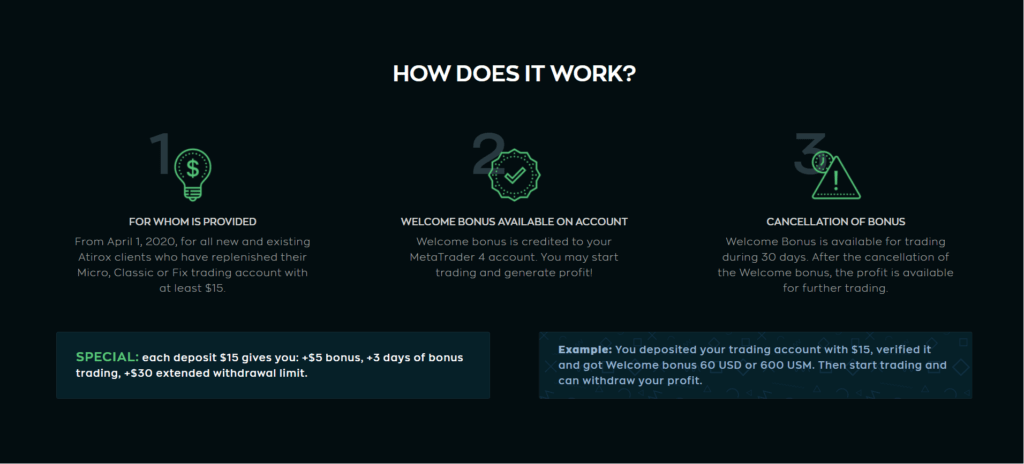 What's in an offer?
Alongside other bonus promotions and trading tournaments, Atirox Welcome Bonus is a nice little entry that offers a $60 bonus to the broker's clients. It has already started on April 1, 2020, and will likely run for several months. According to the broker, the bonus is available to both new and existing Atirox users, which is a bit counterintuitive as the name "Welcome" suggests only the newcomers should be able to use it.
As for getting the bonus, here's what you should do: you need to have an account on Atirox, obviously. Fortunately, all three trading accounts – Micro, Classic, and Fix – support this bonus. The next step is to fund the account with $15 to get the Welcome Bonus.
This next part is a little bit blurry: at first, the broker claims that you can get the full $60 bonus once you replenish your account with$15, however, shortly after the broker says that for every $15 deposit, you get a $5 bonus, +3 trading days, and +$30 withdrawal limit. If we do the math, you'd need a deposit of $180 to fully get the $60 bonus which may not be the big deal on its own, but given how misleading the provided information is, we're already a bit disappointed.
How to use bonus funds?
The next step of the Atirox Welcome Bonus is to actually use the funds you've received. Unfortunately, Atirox doesn't allow you to withdraw the funds, not now or any other time. The only way you can use the bonus funds is in trading.
And even then, you'll be limited in when you can withdraw profits or how much. As the broker claims, you have 30 days to use Welcome Bonus funds in your trading endeavors. After that, the money is unusable and you're only left with what you've earned during that time period. But before the deadline, you cannot withdraw even the profits you've yielded. As for the upper cap, you can only withdraw as much as $120 of profits.
Our rating
So, what do we think of the Atirox Welcome Bonus? Well, judging from what we've said earlier, it's not likely that we'll recommend this bonus to anyone as we've seen better promotions on XM or other Forex brokers. The conditions for getting the bonus or using it in real life are very misleading, which in itself is not a great start at all.
Therefore, we're not really impressed with this bonus and would go with more straightforward promotions available on the platform.