Ever since Bitcoin Cash forked away from Bitcoin in August last year, it has become the most successful forked version. From less than $500 back then, it peaked above $4,000 by the 20th of December. Since then, it has dropped in value by more than 75% to its current value of $937 at the moment of this writing. Despite this consistent decline, the cryptocurrency is now at a precarious position that could decide its future.
What signals are there for Bitcoin Cash?
Looking at the chart below, we can see that coin has been trading within a head and shoulder pattern since November as indicated by the purple shading. This is a very powerful chart pattern used in all markets including Forex and stocks. Usually, it shows that there is an imminent trend reversal about to happen, which is why Bitcoin Cash is of interest right now.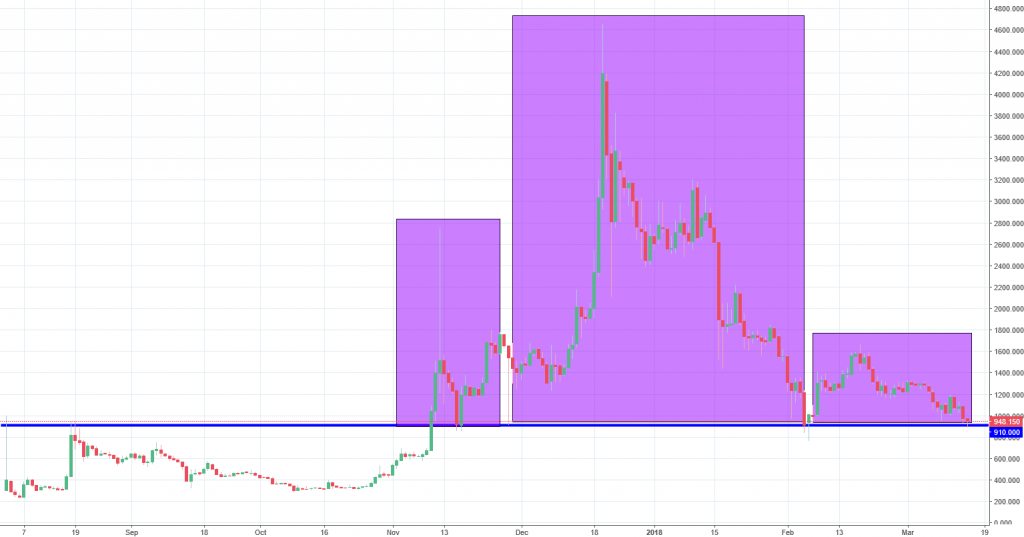 In order for the price to go lower, it will have to break below the $910 support level market with a blue line. Several times already, this level has been tested in the past, which means that it is a strong support level. However, cryptocurrencies are still trending downwards and that bearish pressure could break this level. Sellers should wait and see if prices break and close below this level to be sure whether the downtrend will continue. A break below the neckline is almost guaranteed to spiral into further declines in prices.
On the other hand, it seems as if the bulls are doing their best to keep prices stable above $910. This can be observed from the most recent candlestick pattern that is a hammer. Furthermore, the support level seems to be holding, at least for now, giving some hope to the bulls. There has been some recent positive news for Bitcoin Cash after Electronic Frontier Foundation (EFF) added the coin to their list of payment options. This follows news of Microsoft and other companies also doing the same. This news show that the coin is still popular and that it may not be done yet.