1Market Review – Is This a Legit Forex Brokerage Company?

1Market Forex Broker is an online broker that offers investing and trading services to all kinds of traders from around the world. The company is relatively new as it was created in 2021 and can not be called an experienced player in the industry, however, it claims to be providing a secure environment for professional and retail traders. We decided to check the trustworthiness of these facts and did our research on this platform. We discovered that 1 Market is actually licensed and regulated by the Cyprus Securities and Exchange Commission (also referred to as CySEC), which is one of the most reputable financial regulatory agencies available nowadays. This easily can be a guarantee that your money is in safe hands and you do not have to worry about privacy issues that may be related to the majority of other fraudulent forex companies.
The maximum leverage available on the website is up to 1:400, and retail clients are restricted to leverage of max 1:30 which prevents them from losing high amounts of money. As for assets spreads, the lowest starts from 2 pips on EUR/USD, but they can vary, depending on which type of account you use. Customers have the ability to use Webtrader or Metatrader 5 – both of these offer a wealth of trading options and are considered one of the best trading tools that the majority of brokerage companies use.
The minimum deposit amount at 1Market FX Brokerage is set to $500, however, it can go up if you use other types of accounts. In total, there are 6 different options and you can go for mini, standard, gold, platinum, diamond, or VIP accounts. Using these accounts, one can trade commodities, currencies, indices, CFDs, ETFs, and stocks. Unfortunately, the site does not have any bonus offerings available currently.

Is 1Market Legit?
Yes, 1 Market is a legit Forex broker as it is operated by Exelcius Prime LTD which itself holds the license issued by CySEC with a license number 366/18. This financial regulatory body gives 1 Market the accessibility to offer services within the European Union, ensuring the fact that you trust your money with the transparent and safe platform and if something inconvenient happens (e.g. they steal your money), CySEC will take all the necessary actions that will protect you from negative consequences. The transactions made by clients are supervised on a daily basis and external audits are also allowed. All in all, the trustworthiness of this website is not under question.
1Market Review – Trading Features
We understand that it might not be easy to choose the trading platform if you don't know more about the valuable indicators that influence the decision-making process. That's why we decided to do a more detailed review of trading features offered by 1 market.
Spreads
Assets spreads can be different and vary as the market is volatile and offers different trading conditions. The minimum spread available is 2 pips on EUR/USD if you use a diamond account. However, the mini account type has much less favorable conditions as the spreads for it are around 4 pips which is notably wider compared to the industry's most reputable brands. What this means is that one can easily find another website that has better conditions.
Leverage
As we already mentioned earlier in this 1Market Review, the maximum leverage is up to 1:400 which is quite good for experienced traders, however, beginners might struggle with it as this is above the industry's average and can include risks of losing a significant amount of money. The good news is that retail clients are restricted to a 1:30 leverage ratio, which helps them reduce the risks. We advise you to keep in mind that leverage can go both ways – it can either increase your profits or multiply losses.
Account Types
Customers have the ability to choose from 6 different types of accounts that include mini, standard, gold, platinum, diamond, and VIP accounts. Each of them comes with its own requirements and benefits. For instance, if you are a VIP account owner, it means that you can have access to MetaTrader 5, personal notifications, and exclusive market updates, while with the mini account you can not use MetaTrader 5. The site has a demo account option that gives you the possibility to try out different trading strategies for free, with simulant money.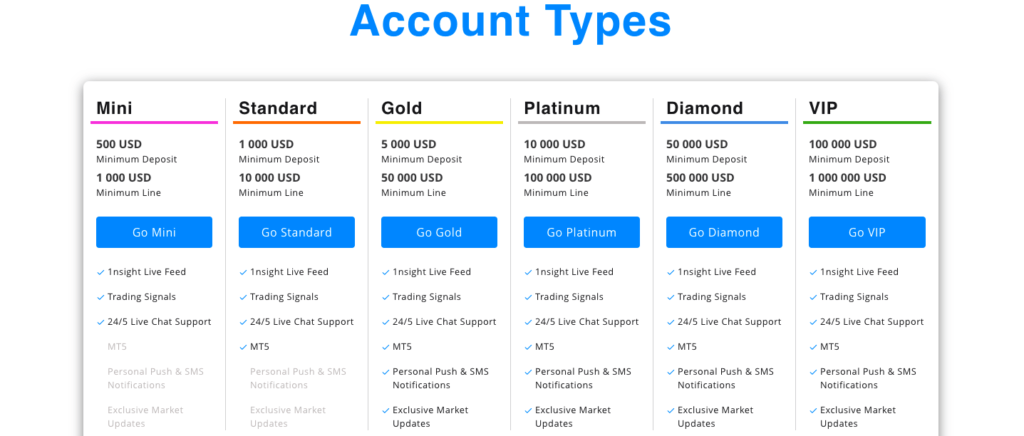 Minimum Deposit
The minimum deposit requirement at 1 Market is 500 USD, which can be considered high if we review the prices of other reputable companies. The average starting deposit amount is between 50 and 100 dollars on several platforms, meaning that you can easily switch to them. For VIP account, the deposit requirement can go up to 100000 USD.
Bonuses
If you are a bonus lover, then we have some bad news for you, because there are no bonuses or promotional offers available on the website. We think that this is definitely a minus, as adding extra value to your money is never a bad idea. It is possible to find welcome, deposit, or no deposit bonuses available on other websites, that increase the chances of attracting new customers. However, it is also important to note that this fact might be influenced by regulations issued by financial regulators that prevent companies from using bonuses.
All in all, we think that the majority of trading features do not look very attractive, as they do not correlate with the industry's standard. The minimum deposit requirement is very high, there are no bonuses and the leverage is quite risky for newcomers.
1 Market – Final Verdict
It is clear to see that this financial platform has some good features including a license and a highly informative webpage (you can find all the necessary indicators that might influence your decision-making process). However, other important trading features are not as good as one might expect, and that's why we do not recommend this platform to our readers. The internet offers a lot of other companies that might give you better trading conditions. In the end, it is up to you to decide.