AccuIndex Review – A Trustworthy Broker or a Scam?

When you begin your Forex trading career, you need to account for the variety of different valuables that make up this market. These include volatile price changes, various patterns and trends of these price movements, market makers, and whatnot.
Among these variables, there are Forex brokers that you also need to watch out for. While they're generally very useful, you have to keep in mind that many brokers are nothing more than scammers, plotting against you and your financial security.
So, how to make an informed decision? You can either do your own research and select the most trustworthy brokers or read our review pages where we do the same thing more extensively.
In this AccuIndex review, we'll take a look at this broker, its platforms, trading features, and, most importantly, safety measures. By the end of it, you'll be able to decide for yourself, whether it's worth trading with AccuIndex or not.
Trading features – are they legit?
First things first, let's start our in-depth review with probably the most sought-after aspect of a Forex broker – its trading features. Traders are interested in leverage rates, execution modes, and commission types simply because they determine their profitability in the market.
So, as our team has discovered, the commission rates at AccuIndex are moderately decent – nothing too exciting nor disadvantageous. The bid/ask spread goes as low as 1 pip, which, to be fair, is higher than what other credible brokers tend to offer to their clients. But we're going to AccuIndex a break here as there are other, more suspicious, details to discuss here.

During our review of AccuIndex Forex broker, we have discovered that the maximum leverage you can use is 1:400. Now, we have seen many brokers that have the same offerings and we still recommended them to our readers, yet with AccuIndex, we're not so enthusiastic.
You see, other brokers had different regulatory obligations, which didn't restrict their leverage rates. Plus, they also featured negative balance protection – a policy that should always come with high leverage.
At AccuIndex, none of these excuses are relevant. The broker claims to be regulated by the Cyprus Securities and Exchange Commission (CySEC), whose leverage cap is famously limited to 1:30. This leads us to question AccuIndex's credibility: either it lies about its licensing measures or its leverage rates. Either way, our AccuIndex opinion is very poor at this point.
None of these features actually matter if the trading instruments aren't there. Our expert reviewers have found that AccuIndex features almost one hundred different financial assets on its platforms, which categorize in the following asset classes:
Currency pairs
Index CFDs
Bullion CFDs
Commodities
ETFs
Now, while you can still use them to better diversify your portfolio, the most popular diversification assets are completely missing from this collection. We're talking about stocks, of course, which are almost always used to protect trading portfolios from sudden price shifts.
The final piece of the puzzle for this section is deposit and withdrawal methods. We went on and checked AccuIndex's website for various different payment methods, and discovered that there are only four different methods you can use: bank wire, credit/debit cards, Neteller, and Skrill. And while the broker doesn't say anything about deposit or withdrawal commissions, the terms and conditions specify that there "might" be some charges on your payments.
All in all, the AccuIndex promotions fail to impress us; if anything, they're worse in some areas than other trustworthy brokers' offerings.
The Accuindex.com review
The next section of our in-depth review will be AccuIndex's website, as well as the software used on the platform.
The design of the website is regular: there's nothing fancy or exciting about it. It is a combination of a blank-white background and light-blue fonts, creating a more or less decent mix of colors.
When it comes to the informative aspect of the website, we were able to find pretty much everything about various trading terms and conditions of AccuIndex. However, it's worth pointing out that at least some of these details are inherently wrong (leverage rates, for instance). And when a broker is misleading you with its feature descriptions, it's definitely not a good sign.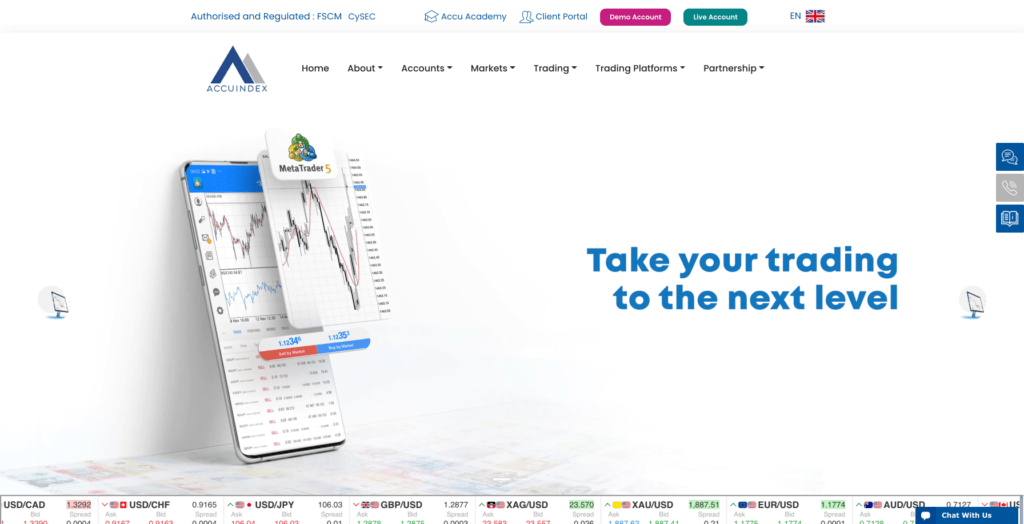 In our AccuIndex broker review, we also focused on available account types on the website. We wanted to see how diverse this area is and how well the broker aims at different types of traders.
But as we have discovered, diverse this area is not! There are only two trading accounts you can get with AccuIndex, and only one of them is suitable for at least 90% of the traders. Here are these accounts:
Standard – 250 USD minimum deposit
ECN – 5,000 USD minimum deposit
The one that works – or should work – for all types of traders is the Standard account. It is a regular trading account, which facilitates the interaction between the traders and liquidity providers, whereas the ECN account connects them directly without any kind of mediation.
ECN is a very elite and complicated trading platform, which cannot be operated by just about anyone. You need a lot of experience and knowledge in this industry, let alone large capital to pay for higher commission rates.
Therefore, we can safely say that our AccuIndex review only shows one trading account, and it's not the best one either.
Can you safely trade with AccuIndex?
As we have noted in the introduction part of our review, the single most important detail about a broker is its safety. No matter how lucrative or appealing its features are, if the broker is set free to do whatever it wants, it will most definitely start scamming people.
As we dove deeper into AccuIndex's website, we found two different regulatory pieces showcased on it:
Cyprus Securities and Exchange Commission (CySEC)
Financial Services Commission (FSC) of Mauritius
Now, if the CySEC license was actually real, we would be more than happy to finish this review right away, deeming AccuIndex a credible brokerage that you can trust. However, there are some intricate details that make the AccuIndex scam a real possibility.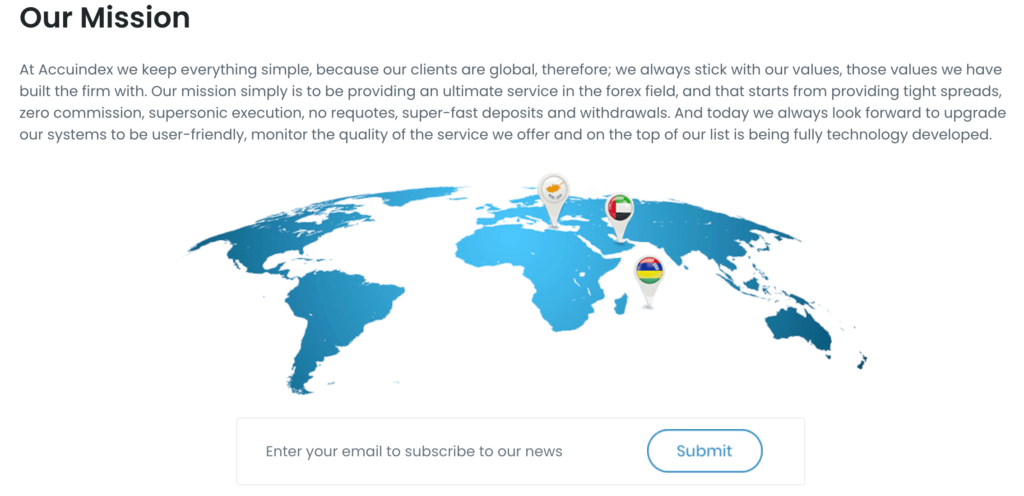 You see, the maximum leverage that a CySEC-regulated broker can feature on its website is 1:30. This is a direct order from the EU and US regulators for their subjects, and no one is authorized to break this rule.
So, if no one can get themselves out of this requirement, how does AccuIndex manage to push its leverage rates to 1:400? Well, the most realistic explanation is that it doesn't actually feature a financial license from the CySEC and the mention of it is just a bluff.
This leaves us with a single Forex license from the FSC of Mauritius. And it goes without saying that a financial regulation from a third-world developing country cannot be considered legitimate, especially for a broker that provides service to thousands of customers internationally.
So, the ultimate conclusion of all this discussion is that AccuIndex is not a properly-regulated broker and it's very dangerous to do business with it.
Can AccuIndex be trusted?
In this review of AccuIndex Forex broker, we delved into the trading features and safety measures of this brokerage firm and tried to determine, whether it's a good idea to actually trade Forex with it.
Trading terms and conditions at AccuIndex looked more underwhelming than appealing. The maximum leverage, however, is outright suspicious and dangerous even; it doesn't fit into the regulatory guidelines set by one of the primary regulators of AccuIndex. As for spreads, we weren't impressed by a 1-pip charge whatsoever.
The website delivered all of the information we needed about the broker and its offerings, yet we're convinced that a good portion of this information isn't legit.
Finally, we reviewed the broker's license and determined that there's only one regulation from the FSC of Mauritius, which immediately indicates that AccuIndex fraud may actually be real.
Long story short, we don't recommend you trade with this broker. For your own financial safety, you should find a safer and more appealing broker online, which are quite abundant these days.