AMBroker.com review shows if the broker is legit or not

AM Broker is a newly established Forex and CFDs broker that offers its services to the worldwide audience. The brokerage was founded in 2018 and is registered in Saint Vincent and The Grenadines. While it was established relatively recently it already got the attention of many traders all around the world due to the trading conditions. The broker offers 6 asset classes including Forex, CFDs on commodities, cryptocurrency, indices, shares, stocks, and ETFs. One can start trading with AM Broker with 1000 USD, enjoy spreads as low as 0.6 pips, and use leverage up to 1:500. While the trading conditions might look good for you, there's still an important question to be answered- Can AM Broker be trusted? This detailed review will discuss the features of the broker and show if the broker is trustworthy or not.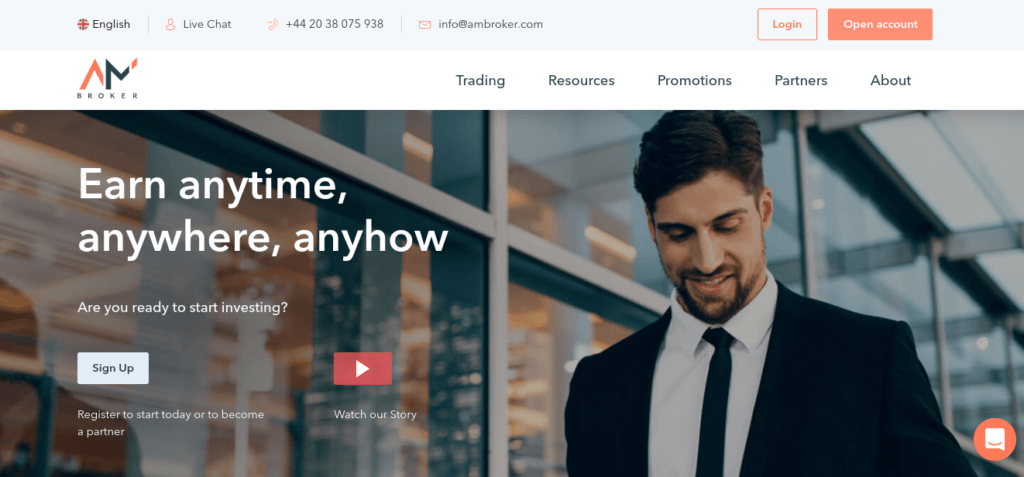 AMbroker.com review
The website of the broker is one of the good examples of how the broker's website should look like.  The design is very nicely made, it is not overloaded with the commercial statements you would see at many broker's websites. The white color with peach color elements looks very nice, making the overall website experience very pleasant. With the design and content placement, the webpage is more inviting and welcoming rather than pushing visitors into opening an account with the broker. This creates a very nice AM Broker opinion. We were pleased to see that the overall experience matches the first impression as well. While making reviews of many Forex and CFD brokerages that offer only very limited information, we were happy to see that contentwise AM Broker website is good as well. You can find all kinds of information you want to know about the brokerage and its service and features on the website. It is a sign that the broker does not hide any information from the eyes of the potential customers and is completely transparent and honest with them. Generally, when the broker has a poor website, it is a sign that the broker might be a scam. This website assures us that there is no possibility of AM Broker scam and the brokerage is legit.
What does the broker offer
You cannot open an account with the broker simply because you liked its website. Now let's see what does the broker offer and if it is worth to trade with the brokerage. AM Broker offers Forex and CFD trading instruments to its audience.  Here's the list of the trading assets you can trade with the broker:
Currency pairs – one can trade over 100 currency pairs with AM Broker, it includes major, minor, and exotic currencies.
CFDs on indices – traders have access to 20 stock indices
CFDs on shares – the broker offers over 3000 shares
CFDs on ETFs – traders can choose from over 300 ETFs
CFDs on commodities such as gold, silver, brent, and oil
CFDs on cryptocurrencies such as Bitcoin, Bitcoin Cash, Litecoin, Ripple, Ethereum
As you can see, the broker offers a wide selection of trading instruments, making it possible for the traders to find the instrument they are willing to trade and diverse their trading portfolio that adds up points to AM Broker rating.  Traders can also choose the trading platform that works best for them. AM Brokerage offers MetaTrader 5, one of the most popular trading platforms on the Forex trading market today. If you prefer to have access to your trading account without the software you can use WebTrader or iOS and Android trading app for trading on the go.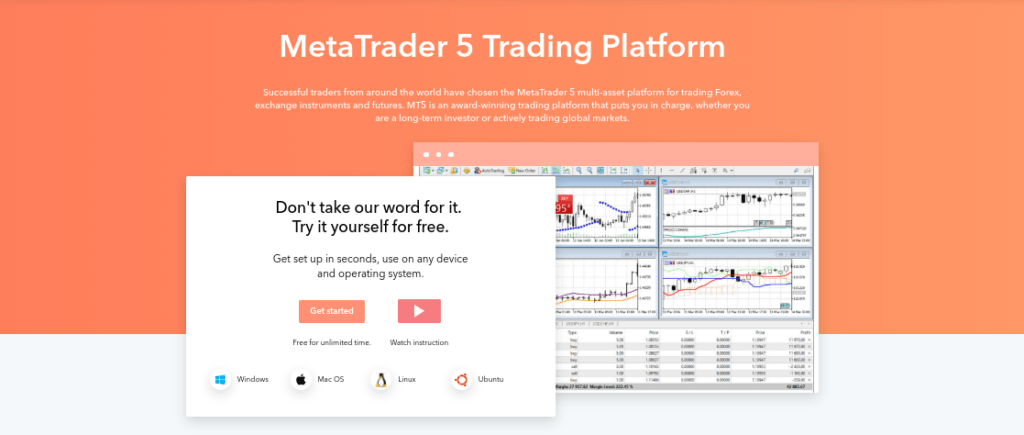 AM Broker trading conditions
One can open a standard trading account with 1000 USD. The minimum deposit is higher than you can find with many good brokerages today and definitely is a disadvantage of AM Brokerage. However, the broker offers some very nicely designed services and features that come with the trading accounts, that can be an explanation of the high minimum deposit requirement. We will discuss the account types in details below.
The maximum leverage one can get with AM Brokerage is 1:500 which is a nice offer to those who are experienced in marginal trading. AM Broker FX brokerage offers low spreads as well, making trading with it more appealing. the minimum spread is for the EUR/USD pair which is 0.6 pips.  Overall, the trading conditions are satisfactory for those who are willing to deposit 1000 USD on their trading account.
Account types with AM Broker
AM Broker offers three types of accounts. Traders who are willing to trade with the broker have the possibility to choose from these accounts based on their trading capital, goals and needs when it comes to the support from the brokerage and additional features.  The broker offers retail, professional and institutional trading accounts.

The retail account starts with 1000 USD minimum deposit. Traders have access to all trading instruments and can trade with them with the leverage of 1:500. The account has integrated online support, multi-lingual support team, and comes with the dedicated account manager. Those who hold this account can also have EA builder 14-days free trial.
The professional account has all of the features that come with the retail account plus some additional ones. Professional traders get fixed annual AM Broker bonus on the account each year, they can use one to one consultancy, proprietary research and free deposits and withdrawal. The professional account starts from the 10.000 USD.
AM Broker also offers an institutional account for the institutional clients. It has all of the features of retail and professional account plus dedicated sales analyst with more than 10 years experience, dedicated quantitative analyst and personal offers as well. One needs to deposit 100.000 USD to open this account.
Traders, who want to trade with AM Broker but are not sure about their trading capabilities yet, can open a demo account with the broker and use 10.000 USD virtual money to practice trading in real market conditions.
Is AM Broker legit?
Detailed AM Broker review shows that the broker is legit and there is no possibility of the fraud or scam. The brokerage offers well-designed services to all kinds of traders. It has a wide selection of trading assets that makes trading with AM Broker comfortable and convenient especially for those traders who are willing to have a diverse trading portfolio. One of the big advantages is the variety of trading platforms as well. The only disadvantage is that the broker has a relatively high minimum deposit requirement, however for those who can afford to deposit 1000 USD AM Broker might be a very good choice.