AtriBlock Review – What Services Can You Get While Working With The Broker?

An Overview Of AtriBlock
AtriBlock offers multiple secure payment methods, a user-friendly web-based trading platform, and 24/7 customer service. We like the fact that they work hard to maintain their status as a trustworthy broker, mainly by offering all customers the same trading conditions, regardless of their account size or trading background.
Depending on your requirements, you can choose from many flexible trading conditions. In other words, you can trade Bitcoin and Ether using all of your favorite strategies without having to deal with any hassles.
In addition, you can keep up with current market events and find potential trading opportunities based on technical and fundamental research across several digital coins.
Trading Platform
With AtriBlock, you can trade in real-time. That's right – you don't have to wait hours for your trades to be executed or for the exchange to respond. You don't encounter many bad user interfaces either, like you do with other, less professional companies. And best of all, you don't have to go anywhere else because everything can be done on one platform. Simply sign up and start trading, you don't need a complicated interface or advanced technology.
Data Protection And Privacy
To prevent having your personal information or financial assets compromised, you must have a good grasp of the security practices implemented by the brokerage firm you choose to work with. Since engaging in any online activity places you in danger of this happening, it is critical to take safeguards to reduce the likelihood of it.
The broker is responsible for protecting your privacy as you have granted them access to your sensitive personal financial information. They safeguard the data of their customers by employing advanced security measures, which ensure that the data is kept private.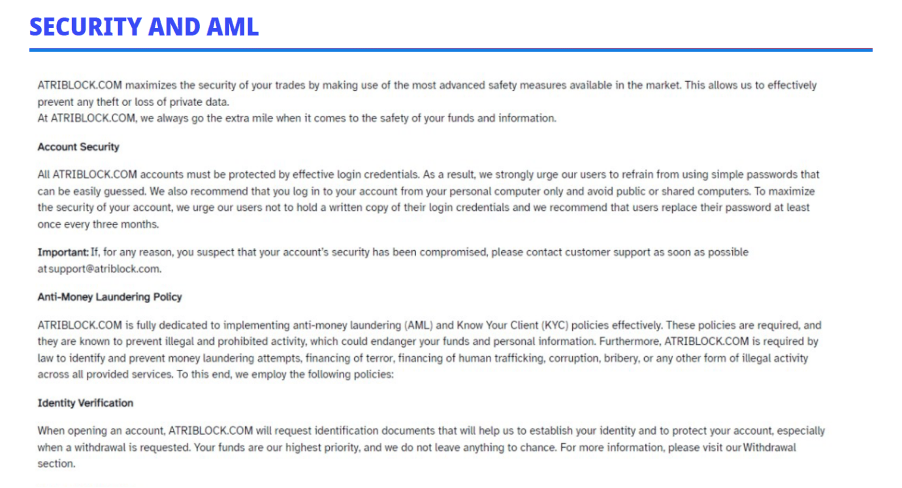 Source: https://atriblock.com/
Moreover, they keep the money you deposit in separate accounts. This means you can be sure it is only used for making trades.
Customer Support
Beginner traders are prone to make mistakes or have issues while trading. A reliable brokerage firm attends to the needs of its clients at all time – does Atriblock manage to do so?
The answer is yes. when it comes to customer service. it is always available to help and support its users, regardless of what the issue they are having difficulties with is..
Market Analysis
Education seems to be this brand's key selling point, and it is one of the areas where they outperform the competition. The Market Analysis section was drafted by skilled analysts and is updated constantly. It is not complicated to understand and effectively gives you the information you want.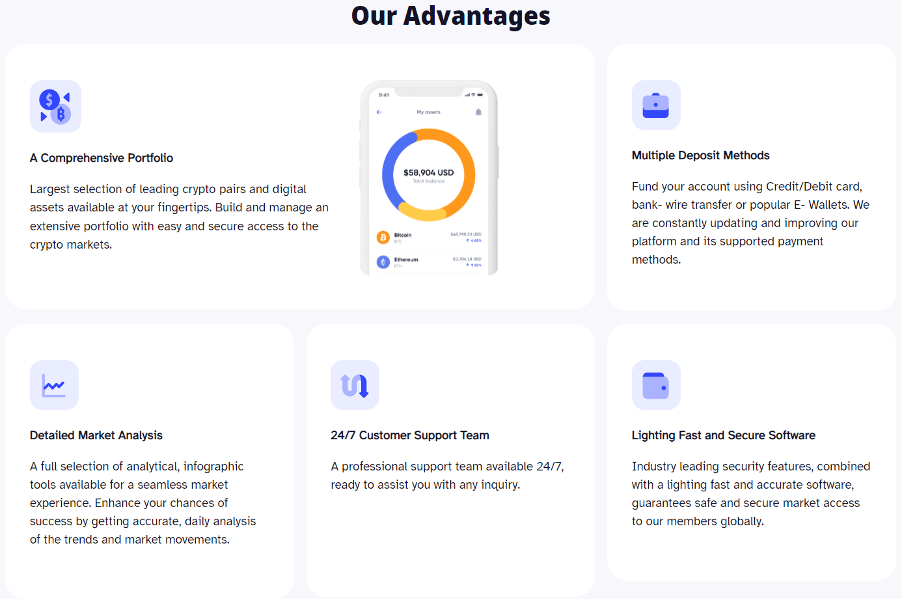 Source: https://atriblock.com/
Pros And Cons
Pros
Accurate and fast trading platform
Industry-leading security features
Great selection of trading tools to help you
Detailed market analysis
Plenty of secure payment methods to fund your account
Excellent 24/7 customer service
Cons
They do not currently provide crypto funding
Only available in English
In Conclusion
On a potent web-based platform, AtriBlock offers a vast selection of digital coins for trading. They provide an array of trading tools that are ideal for traders of all levels of experience. We found the customer support to be great, with rapid and efficient responses.
Traders all over the world can take advantage of their superior trading conditions, including competitive fees, swift transactions, and fast trade execution speeds. No matter how much money you want to trade with or whatever cryptocurrencies you want to exchange, the brand can accommodate you.