Bitfreezy Review – An honest review of the broker's offerings

When entering the Forex market, a regular person's expectations are that they're directly headed towards a profitable career. They have heard too many success stories that have distorted their view of the trading industry and made them believe that it is inherently non-belligerent.
However, it's exactly the opposite of what this industry is really about. On the one hand, there's the market that can easily go against you and lead you to a financial demise. On the other hand, though, even the service providers can become the reason for your failure, which is even more concerning because they're doing that deliberately.
In order to avoid such brokers, we bring you our review of Bitfreezy Forex broker where we'll find out all important details about this broker. So, strap on, and let's get started.
The Bitfreezy.com review – What does the website look like?
First off, let's start our review from the broker's website since it's the first thing you're going to interact with. Design-wise, we think that the interface doesn't look very convincing. It's also not a bad-looking website, however, it doesn't deliver a high-quality website experience that we're used to with other brokers.
As for the information, we can admit that Bitfreezy provides pretty much every detail you need to know about its trading platform. However, there were still some grey areas that the broker didn't elaborate, besides, even the details that are disclosed are very suspicious, which we'll discuss further down below.
Next up, let's talk about which live accounts you can get at Bitfreezy. As our Bitfreezy review has shown, you can get three regular accounts on the platform, namely:
Standard – 10 USD minimum deposit
Pro – 100 USD minimum deposit
DMA – 500 USD minimum deposit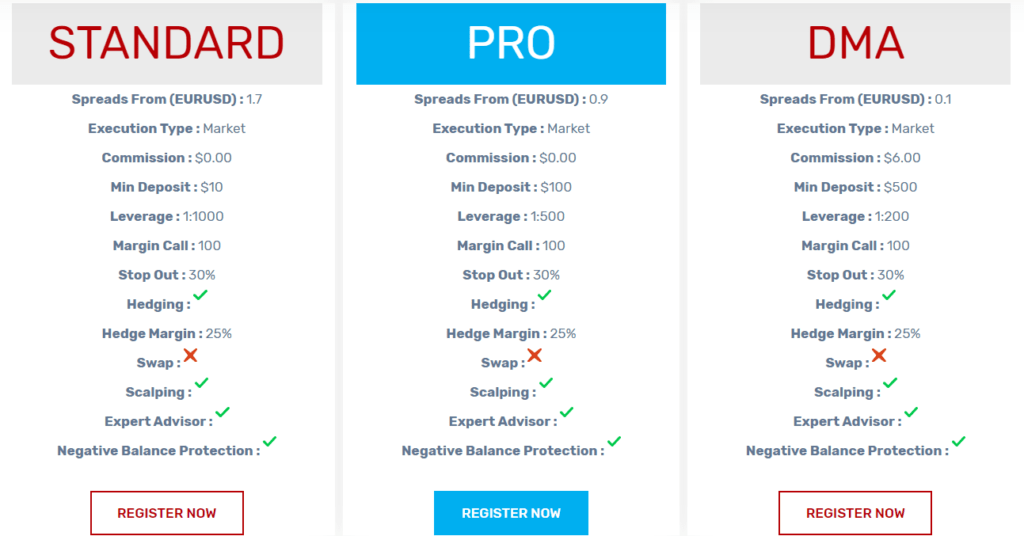 These accounts are both different and similar in many ways. For instance, you're getting different leverage, spread, and commission conditions for each of these accounts, whereas trading execution, no swaps, and Expert Advisors are available for all three accounts.
Now, there's also a demo account that you can open if you're a beginner trader or someone who wants to try out new strategies before implementing them in real life. For that, Bitfreezy allows you to trade virtual assets with virtual refillable funds. Yet we're not overly impressed by that because literally every Forex broker offers a demo account for free (some do charge fees, which is super weird).
The final entry in the software overview is going to be the broker's trading platform. We found that the Bitfreezy MT5 is the primary software for all your trading endeavors. And in this, we have to give the broker a full credit because MetaTrader 5 is a top-notch software for complex trading endeavors with lots of indicators and other objects for more lucrative trades.
However, it's worth noting that we'd be happier if Bitfreezy also offered MT4 for the beginners – the software is known to be beginner-friendly with its simplistic interface and whatnot.
Is Bitfreezy legit with its license?
The next important part of our review will be the broker's license. Whether Bitfreezy is a scam or a trustworthy broker will mainly depend on what we'll find in this section.
So, in hopes of finding any regulatory material during our Bitfreezy.com review, we searched every possible corner of the website and couldn't find a specific area that mentioned the license. We only discovered a small notice down the bottom of the website, which says that Bitfreezy was registered as an International Business Company in St. Vincent and the Grenadines.
With this notice, we came to the conclusion that Bitfreezy might have (or might not) an SVGFSA license. Even if this were true (which may actually be the case), we still don't believe that trading with Bitfreezy will be the best decision, and here's why:
The SVGFSA license doesn't apply to Forex brokers; it never has and, according to the SVG government, it never will. So, brokers that claim to have an SVGFSA license are pretty much free from any regulatory oversight to do whatever they desire.
And that's what our Bitfreezy opinion looks like. For us, it is an unregulated Forex broker that isn't held up by any financial guideline, and it can really mess with your financial security.
What do the numbers say?
Lastly, let's dive deeper into the trading terms and conditions and check out whether they're legit or not. First, we'll point out that by registering at Bitfreezy (which we don't recommend), you're getting the ability to trade currencies, cryptocurrencies, metals, indices, and commodities.
When it comes to the conditions that apply to those instruments, we have additional suspicions. For instance, if you take a look at the leverage, you'll see what we have in mind: Bitfreezy offers a whopping 1:1000 leverage. On the one hand, this much leverage can boost the profitability of your trades to a huge extent, and who doesn't want that, right?
Well, considering the fact that the same feature also increases losses to the same amount, you wouldn't want to go too overboard with it. Credible brokers always warn their clients that using too high leverage ratios can expose them to higher risks, yet the Bitfreezy FX brokerage carries on without any prompt or warning.

As for spreads, the broker features a very shallow 0.1 minimum spread for EUR/USD pairs. Now, if there were other commissions to offset the spreads, we wouldn't be so suspicious, yet Bitfreezy also boasts with zero or very low commission charges. It doesn't even charge swaps for overnight trades, which is super-suspicious and makes us wonder where the broker gets the funding from…
Another suspicious detail we found is the minimum deposit requirement. In order to create a basic Standard account, you just need to deposit 10 USD to Bitfreezy, which gives us the impression that the broker deliberately lowers the entry barrier so that it can scam as many clients as possible. This suspicion is compounded by the above-mentioned offerings that are designed to appeal to potential new traders.
Finally, we'll check out the methods using which you can make deposits and withdrawals at Bitfreezy. This is actually one of the haziest sections on the website as we weren't able to find much information about commissions or transaction times. The only thing we know about both Bitfreezy withdrawals and deposits is that you can use bank wire (from Indonesia, Vietnam, Thailand, and Malaysia), Bitcoin, and Perfect Money. There are no credit/debit card platforms or e-wallets such as Neteller and Skrill, not to mention PayPal, which is a huge disadvantage of this broker.
Ultimate Bitfreezy rating
Bitfreezy is predominantly a crypto trading broker that was established in 2019, even though it claims to have been operating for over 25 years on the market. It offers assets from other markets as well, including Forex, indices, and commodities.
The broker has a somewhat amateurish website that fails to appeal to the client, yet it manages to deliver most of the information about how trading is done at Bitfreezy. The accounts are more or less diversified and the trading software looks legit.
However, our Bitfreezy fraud suspicions have been fired by the fact that the broker has an SVGFSA license, which is to say it doesn't have one at all. In reality, Bitfreezy is an unregulated broker that can steal your money and get away with it.
Finally, we examined the broker's trading terms and conditions and realized that even here, you can find many suspicious details like unnaturally-high leverage and low spread quotes.
For these and many more reasons, we think that you should probably stay away from Bitfreezy and find someone else to trade with!