Brokereo Review – Make the Right Decision About this Broker

Forex brokers are an inherent part of the online trading experience. They provide you with a bunch of trading features and research tools, as well as connect you with the liquidity providers that ultimately give you the instruments to trade. In short, you almost always need them.
With that said, you need to be extra careful when choosing your own Forex broker. The trading world is full of scammers that feature seemingly lucrative and safe conditions, yet underneath the surface, they reek of the scam. Your goal is to find out what the broker is made of before you make a decision.
With this Brokereo review, we're doing the hard work for you to provide you with the most in-depth and honest look at its trading terms and conditions, as well as safety features. By the end of it, you'll be able to decide for yourself, whether Brokereo is the right broker for you or not.
The first impressions
The website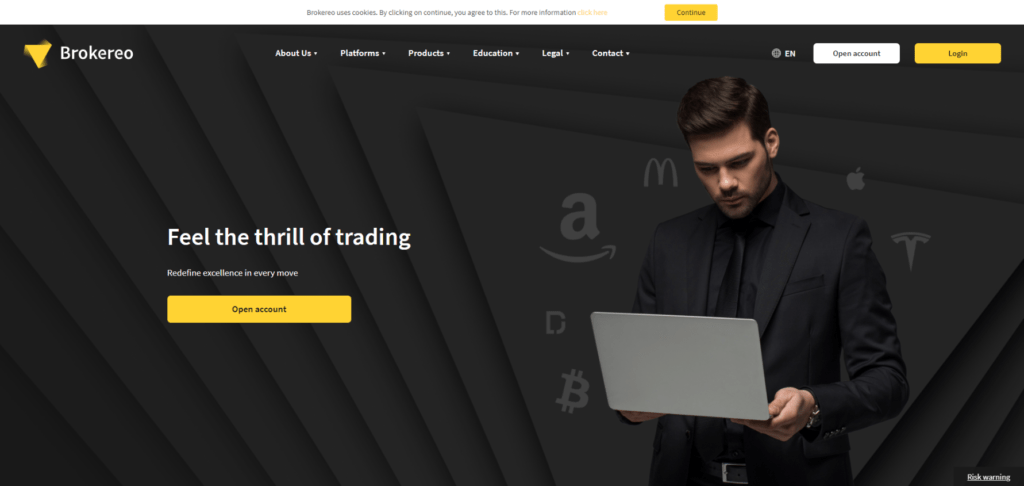 Right off the bat, Brokereo gives off decent impressions with its nicely-developed website and design choices. It features a subtle combination of blank-white background and black-yellow colors. The website experience, in short, is as good as it gets.
The informative side is yet another aspect where Brokereo excels. It features every little detail about its trading terms and conditions, as well as legal measures, on its website. This immediately indicates that Brokereo has nothing to hide from you.
As for trading accounts, the broker offers three retail, as well as one Professional account. These accounts are packed with impressive features, and as our review of Brokereo Forex broker shows, you can easily convert each of these accounts into an Islamic account. On top of that, there's also a demo account for virtual trading purposes.
The decent software experience is nothing without a full-fledged trading platform, which Brokereo manages to deliver effortlessly. It features two primary platforms on the website – WebTrader and Mobile Trader, and both of them are packed with impressive features and research tools.
Safety
After the website and software support, we're going to move to the safety measures at Brokereo. As our team has found out, the broker was founded in Cyprus and received a license from the Cyprus Securities and Exchange Commission (CySEC).
What the CySEC license implications are and how the multiple fund protection mechanisms affect your trading outcome will be discussed later in the main part of this Brokereo Forex broker review. For now, we'll say that this is one of the most trustworthy brokers you can find out there.
Trading features
The final entry in this review will be various trading tools and features. First things first, we'll take a look at hundreds of different financial instruments available on the platform, including currencies, stocks, and even cryptocurrencies.
After that, we'll move on to various terms and conditions that come with these instruments. These will include leverage, which goes up to 1:500, commission levels, spreads, and execution modes/speeds. As a brief observation, we can say that trading with Brokereo is also pretty beneficial, as well as safe.
As the following review will show, there are no bonus promotions available on the website. We'll explain in detail why this is the case and why Brokereo is an inherently better broker for this feature.
Another entry in our Brokereo review will be its payment methods for deposits and withdrawals. The broker features a bunch of different transaction platforms, be it credit cards or e-wallets, and we'll explain what these mean for your effectiveness in the market.
Ultimately, what this in-depth review of Brokereo will demonstrate is that it is a decent Forex broker that operates in the market right now. So, let's get to the actual review, shall we?
The Brokereo.com review
For this part of the review, we're going to maintain the structure developed in the initial overview, therefore, let's start from the website and software support.
Design
As noted earlier, Brokereo's website looks very professional and sophisticated. It combines the three colors – white, black, and yellow – beautifully, creating the impression that you're welcome on this website.
What this design choice ultimately achieves is that you can effortlessly find information about any trading feature of this broker. And that really takes our Brokereo opinion to a whole another level, simply because the broker doesn't leave any detail in shadow. Whether you're looking for trading terms and conditions, safety features, or customer support methods, Brokereo provides information about everything.
Accounts
Moving on, let's talk about trading accounts and how you can sign up for them. Brokereo currently features three retail accounts on its platform:
Silver – 250 USD minimum deposit requirement; 0.07 pips for spreads; up to 1:30 leverage
Gold – 250 USD minimum deposit requirement; 0.05 pips for spreads; up to 1:400/500 leverage
Platinum – 250 USD minimum deposit requirement; 0.03 pips for spreads; up to 1:400/500 leverage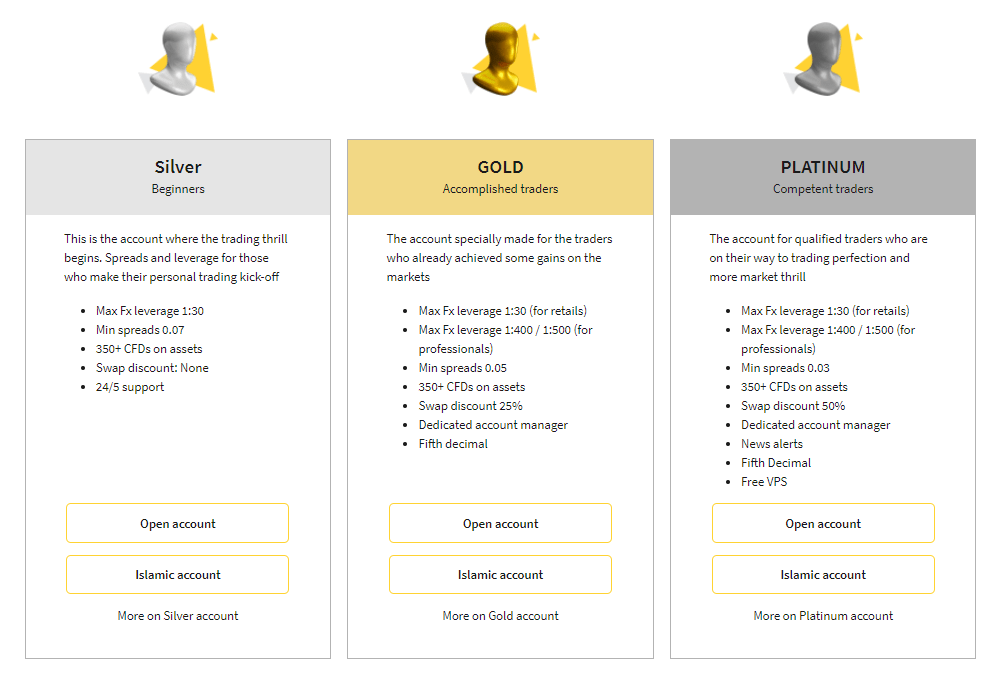 In addition to these retail accounts, there's also a Professional account that takes these terms and conditions to the next level: leverage goes up to 1:500, while the execution speed gets closer to 0 seconds.
Then there's also the ability to convert these accounts into an Islamic account. With it, you can eliminate swaps on your carry trades while getting the same features as the retail equivalent accounts.
During this review of Brokereo Forex broker, we also found a demo account, which allows you to trade just about any financial instrument without making deposits.
If you're hooked by the idea of trading with Brokereo and want to sign up for any of the above-mentioned accounts, here's how you can do it:
Provide the most basic personal details, such as your full name, date and address of birth, residence address, and employment information
Go through the verification process by uploading national ID/driver's license/Passport
Make a deposit on your newly-created account
With just these three steps, you can get yourself a properly-functional Brokereo account and trade any asset you like.
Brokereo's trading platforms
Trading with Brokereo is facilitated by multiple pieces of software that stem from one legendary platform, MetaTrader 4. And as our Brokereo Forex broker review shows, these platforms have pretty much the same functionalities as their parent MT4.
As for the platforms themselves, Brokereo features two software pieces on its website:
WebTrader – WebTrader at Brokereo is packed with top-notch trading features, be it dozens of execution modes, ultra-fast executions, over 60 research tools and objects, and the ability to integrate thousands of indicators from the internet. In short, you'll never go wrong with Brokereo's WebTrader.
Mobile Trader – Mobile Trader is also the MT4 prototype that comes with lucrative and beneficial elements. And, what's more, it is available for both iOS and Android platforms, enabling you to trade on the go anywhere you are.
Can Brokereo be trusted? The license review
When looking for a Forex broker, the most important thing you need to watch out is its safety department. You might be offered a bunch of lucrative trading terms and conditions and lightning-fast execution speeds but if the broker has no responsibility towards financial regulators, it can easily rob you of your funds.
In our Brokereo review, we have discovered that there's a very sturdy legal material regulating the broker's actions. Being based in Cyprus, Brokereo is regulated by the Cyprus Securities and Exchange Commission (CySEC). Individually, the CySEC license monitors Brokereo's actions and makes sure that it doesn't engage in fraudulent activities.
However, there's also a collective aspect of the CySEC license: it also enforces the guidelines and restrictions of the MiFID and ESMA frameworks. What this means is that the entire EU's financial framework is ensuring the safest trading experience for you.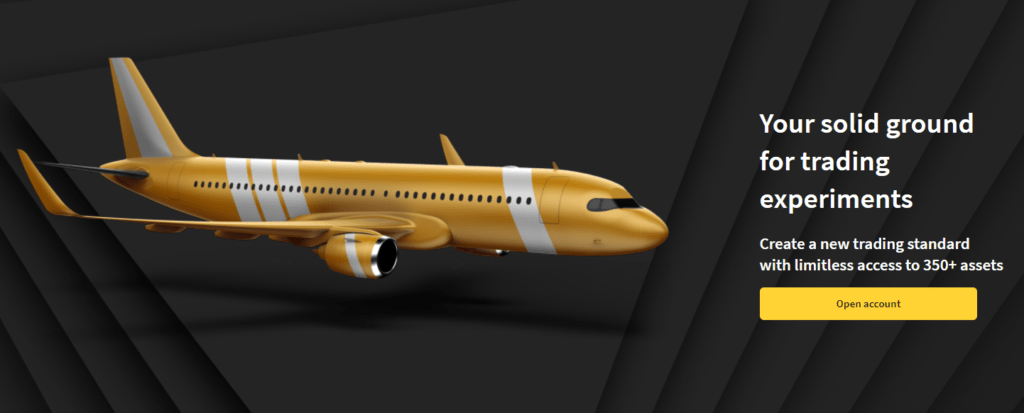 One of the main safety features in which Brokereo excels is its fund protection mechanisms. The broker offers you negative balance protection, account segregation, and fund insurance policies that safeguard your money from unexpected market fluctuations.
So, is Brokereo legit? After everything we've just discussed in this chapter, it's more than apparent: Brokereo is a trustworthy broker!
How's trading done with Brokereo?
One of the last and probably the most sought-after segment of the following review is going to be Brokereo's trading terms and conditions. Even with the most trustworthy and sophisticated safety protocols, you still want to have relatively beneficial trading features that take your profitability to the next level.
Products and their features
And as our review shows, that's exactly what's going on at Brokereo. Instrument-wise, Brokereo features well over 350 different instruments that range in the following categories:
Cryptocurrencies
Commodities
Shares
Indices
Metals
Currency pairs
The reason why the diversity of instruments is important is that it allows you to diversify your portfolio from various market fluctuations and rest assured that your funds will be protected to some degree. But that's not the only benefit of Brokereo:
The conditions that accompany these instruments are also pretty impressive. During this review of Brokereo Forex broker, our analysts found out that the maximum retail leverage you can get here is 1:30. It's a regular leverage rate in the EU, although, if you go for a Professional account, you can get an even larger leverage ratio – 1:500 to be exact.
Another important feature to talk about is the execution policy. As Brokereo elaborates, there are almost a dozen different execution modes on the platform. On top of that, your orders are executed pretty much instantly, giving you the benefits of a tight slippage and shallow spreads.
Plus, there are over 60 research tools and technical indicators that help you analyze the past price movements and predict the future ones. This way, your chances of profit increase quite a bit.
Bonuses
During our Brokereo broker review, we also tried to find any kind of bonus promotions on the website, as many brokers tend to feature such promotions for an increased appeal to their platforms. With Brokereo, however, that wasn't the case.
Being a CySEC-regulated broker means that Brokereo is prohibited from featuring bonuses on its website. This way, it will dedicate all of its efforts to improving the actual trading features that affect your profitability in the market.
Deposits and withdrawals
Next up, let's take a look at what payment methods you can use to make deposits and withdrawals at Brokereo. As our reviewers have discovered, the payment system on this platform is pretty complex, featuring: credit/debit cards (Visa, Mastercard, Maestro, V Pay), bank wire transfer, Neteller, and Skrill.

The actual payments are commission-free, meaning you're getting the exact same amount of money as you've deposited/withdrawn. Plus, deposits usually complete instantly, while withdrawals may take anywhere from 1 to 5 business days.
And to secure your payments even further, Brokereo features an SSL encryption on its platform. Therefore, even here does Brokereo demonstrate just how amazing a broker it is.
Customer support at Brokereo
To top our Brokereo review off, let's talk about customer support and how you can communicate with the broker. On the website, we found three different methods you can use to get help just about anything. Here are these methods:
Email support: support@Brokereo.com
Phone call: +448000318430
Live chat support on the website
While all of the methods are pretty quick and helpful, there are some slight differences between them. For instance, the phone call and live chat are the fastest way to contact the broker, while the email support will give you the most in-depth interactions with the support team.
The final verdict – Should you trade with Brokereo?
As we've already posed this question, is Brokereo as trustworthy a broker as it claims? Can you trust its offerings and use them without any worry?
Well, as the following review shows, there's no piece of information that undermines Brokereo's credibility as a broker. First things first, it has a very sturdy and believable license from the CySEC. This license also enforces the rules and guidelines of the MiFID and ESMA directives, which ultimately ensure the safest trading experience for you.
Secondly, our Brokereo Forex broker review reveals a website that doesn't hide anything from you. It provides all the information you need about the broker's offerings, and it does that effortlessly.
And thirdly, the trading terms and conditions at Brokereo are more than beneficial for you. You can increase your profitability quite a bit with these offerings, and you won't need to undermine your financial safety either.
In short, Brokereo is a safe and trustworthy broker and you can rest assured that it'll protect your funds at all times!