CJC Markets – Should You Trust Them?

CJC Markets is a foreign currency brokerage firm that was founded in 2012. They serve consumers in much more than 16 countries through 22 locations. CJC Markets claims to hold 3 kinds of authorizations, including a FINTRAC license, an Australia Security and Investment Commission (ASIC) license, and a Saint Vincent and the Grenadines license (SVG). CJC Markets Forex broker is an outstanding example of a licensed broker who is also untrustworthy.
The website lacks some financial data, such as payment options, deposits, withdrawals, and fees. Professional and self-respecting brokerage firms would never neglect the need of posting such vital information on their website. As a consequence, if you decide to trade with this broker, we strongly advise you to exercise caution.
CJC Markets offer their clients a minimum deposit of 1000 USD and the maximum amount of leverage ratio is 1:400. On top of that, they provide their clients with a variable spread.
In this CJC Markets Review, we will go into the validity of this broker firm, its regulation, and its trading tools and features in greater detail. We will also talk about what kind of withdrawal mechanism they have and how much their fees are. So let's get started learning more about this brokerage company.
Is the website user-friendly?
Before even discussing further details about the company, we must examine the website to determine if it is user-friendly and allows newcomers to swiftly move around.
First and foremost, when we access the website, our immediate reaction is pretty favorable. The style of the website is both simple and attractive. The information available on the website is clear and obvious. However, there are some types of essential information that are not available on their webpage. For example, there is no information about withdrawal processes as well as fees ad commissions.  This is very vital information and there might be a lot of traders who lose a lot amount of money eventually. This is a very big drawback of this CJC Markets Forex Broker.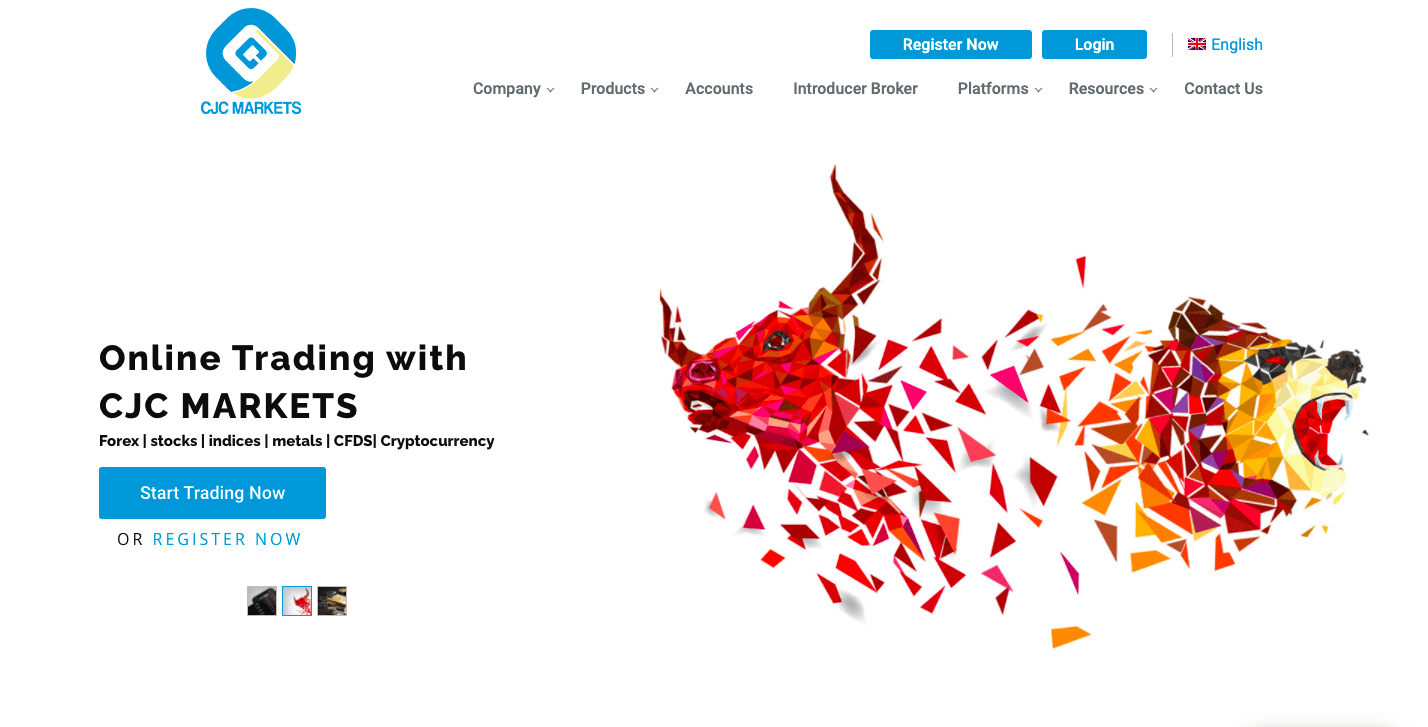 CJC Markets trading options – are they really good?
The major part of this CJC Markets review, such as In Forex broker trading qualities, is now ready for discussion. Is it worth trading with both experienced and inexperienced traders? Or are they medium-sized or even smaller-than-average brokerage firms? What if they have poor trading circumstances, confirming our InvestMarkets concerns? This section covers issues such as leverage, spreads, withdrawals, software, and a variety of other firm components. Let's begin by learning more about the CJC Markets brokerage.
What is the Maximum Leverage They offer?
We are all aware that leverage is an essential component of any decent forex broker. The greater the possible leverage level, the greater the customer's possibility of making a large profit from their trade. According to what we have gathered, CJC Markets has a maximum leverage of 1:400. This implies that the firm is not particularly competitive in comparison to other brokers in the market, who provide far higher leverage ratios, such as 1:1000 or even 1:2000. This implies that anyone looking to make a large income from FX trading, for instance, will find CJC Markets broker leverage option unappealing. As a result, it is quite impossible to claim that trading on CJC Markets would result in a significant profit.
What are the live Trading Accounts offer?
Another critical point to stress in this CJC Markets Review is the trading accounts they give to their consumers. Forex is a trading account that investors open with brokerage firms in order to trade various financial instruments. Brokers can offer traders a choice of trading accounts according to their degree of ability, competency, and comprehension.

The following are the many types of live trading accounts that InvestMarkets FX brokerage may provide their clients:
Standard account
VIP account
ECN Account
The Standard account has a fixed 1.5 pips spread and a $1000 minimum deposit. Although they claim that this trading account is for new traders, the minimum deposit is $1000, which is ridiculous. They clearly want newcomers to be taken advantage of by this offer and lose a significant quantity of money so that they may profit from it.
They have another type of account created for their VIP clients where there are three types of accounts available including, Individual, Joint, and Corporate. The minimum money that should be deposited on the VIP trading account is $25000 with 1 Pips spreads.
CJC Markets Withdrawal and Fees
The ability to make deposits and withdrawals is an important factor to consider when comparing forex brokers. InvestMarkets provides traders with a variety of deposit options, including:
Credit cards
Debit cards
Neteller
Skrill
tether
Bitwallet
BTPay
Bank Wire
DagonPay
help2pay
The website of this firm is lacking information about the payment options for deposits and withdrawals, and fees. This is highly inconvenient because, in most cases, authorized brokers make such information publicly available and easily accessible on their website, allowing investors to investigate it before deciding to create a trading account with the broker. We are skeptical about this broker's credibility as a result of such poor transparency requirements.
On top of that, the customers write very negative reviews about this broker company because of the high amount of commissions CJC Markets brokerage charges them with. It should be emphasized that they charge their consumers' excessive fees that start at $25 USD. So it is not unexpected that CJC Markets conceal this sort of information.
So before you open a trading account for them online trading, you are recommended to ensure that you have read and grasped all of the most recent information about Withdrawal and Fees in order to be fully safe and secure from all kinds of inconveniences as well as the substantial monetary losses while trading with them.

CJC Markets Trading Platforms
CJC Markets offers investors the MT4 trading system, which is a sophisticated trading platform that includes real-time charting, in-depth news and statistics, personalized coaching, and a plethora of order management instruments as well as indicators. To assist you to enhance your trading experience, the software also provides a user-friendly interface in fully customizable trading conditions. The MT4 trading platform has a desktop program for Windows and Mac computers, as well as a web version.
CJC Markets Customer Support
Customer service is critical to the company's success since it keeps clients and derivatives more significant from them. The broker companies provide excellent customer service and create a loyal environment that refers customers, serves as case studies, and provides good testimonials and reviews. However, CJC markets tend to be very poor at this point, especially if we read client reviews about them on the internet.
If you check their customers' comments on various web pages, you will most likely discover many of them claiming that there really is no efficient customer support available on the firm's website and therefore there is no link between consumers and the firm. You will either not get a response if you send an email to their customer care or you will receive it after a very long time.
This is one of the most important reasons why you should avoid this FX broker firm. There seems to be a high chance they are not a reliable brokerage and do not really care about any of the consumers' complaints or issues. So investing money with the CJC Markets scam is not worth your time or money.
Another point worth mentioning in this CJC Markets Review is that they have a limited number of educational resources available on their website. This may be a problem for new traders who want to learn everything they can about the financial market before opening a live account and trading with it. Even though they offer a FAQ area, it is not always sufficient. As a result, the absence of instructional resources is a significant disadvantage of this Foreign currency broker company.
Is CJC Markets legitimate? Should you trade with them?
As we have already discussed, CJC Markets is a foreign currency brokerage firm that claims to hold 3 kinds of authorizations, including a FINTRAC license, an Australia Security and Investment Commission (ASIC) license, and a Saint Vincent and the Grenadines license (SVG). However, this is a broker that is an outstanding example of how a licensed broker can also have very low quality in their service.
CJC Markets Forex broker has a maximum leverage ratio of 1:400, according to our research. This suggests that the company is not super competitive in comparison to other brokers in the market, who offer much higher leverage ratios, such as 1:1000 or even 1:2000.
On top of that, this company's current website is deficient in terms of payment choices for deposits and withdrawals, as well as fees. This is extremely inconvenient because, in most instances, licensed brokers make such info public and readily available on their webpage. Besides, they have a very poor quality of customer support which becomes the major reason for the negative reviews about CJC Markets by their own clients.
Overall, we do not recommend you to trade with this brokerage because they do not provide you with a high quality of services.