CPT Markets Review – Is this broker legit?

Choosing a legit broker can be the best decision you'll make when entering any financial market. If you do a good job and find one that really cares about your interests on the market, you're going to have a decent trading experience that's not artificially worsened by your service provider.
But if you do end up with a fraudulent broker, the chances of your money being stolen will skyrocket instantly. Therefore, the importance of a thorough consideration before choosing a broker can hardly be overstated.
In this CPT Markets review, we're going to examine yet another Forex broker and try to find out its true colors.
A brief overview
Before we jump into an in-depth review of the broker, let's have a quick rundown of all the specs and trading conditions that we're going to discuss in this article. CPT Markets is a Forex broker that also offers securities from other markets such as cryptocurrencies and indices.
The broker seemingly offers a very lucrative platform with whopping conditions. For instance, Forex pairs come with 1:1000 leverage. But behind such flashy conditions, there is a big danger that you should be very careful about – we will discuss this issue more thoroughly further down below.
Then there's the minimum deposit requirement that also causes our suspicion as it is one of the highest entrance fees we've seen on the market. And to make the deposits at CPT Markets Forex broker, you can use a number of financial platforms, all of which we're going to review in the upcoming chapter.
The Cptmarkets.com review
The next entry in this review is going to be the broker's website. The interface of this website is a little bit underwhelming: while for the most part, the design is simplistic and modern, there are areas that are too crowded with low-quality wallpapers.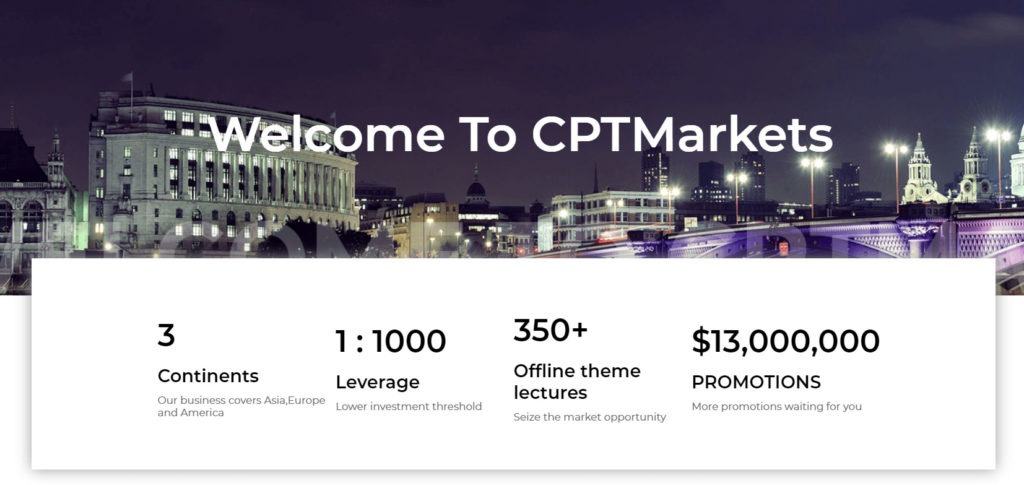 As for the informative aspect of the website, you can pretty much find anything about how trading is done at CPT Markets, however, you shouldn't ask for in-depth details about individual offerings.
When signing up at the CPT Markets FX brokerage, you can only open one Standard account with a minimum deposit of 500 USD. This is a very disadvantageous condition as it doesn't allow the broker to account for all traders regardless of their previous experience in Forex.
After that, we will move to a review of the trading platform. This is actually one of the brightest spots of CPT Markets because it offers the world's most sophisticated platforms: MT4 and cTrader.
Is licensing legit?
Finally, we're going to top it all off with a discussion about the broker's license. It should give us a pretty good idea about the way CPT Markets conducts its business.
As the broker claims, there are two licenses that regulate its activities: IFSC from Belize and FCA from the UK. As our review will show in the last chapter, CPT Markets only has one license, and spoiler alert: it's not FCA!
In short, we're looking at a Forex broker that tries to attract as many new clients as possible with its flashy conditions, yet it ultimately fails to achieve that.
A thorough review of trading terms and conditions
Now, let's dive deeper into this platform and examine all of the above-mentioned details more closely. As noted earlier, CPT Markets features multiple tradable assets on its website. These assets are:
Currency pairs
Crude oil
Precious metals
Indices
CFDs
Cryptocurrencies
The multitude of available assets is definitely a benefit of this platform. You can have a decently diversified portfolio that manages the risk and doesn't endanger your account with greater losses. However, the whole thing goes to trash when you take a look at the maximum leverage at CPT Markets.
This specific CPT Markets promotion is so dangerous at a 1:1000 multiplication rate that it can take you to the negative balance in a split second. Usually, Europe-regulated brokers have the highest leverage at 1:30 – their licenses don't allow for a larger ratio. This helps traders to remain in a safe trading zone and not go too overboard.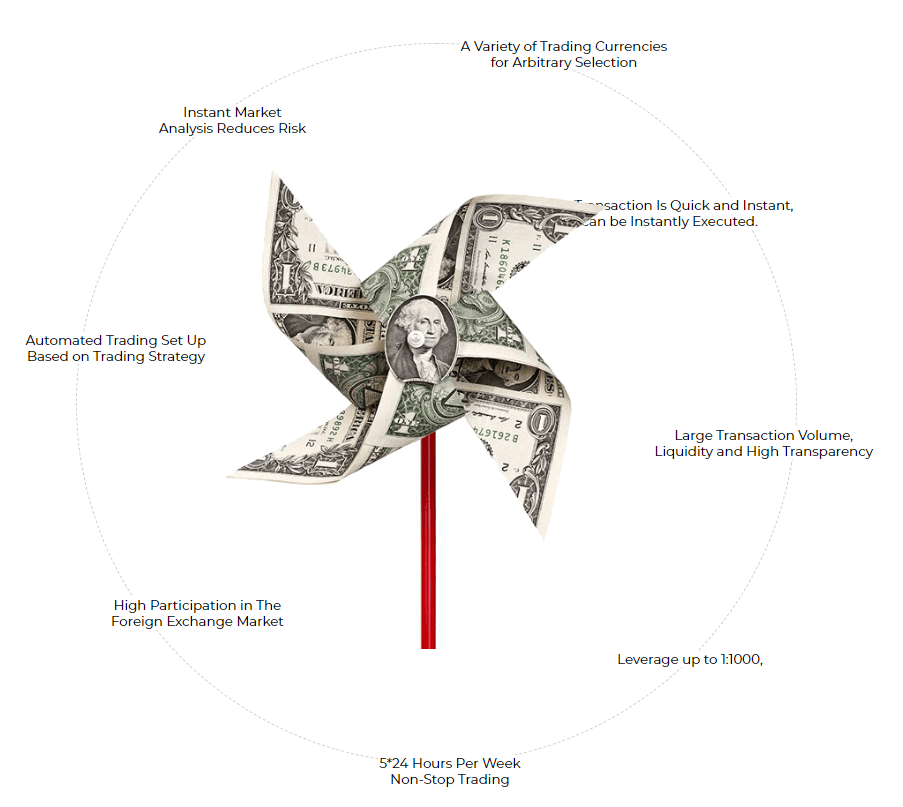 Yet with a 1:1000 leverage, they significantly enhance their market exposure. Sure, this increases profits by x1000, but it does the same for losses. And more often than not, the effect of grave losses are more influential than large profits.
As for the spread, a 1.8 minimum variable spread is quite a decent offering for a Forex broker that doesn't charge other commissions. If we didn't have other CPT Markets scam suspicions, we would definitely consider this fact yet another proof of the broker's credibility.
Next up, let's discuss the minimum deposit requirement at CPT Markets. In order to create a Standard account, you have to deposit at least 500 USD, which is simply way higher than what other brokers require. It makes sure that not many traders can access the broker's platform, even though it tries to do the opposite with its flashy conditions.
Last, but certainly not least, deposit and withdrawal methods. CPT Markets withdrawals are powered by these financial platforms:
Wire transfer – 1-3 working days
UnionPay – 1-3 working days
Online banking – 1-3 working days
You can make deposits via the following methods:
Visa/MasterCard credit cards – immediate transactions
Wire transfer – 2-3 business days
UnionPay – immediate transactions
USDT – depends on the bank
QR code – 1-3 business days
Online banking – 1-3 business days
SSAC – depends on the bank
Now, the fact that you have 7 different deposit options is a definitive advantage, yet the withdrawals are very limited and do not even support credit card transactions. Plus, there aren't even more popular e-wallets like Skrill or Neteller, not to mention PayPal.
How do the website and software perform?
Moving on, let's take a closer look at the broker's website and see how it feels to the viewer's eye. The moment we entered the website, we were met with this slideshow of pretty low-resolution images that definitely don't contribute to the whole user experience.
Although, we have to point out that the blank pages look quite okay. Plus, the CPT Markets Forex broker provides details about pretty much everything, even though one wouldn't necessarily get the most thorough information on this website.
A big downside of CPT Markets can be found in its accounts department. While the majority of brokers have multiple account types that work for different trader types, CPT Markets only offers one Standard account that has a very weird name – STD account.
Granted, it comes with all of those features mentioned above, offering one account just won't cut it. It ensures that only the mid-range traders will potentially be interested in this platform, whereas beginners and veteran traders will have to find someone else (all the more beneficial for them).
As for the trading software, the broker manages to make up for the lack of multiple accounts by offering MetaTrader 4 and cTrader. The CPT Markets MT4, as well as cTrader, is a very complex and widely used trading software that certainly improves the trading experience for all traders. However, this cannot be the proof that CPT Markets isn't a scam; if it wants to trick people, it most certainly can.
Can CPT Markets be trusted for its licensing claims?
Finally, and in our opinion, most importantly, let's have an in-depth discussion about the regulation of CPT Markets. The reason why this is important is that a broker with a sturdy license is more responsible of ensuring high financial standards and decent trading experience for its clients – it is literally obligated by the government to do so.
In the case of CPT Markets, an untrained eye would pretty easily be persuaded that the broker is properly regulated. It features a license from the Belize International Financial Services Commission (IFSC), which is also supposedly enforced by the license from the UK's Financial Conduct Authority (FCA).
The latter license, if real, can dissipate all CPT Markets scam suspicions and ensure that the broker is as legit as it can get. However, the fact that we see very overzealous trading offerings on the platform suggests that there's no actual FCA license regulating the broker's actions. If it were there, it would have enticed CPT Markets to lower the leverage, have a more realistic minimum deposit requirement, and so on.
In short, we believe that CPT Markets doesn't have an FCA license and it is only regulated by a much weaker IFSC license from Belize. What this means is that if it so chooses to scam the clients, CPT Markets won't be put responsible for it by the IFSC – something that no trader wants in a broker.
Are you making the correct decision?
As noted in the introduction, choosing the broker is one of the most important tasks you'll face when entering the trading world. And if you end up choosing a fraudulent one, you'll have to pay for it dearly.
Upon doing this CPT Markets review, we have found that the broker has a very suspicious set of trading conditions that can seriously damage your account. The only decent offering we found here was spreads, yet it doesn't really matter when compared to dangerously-high leverage and deposit requirement.
When it comes to the website, CPT Markets mostly does a good job of ensuring the simplicity of the interface, with notable exceptions here and there. Information is provided about all important details, yet it's not going to be very detailed.
The most important discovery of this review is that CPT Markets doesn't have a sturdy license to ensure quality financial service. While it claims to have both IFSC and FCA licenses, we are sure that the only material to control the broker's actions is from the IFSC.
In conclusion, we don't think you would want to trade with CPT Markets. The above-mentioned suspicions are just too pressing to choose the broker as your main service provider.