CryptoGT Review – What is our review of this crypto broker?

Financial trading has long become one of the most lucrative businesses in the world. It is beneficial to both traders and brokers alike, and with fair gameplay, both of the parties see reasonable results in their careers.
However, today's financial world is steeped with unfaithful Forex brokers that present themselves as the most trustworthy and lucrative entities in the world, yet what hides underneath is what causes people to go default.
Therefore, it is essential to take time and find the right broker for your needs. To help you in that process, we have prepared a little review of the CryptoGT Forex broker – yes, it still is considered a Forex broker as it offers currency pairs alongside cryptocurrencies. So, let's get right to our review.
The review of the regulation
First things first, we have to start our review with the discussion about regulatory materials. As you may already know, any broker's credibility is greatly impacted by them having or not having a license, therefore, we will predominantly use this section to determine whether the CryptoGT scam is real or not.
Unfortunately, CryptoGT remains overly secretive about its license. We searched everywhere to find just a hint about the financial institution that has issued the license, yet we failed every single time. Sure, the broker says that it was registered in the Republic of the Marshall Islands with a registration number of 90645, yet it still doesn't imply whether the broker is regulated or not.
In this case, we automatically assume that CryptoGT FX brokerage has no license and therefore, is very unsafe to trade with. And that's how our readers should treat it until it proves otherwise.
The Cryptogt.com review
Consequently, it's time to move on to the next topic of our discussion – the website. A nicely-designed website that is also informative can have a very positive impact on the image of the broker. If it manages to convey information in an effortless manner, then lots of traders will be tempted to at least visit the website and see what's going on.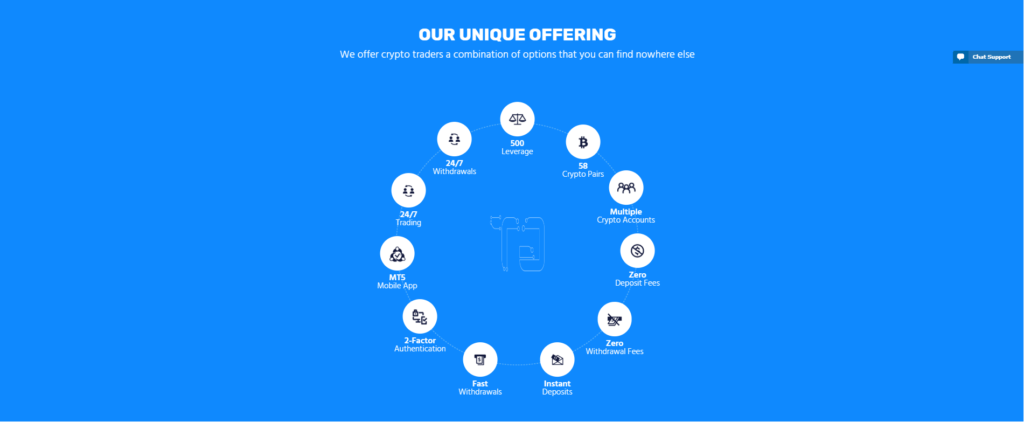 Yet that's not what we saw during our Cryptogt.com review. The website seems a bit overdone with heavy imagery and saturated colors. And that terrible font! It makes the whole visual experience a hundred times worse.
And when it comes to getting the actual information about trading terms and conditions, there's some things you can find that the broker wants you to find. For instance, CryptoGT very heavily promotes its 1:500 leverage, yet we don't know anything about legal stuff: whether the broker has a license or not.
Then there's a whole other problem of account separation. In this CryptoGT review, we often came across the claim that there's lots of accounts to choose from, yet we only found one live and one demo account, which is to say – CryptoGT has only one account. This is very disadvantageous for both beginner and experienced traders: for the former, the broker doesn't offer a more simplistic trading account, yet for the latter, there's no option for much harder and more lucrative trading rules.
There's not even the diversity of trading platforms. Sure, the CryptoGT MetaTrader 5 is a very complex and sophisticated trading software that is beneficial to use for more veteran traders, but for the same reason, beginners have a hard time using it. It would've been so much better if the broker offered MT4 alongside its older brother.
Trading terms and conditions – Are they real?
The final piece of our puzzle is the actual trading terms and conditions. Lots of traders make a mistake of depending on just the trading numbers to choose a brokerage. What happens very often is that the broker manages to trick them with its flashy conditions and drag them into a financial scam. Therefore, it is essential to be very careful when looking at the numbers.
Let's start with the CryptoGT Forex broker's instruments. As the name suggests, the main tradable instruments are cryptocurrencies, and there are more than 50 different crypto pairs to choose from. However, we still consider it an FX broker because it also offers some currency pairs, alongside stocks, indices, commodities, etc.

Despite this diversity, we'll focus our discussion on cryptocurrencies and assess the main offerings in that scope. First off, the leverage. As we noted above, CryptoGT has a maximum of 1:500 leverage on all crypto pairs, which is plain ridiculous. Almost every credible broker features a maximum of 1:50 multiplication rate on its crypto pairs, knowing that the asset is extraordinarily volatile and every price change can cost a trader their fortune. Yet CryptoGT doesn't seem to be worried about that, going full-on with this outrageous offering.
When it comes to spreads, though, there's nothing on the broker's website that can suggest the bid-ask price difference on cryptos, currency pairs, or on other assets. Now, if we knew CryptoGT had the commissions on trades, we'd be less worried about this, but since the main selling point of this broker is the absence of commissions, we're bound to ask: in what way does CryptoGT fund its services? Is it possible that the broker gets funding from shady sources? Very much possible!
Moving on, let's talk about the minimum deposit requirement, which is also very suspicious. Unlike other, more credible brokers, CryptoGT requires a minimum deposit of just 0.0001 BTC, which is equal to around 1 US dollar. We're getting even more suspicious of the CryptoGT scam because such a low requirement just doesn't click in.
And to make the actual deposit, you can only use cryptocurrencies, which is also a bummer. But compared to other more suspicious details, this is not a big deal.
Ultimate CryptoGT opinion
So, how do we rate this broker? Should you trust CryptoGT and trade with it?
We think not! The broker is a bit too shady and secretive, hiding information about its license and important trading conditions. Besides, the CryptoGT promotions that we know of are incredibly oversized, which, again, is very suspicious.
In conclusion, a broker like CryptoGT cannot be trusted.