DecodeFX Review – Is This Broker Company The Scam?

Trading via offshore broker companies is not the best choice for investors. Today, the demand and the competitiveness of the trading market are increasing dramatically. Many firms took advantage of that and hide their real purposes with the impressive conditions and bonus offers. Their exciting promises include high and regular profits with a low amount of deposit. They also promise high-quality safety with your data and finances and most importantly, the great deposit and withdrawal options.
Before deciding to use a specific broker, an investor should be experienced enough to check every detail of offers, regulations, and the company's safety to start investing in it. Otherwise, the personal data and all the placed finances are at high risk, and one day they can disappear without any proof.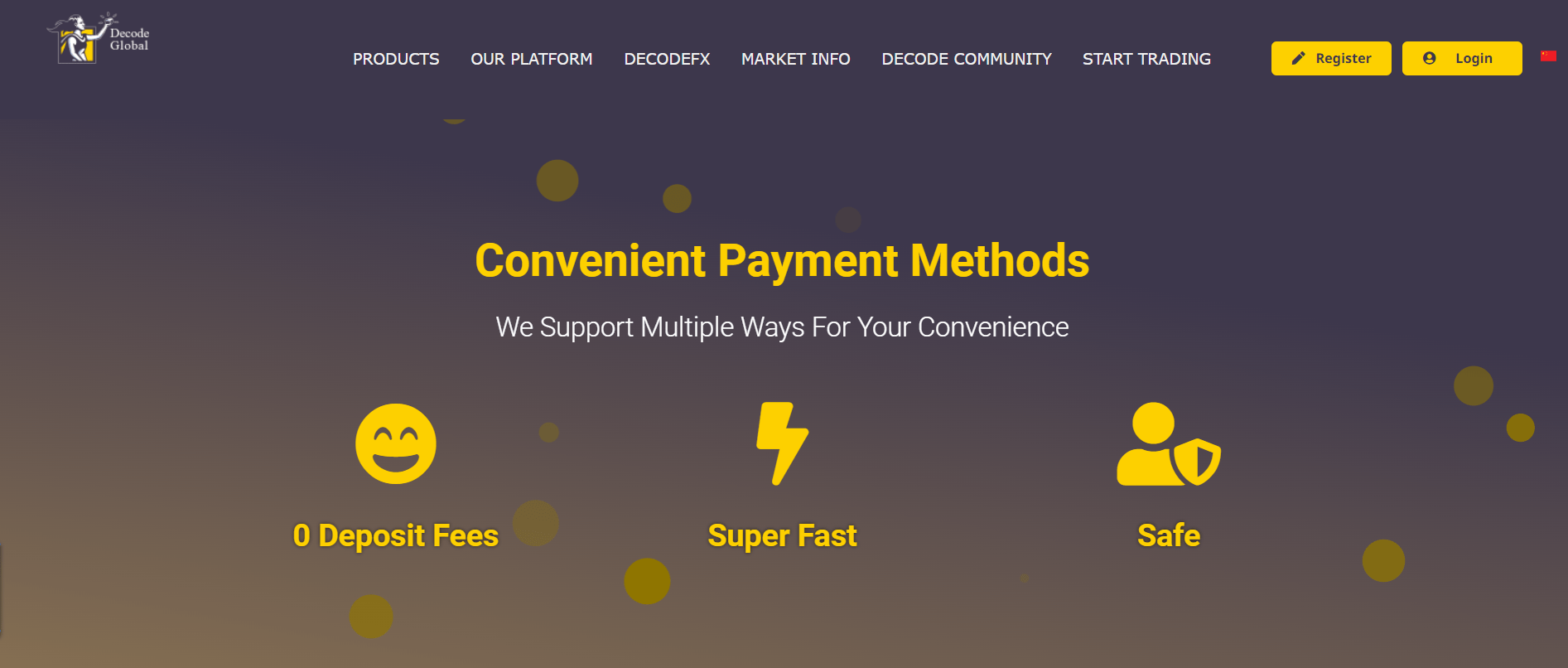 For that reason, we decided to do a DecodeFX review, where we will be discussing all of its important features. Our aim is not to demonstrate the negative aspect of this broker company. We aim to show you the reality and prevent you from the high risks of losses.
Before we start to find out the relevance between DecodeFX offers and its trustworthiness, let's have a brief view of the company. DecodeFX was founded in 2004, in Vanuatu, Australia. The company operates in Austria, China, Cyprus, Germany, and the Philippines. As they claim, they are licensed and operating legally on the Forex market.
Also, the company uses indices, metals, and commodities as trading instruments. The platform is available in different languages such as Chinese, German and English. With the customer support system, they have the classic offer – you can contact them via call or e-mail. Like other anonymous broker companies, they do not have an office customer support service.
The Website
The DecodeFX website is similar to other broker companies. From the first page, you can discover some great bonuses which help the platform position itself as reliable and trustworthy. The main focus is on the offers and profits the future investors can get. The information is not described in detail and you will feel the lack of transparency which creates some suspicions.

The structure is simple and the design is not special. Every number including bonuses, deposits, and offers is outlined with a yellow background so you can pay attention easily. On every part of the page, the company tries to convince customers that they are safe and the best trading platform you will ever find.
License
Because the company was founded in Australia, they have a license from the Australian Securities and Investment Commission. On the other hand, this license does not mean that the DecodeFX is safe for users with their data or financial security. Furthermore, it does not guarantee users that they will get promised bonuses and withdrawal winnings without any problems. This license is basic and requires to meet the basic requirements of the government.
Trading Platform
DecodeFX is focused to increase accessibility and become more attractive for new users, who are inexperienced in Forex or CFD trading and easily can be impressed by their offers. That is why the company uses MT4 and MT5 as trading platforms. That means that any device user can have access to the platform and create an account without any problem.
iOS, Android as well as desktop and tablet device users can use the DecodeFX platform. It is significant to know that the broker does not provide the demo account feature which would be great for new users to try to learn effective investing with the free-risk feature.
Payments, Deposit And Withdrawal
DecodeFX offers different deposit methods such as using debit/credit cards, Neteller, Alipay, Skrill, DragonPlay, Poli, and Bank Wire. They accept EUR, USD, AUD, and GBP, so it is pretty accessible for worldwide investors. The company does not provide internet-bearing accounts and the minimum amount of deposits is 100 USD.

As they claim, their deposit and withdrawal transactions are without any commission fees, within the shortest period, and with high-quality safety. But we have seen a lot of occasions where the broker has delayed or declined big amounts of withdrawal.
With the withdrawal options too, there is the possibility to use cards, Skrill, Neteller, Fasapay, and other frequently used methods. The period of withdrawal goes up to 3 business days, which might be frustrating for some.
Can You Trust DecodeFX?
We have thoroughly reviewed all the suggestions, bonuses, and conditions that DecodeFX broker offers – from what we have seen, we don't think it's worth investing in. Furthermore, the company is not regulated by any commission which would provide the quality and safety of users. Having a basic governmental license does not mean that DecodeFX can be trusted, especially by beginner traders.