Deriv Review – How to Know Whether the Broker Is Legit or Not?

If you want to find a trustworthy Forex broker that treats you fairly, you have to go further than judging it by its looks; you have to make sure that the looks and the actual content are the same.
Unfortunately, we cannot say that all brokers are honest with their offerings. There are many that try to grab your attention with flashy conditions, yet what they really offer is extremely dangerous.
In the following Deriv review, we'll help you understand the real intention of this broker; whether it actually wants to increase your profitability in the market or it's just another scam.
Trading with Deriv – Terms and conditions
When you're looking for a broker, the first thing you probably want to know is how profitable you can get with its trading offerings. On the one hand, you want lower commissions and high leverage rates, as well as a bunch of tradable assets to diversify your portfolio. Yet, on the other hand, you don't want too overzealous conditions so as they seem too good to be true.
Let's start from the beginning. Deriv offers more than 100 financial instruments for you to trade. These instruments are divided into five sections:
Forex
Synthetic indices
Stock indices
Commodities
Binary options
On the one hand, the multitude of tradable assets allows you to choose various non-related assets and safeguard your portfolio from too devastating market fluctuations. On the other hand, however, we're compelled to point out that some of these assets represent the exact opposite of what safe trading stands for.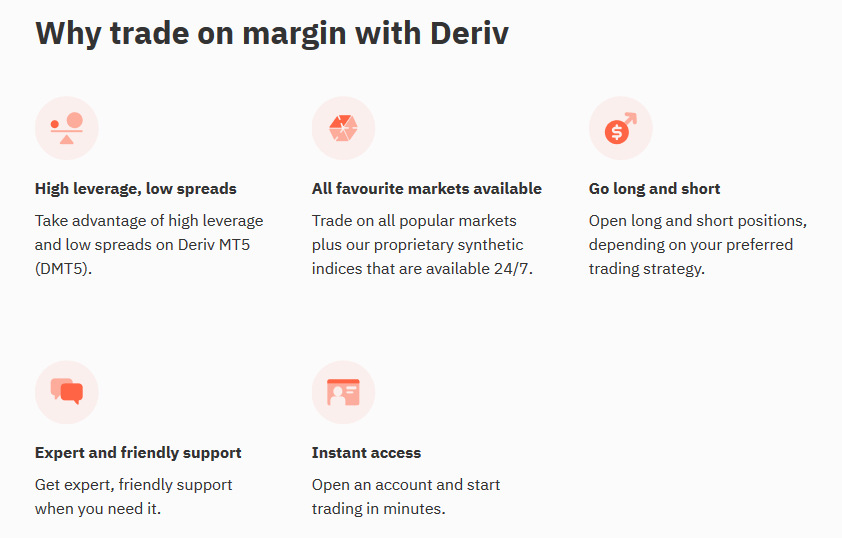 For instance, binary options trading is considered one of the riskiest and most scam-related instruments in the trading industry. And as our review of Deriv Forex broker indicates, we shouldn't be too enthusiastic about the outcomes being somewhat different from usual. In the possibility of all-win or all-lose, there is a plausible danger that Deriv may turn things to its advantage.
Then there are synthetic indices, which further enforce our suspicions about Deriv being a scam broker. If you don't know what synthetic products are, these are similar to regular financial instruments with one fundamental difference: while financial instruments abide by the actual market developments, synthetic assets are completely dependent on a 'random' algorithm that simulates the price movements.
And more often than not, brokers tend to skew the platform so that the odds are in favor of them, instead of traders. Therefore, it's not a great idea to subject yourself to the broker's whims, especially when the whole thing looks suspiciously like gambling.
But even if we ignore these assets and focus on other trading offerings, we can still find suspicious details without too much struggle. For example, the maximum leverage that you can get with Deriv goes as high as 1:1000. And even though it means you can increase your prospective profits by 1,000 times, it also means that your losses increase at the same rate.
And considering the fact that around 90% of traders lose money when trading Forex, leverage this high undermines our Deriv opinion even more.
The Deriv.com review
After trading terms and conditions, it's also interesting to see how Deriv has developed its website and what software support looks like.
As we head over to Deriv.com, we noticed that the website doesn't look bad at all. The design isn't complicated with unnecessary visual themes and decorations; everything looks decent and pleasant to the eye.
However, it's not all sunshine and rainbows. You see, even though Deriv delivers a nice-looking website, its informative aspect fails to evoke the same impression in us. There were many occasions when we couldn't find details about a certain trading feature, be it order execution or fund security. With that in mind, we conclude that Deriv wants to cover the informative deficiency with visual decor.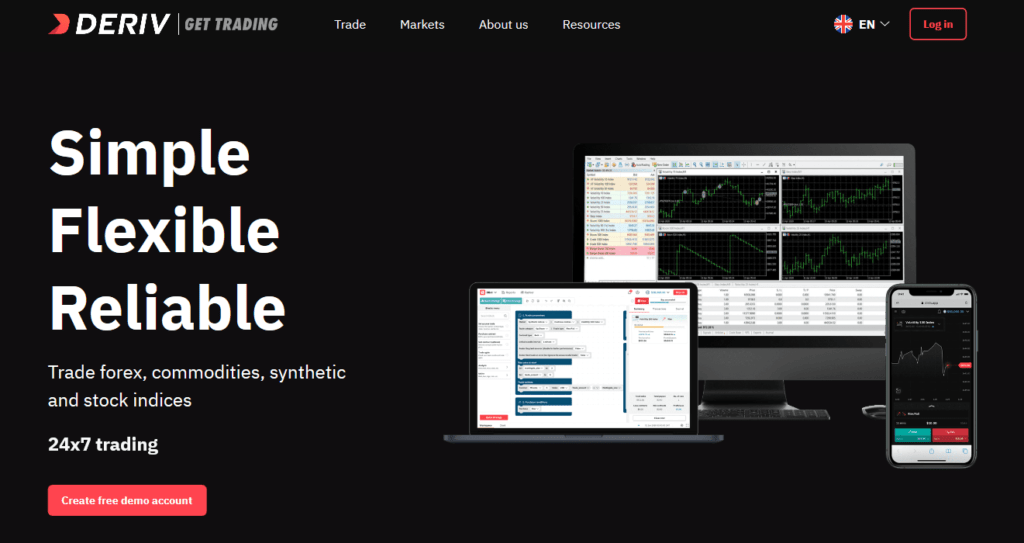 One of the difficulties we had in terms of acquiring the information was related to account types. While we found out that there are three live accounts you can choose from, we still don't know what specifics these accounts have. These are the offerings:
Financial (Standard)
Financial STP
Synthetic
But when it comes to the minimum deposit requirement for these accounts, as well as many other specifics, Deriv doesn't provide any information whatsoever. But what it does mention is that you can also create a demo account and trade the available instruments virtually. However, it doesn't really improve the overall Deriv rating, simply because offering a demo account is a regular thing with the majority of brokers; there's nothing special about this achievement.
Can you trust Deriv?
And finally, let's turn our attention to the regulatory aspect of this broker and find out whether you can trust Deriv or not.
As we browsed through Deriv.com, we found that the broker has licenses from four different financial regulators:
Malta Financial Services Authority (MFSA)
Vanuatu Financial Services Commission (VFSC)
British Virgin Islands Financial Services Commission (BFSC)
Labuan Financial Services Authority (LFSA)
Now, for an outsider who doesn't have much expertise in financial trading, these licenses might be convincing enough. However, if you pay just a little bit more attention, you'll soon find out that there's something wrong with all of these licenses.

You see, all four of these licensing materials come from significantly weak countries, which further enforces our Deriv scam suspicions. That's because these countries don't have sufficient political or economic prowess to monitor the broker's actions and hold it accountable, should it engage in fraudulent activities.
Therefore, we're sure that all of this is a facade employed by Deriv to trick you and get you to deposit as much money as possible.
Our ultimate Deriv opinion
As we have discovered during our review, Deriv is a Forex trading broker that offers additional financial instruments to trade, including stock indices and binary options.
Through our license review, we have discovered that all of the regulators come from small and weak countries; the ones that cannot really guarantee financial safety for traders.
As for trading terms and conditions, Deriv is suspiciously trying to hide some of the most important details, yet even the available information is suspicious (see 1:1000 leverage).
In short, Deriv ignites a lot of suspicions about its fraudulent nature, which is why we cannot recommend it to you.