Discount FX review for discussing the broker's features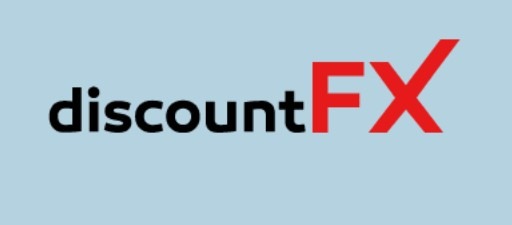 Discount FX brokerage is a financial service provider located, registered and licensed in Cyprus. The regulator is, of course, the Cysec Securities and Exchange Commission. Luckily, unline many of the recent reviews, Discount FX actually possesses a legitimate license which allows it to access the overall EU market and then some.
However, during our Discount FX review, we found several features that we didn't necessarily like with the brokerage. Several parts of the services that they offered were either incompetent in comparison to the general competitive level of the companies in the European Union, or they straight up indicated towards a potential Discount FX scam.
Let's start with the reasons that the Discount FX scam even rose up in the discussions first.
Is Discount FX a scam?
Many readers may be baffled by the fact that we'd consider a CySEC regulated entity a scam, but it has happened before and there' a big possibility that several regulatory loopholes allow scammers to operate from the country to this day.
We're not exactly saying that Discount FX scam is a reality, all we're indicating is that there are some points where it could be the case.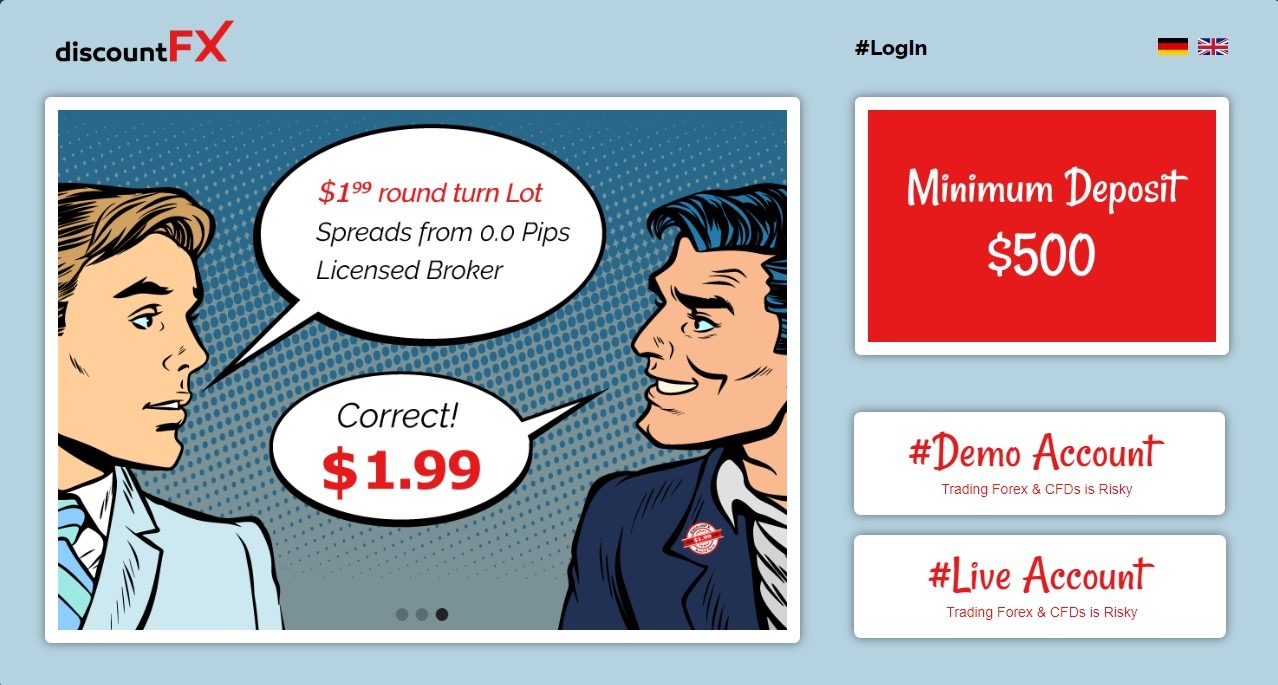 For example, it isn't Discount FX that has the CySEC license, it's the parent company called GBE Brokers Ltd, which has been registered since 2014.
Another issue was that GBE Brokers has an office in Germany, but no license from BaFin to speak of, indicating that maybe they went the easy way and avoided a German license because they knew their services wouldn't be enough to pull them through the requirements.
That's about it for now in terms of arguments for them being a scam. Let's now focus on their offers to see if they're worth it even as a legitimate broker.
What to expect from Discount FX broker
One of the main advantages that Discount FX has, that it's trying to promote extensively is the very low spreads on standard lots.
According to the website, traders will have 0 spreads with a $1 commission on every standard lot, but further investigation and comments from existing traders have confirmed that this is not necessarily the case. In reality, the spreads tend to hover over the 0.4 pips mark which is still good by EU standards.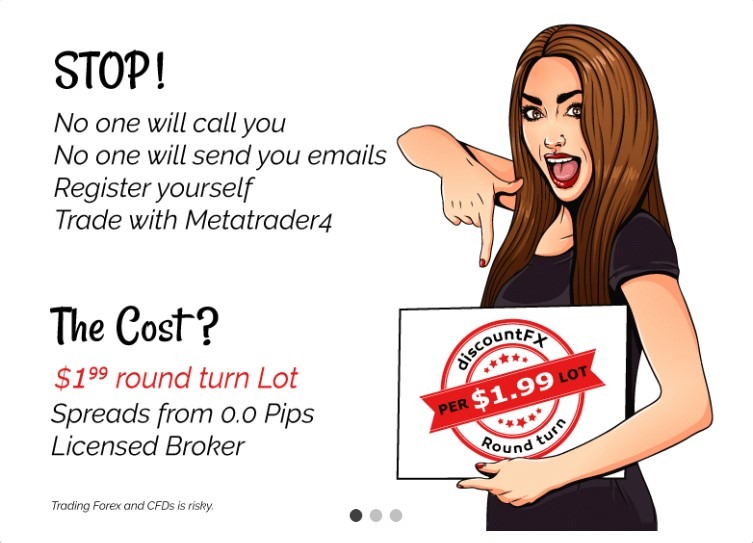 It's likely that Discount FX wanted to say that spreads start from 0 rather than them always be 0 for major currency pairs. But that's just the benefit of the doubt.
Leverage issues
In terms of leverage, Discount FX, unfortunately, falls extremely short compared to the EU market competition with its maximum of 1:200. It's not uncommon to see much higher leverage with better, older and more trustworthy brokers, therefore, we have to deduct a few points fro the overall Discount FX rating because of this.
Available software
The only available trading software with Discount FX is MT4, which is unfortunate as diversity is always welcome. However, based on the fact that MT4 is the most popular software it would be unfair to deduct some points here.
The feature that warrants a deduction though, is the withdrawal and deposits system that the broker uses. There are several banks from different EU countries that have a partnership with the brokerage and therefore have no fees in terms of deposits, but when it comes to withdrawals, Discount FX charges 0.15%  on every withdrawal regardless of the method one chooses.
The minimum withdrawal fee will always be 20 USD, so small withdrawals are not encouraged. This was also going to be a point in the Discount FX scam argument, but it's quite common even with large and trustworthy brokerages.
Can Discount FX be trusted?
If we compile all of the data we've gathered and the requirements that the broker imposes on its traders, we can sort of come to a consensus for the overall rating.
In conclusion, Discount FX scam is unlikely but the fact that there were doubts are already alarming. The license is the only thing that keeps the thread whole here, if there was no license, we wouldn't hesitate to call it a scam.
In other terms, Discount FX fails to challenge the already available Forex brokerages in the market that offer much more enticing deals overall.
Therefore, we'd say that even if Discount FX isn't a scam, it's still not worth it to trade with them, just because there are better options out there.