Discover the new brokerage with this EagleFX review

EagleFX is a Forex brokerage operating from the Commonwealth of Dominica and catering to a global base of customers including the United States.
Our EalgeFX review found that the broker offers a leverage of 1:500 on major currency pairs, spreads are currently unknown but are floating, the broker has a commission/based trading system where traders pay $6 per lot RT, it features MT4 and WebTrader platforms and has a minimum deposit of $10.
Now that we've gotten the intro out of the way and looked at the broker from the simplest perspective, let's take a look at some of the conditions in a more detailed manner as we're pretty sure some of the aspects seemed fishy to experienced readers.
EagleFX in Commonwealth of Dominica
The first and most important "oh no" moment was most likely when we first mentioned that EagleFX is registered in the Commonwealth of Dominica. All the experienced traders may have already encountered the dozens of scammers that usually hail from this region of the world, simply because it does not regulate Forex companies.
For example, EagleFX scam would be impossible with a European license, simply because they'd have to cater to EU clients and undergo extreme restrictions and vetting to even open the company. In the Commonwealth of Dominica, the government has clearly stated that they don't regulate Forex brokers and will not interfere in their activities as long as they don't touch the local population.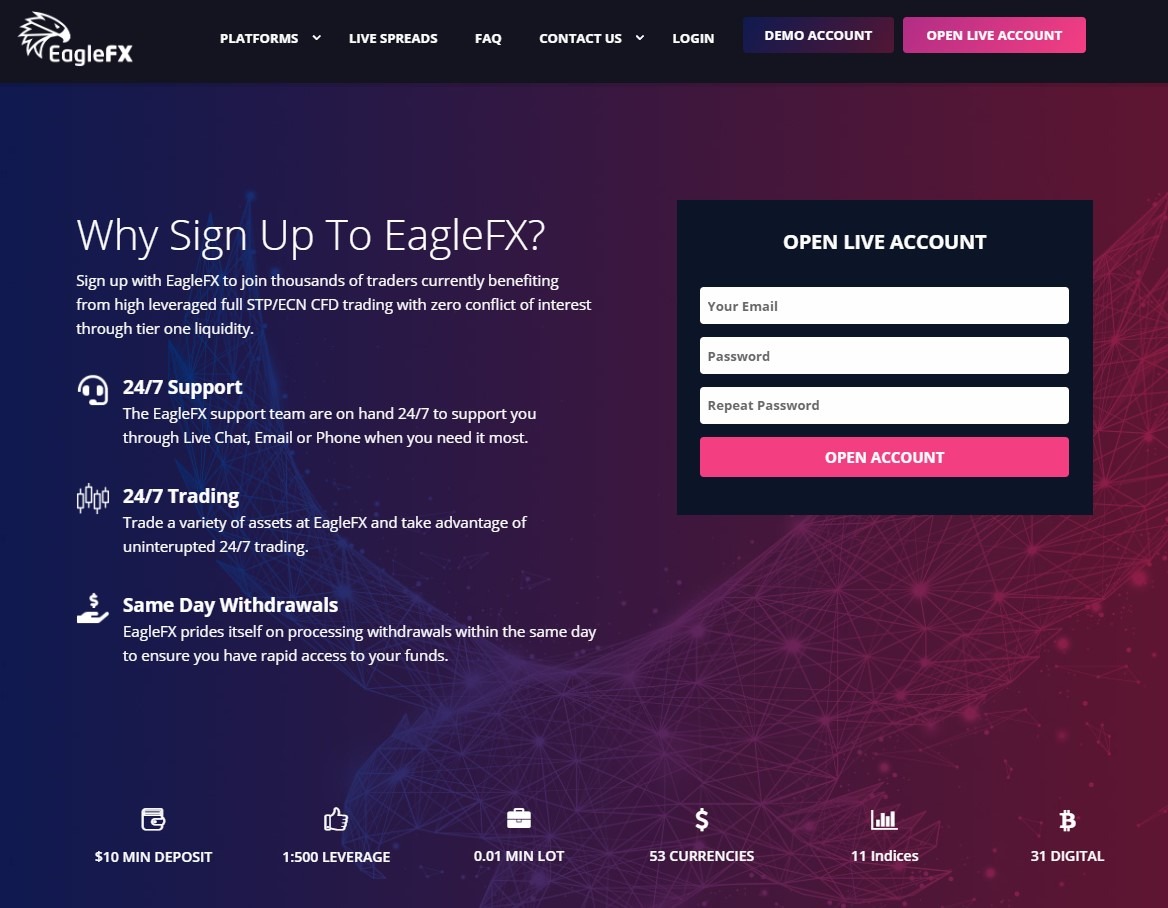 Such practices are known in quite a lot of countries that house cold-call scammers. The governments are completely fine with their operations as long as they don't touch the local populace. This could be the exact same case with the EagleFX scam due to registration location.
EagleFX caters to US clients?
Catering to customers from the United States is virtually unheard of in the Forex market. The sheer number of licenses, documentations, investments and operational costs that follow this endeavor scare away even the most prominent of FX brokers, especially if they operate from offshore countries.
Having a newly founded, offshore Forex brokerage that barely has a website cater to the US population is as clear of a red flag as any.
Even if EagleFX had a legitimate license and was able to cover the operational costs, there are no indications at all about a CFTC license, thus concluding this EagleFX review with a scam alert. But that's not all, we'd like to expose even more of the broker's wrongdoings.
Commissions and spreads
Unfortunately, we couldn't get our hands on the brokers spread policies, all that we know is that they are floating and therefore will change according to a currency pair's volatility. This is usually not an advantage, as it's best to know how much profit to expect from a single trade rather than calculate every single time and have it inconsistent.
It would be fine if it was just the spreads that were the issue, but pairing it up with the $6 commission is just too much. The secondary reason why EagleFX fraud is so obvious is because of their fees on the essentials of trading. Sure, traders have the opportunity to use low minimum deposits and high leverage, but all of that accounts for nothing in the end when most of the profit goes to the broker themselves.
Why is EagleFX scam so obvious?
No matter how we look at it, FX scammers tend to not be the most creative companies out there. They usually try to copy other "successful" scammers and base their whole operations on that. But since most of these companies look so alike, it's becoming easier and easier to identify them.
EagleFX could not afford to claim to have an EU license, because they knew they'd be called out on it by one of the regulators, therefore they might have told the truth anyway.

The next resemblance is with the trading conditions of the broker. Ever since ESMA started to place strict restrictions on the FX market, and even before that, most scammers have been trying to entice the EU customer base with high leverage and low spreads, hoping that it would be too good for some to pass up. In the past, it usually worked, but traders are now starting to doubt overly advantageous trading conditions.
Usually, it takes just a few steps to identify something like the EagleFX scam. For example, if the broker has its legal documentation and registration information hidden in a hard-to-find page on the website, or they offer low minimum deposits and high leverage, but resort to wide spreads and commissions.
Another giveaway, that could more or less work is the broker's methods of deposits and withdrawals. If there is no Wire transfer, it usually means that they're trying to avoid chargebacks. And if they're overly promoting a specific payment method like Bitcoin or Neteller or Skrill, it's also likely because they want to avoid credit/debit card payments and etc.
When we were doing the EagleFX review and stumbled upon their FAQ section, that's exactly what we found. The broker was encouraging the traders to withdraw via Bitcoin and not other methods.
Is EagleFX trustworthy?
By now it should be obvious where this EagleFX review is taking us. The broker does indeed have some nice trading conditions such as the leverage and minimum deposit rates, but the lack of a legitimate license and the number of fees attached simply don't make them worth it.
As a conclusion to this review, we'd like to not shy away from cold hard facts. EagleFX is indeed a scam and any funds deposited there are unlikely to be seen ever again.