easyMarkets review

easyMarkets was initially founded in 2001 under the trade name 'easy-forex'. As such, it was one of the earliest online brokers to penetrate the market only 4 years after the Forex market was decentralized. The easyMarkets brand was adopted in 2013 after 12 successful years in the business. Since then, easyMarkets reviews have grown more positive to make them a favourite broker among traders worldwide.

The broker is licensed by CySEC and ASIC, allowing them to sign up traders from all of Europe and Australia as well as Asian countries. They still don't allow US residents, though. According to these regulators' conditions, easyMarkets keeps clients' deposits in Tier 1 banks in Europe to ensure their clients' funds security. They are also known for their transparency, which is why every easyMarkets review will never fail to mention this fact.
Tradable instruments
One of the main easyMarkets opinion has to do with the range of tradable instruments offered by the broker, of which there are many. Starting with their main business which they started with, easyMarkets has one of the widest range of currency pairs. 135 currency pairs can be traded on the spot through their trading platforms, and you can also trade Forex futures and options where there are about 50 pairs in each system. The US dollar index (DXY) is also tradable, and it acts like an index for the performance of the US dollar.
Other products are available for trade as CFDs, and these include commodities and options. The available commodities range from agricultural produce to metals and energy products, and there is a wide range here too. Some of these commodities also have options which you can trade instead, which can be quite profitable.
Frankly speaking, easyMarkets opinions are correct to praise this broker for offering plenty of tradable instruments, which is good for each of their clients.
Trading conditions
There are no commissions charged by easyMarkets, on any of the tradable instruments. The broker instead makes a profit from the spreads, which remain fixed. The use of a fixed spread has the advantage of ensuring the trader knows what to expect every time on their trades in terms of spread. On the other hand, this means that spreads remain higher than other brokers when there is very little volatility. Still, easyMarkets attempts to keep their spreads as low as possible such that the trading costs are not so high.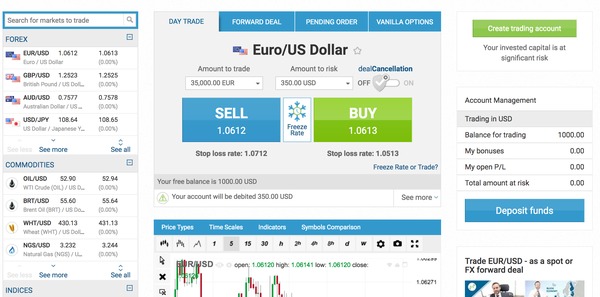 On trading platforms, they offer the popular MetaTrader platform, which ensures you can easily download free indicators and trading signals. They also have their own proprietary easyMarkets platform which has a different interface from MetaTrader but still powerful. It's great that they provided the choice between the two platforms so that anyone could choose whichever one they were most comfortable with.
Other unique features by easyMarkets
Besides the above great features, there are some more standout features that are unique to easyMarkets trading broker:
dealCancellation
easyMarkets is among the few brokers that will allow you to cancel a trade after the order has already been filled. When placing the order, easyMarkets broker offers the added protection of activating dealCancellation. This feature will allow you to cancel the trade within an hour of placing the trade. It is available for Forex trades as well as commodities like gold, silver and oil. Of course, you will incur a charge for cancelling the order, but it is a very good backup option in case you feel the losses you might suffer are higher that you anticipated.
Negative balance protection
All Forex brokers are supposed to clearly warn their clients that online trading can lead to losses, perhaps even more than the initial deposit. This is something that can happen in extremely volatile market conditions where there is slippage and orders are not filled at the desired price. If a trade goes bad, it is easy to lose your entire capital and be left with a negative balance. This is the situation FXCM clients found themselves in on the 15th of January 2015.
Since then, traders have always sought brokers that offer negative balance protection that guarantees the account balance will never go below zero. easyMarkets online broker is one such broker among only a few others, and this truly makes them stand out.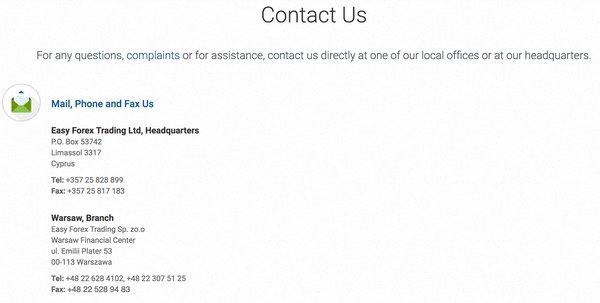 Guaranteed stop loss and take profit
Many traders forget to indicate their take profit and stop loss targets, which can often lead to enormous losses. easyMarkets automatically adds these values to all your trades to assist you in keeping your losses to a minimum. This feature is available when you're using either the MetaTrader or the easyMarkets platform.