ECN Capital Review

"Can ECN Capital be trusted?" That's a question many traders, like yourself, are asking. To help you answer that question, we have spent hours researching ECN Capital to find out what they offer and if they are worth your time.
ECN Capital Regulation
When you are considering any broker, whether they be forex or binary, it is important that that broker is registered with a regulatory body. This is to ensure that should anything go wrong, you as the client is protected and can be compensated.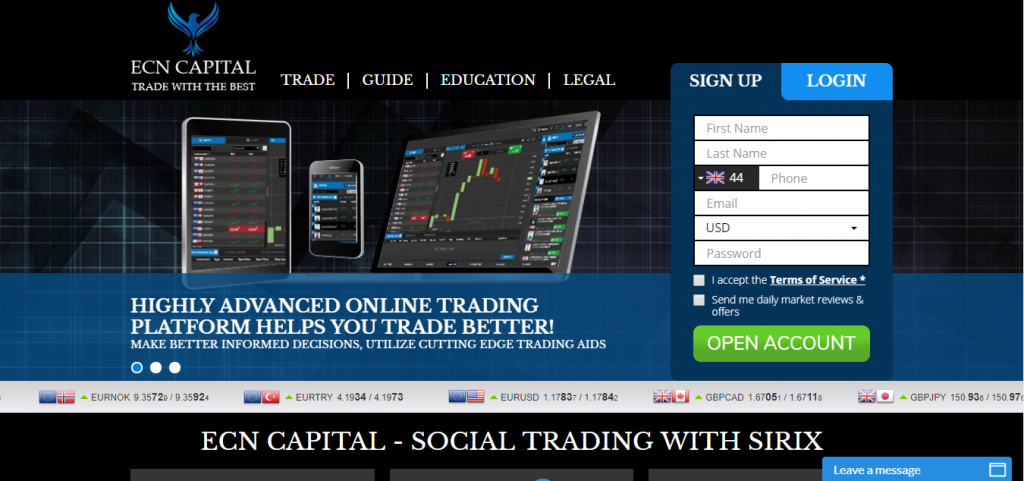 ECN Capital is located in Cyprus which is under the jurisdiction of the Cyprus Securities and Exchange Commission, also known as CySEC. Our research shows that ECN Capital is not CySEC's database as a registered entity. There are mentions of different policies on the ECN Capital website such as an anti-money laundering policy, however, with no governing body to ensure this, it is not comforting.
We have seen many instances where even with "policies" in place, many unregulated brokers such as ECN Capital scam their clients and leave them with nothing. That is why we strongly advise you always avoid unregulated brokers.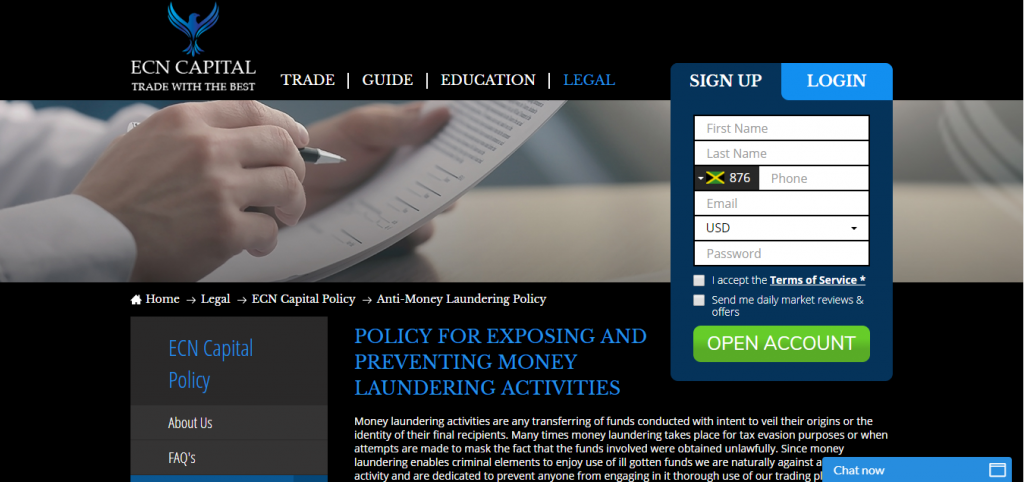 ECN Capital Customer Service
If you are looking to contact ECN Capital, you can do so by using their live chat, online form, shooting them an email, or giving them a call. They have different telephone lines for US, UK, Switzerland, and the Ivory Coast. This works to reduce the call charges for those locations but we noticed there was no Cyprus number listed which raised a few eyebrows.
On top of that, the customer support was severely lacking. When our researchers called the UK and US lines to check ECN Capital's responsiveness, they were left waiting on the line for close to an hour and when they did get through, the customer support agents offered no assistance, whatsoever. If it was that bad for our researchers, we can imagine how frustrating it would be for you. This type of customer service explains the negative ECN Capital reviews across the web.
ECN Capital Accounts
ECN Capital currently offers five account types for its clients. These account types are:
Bronze – $500 minimum deposit
Silver – $10,000 minimum deposit
Gold – $30,000 minimum deposit
Platinum – $50,000 minimum deposit
Mega – $100,000 minimum deposit
The first thing you notice with these accounts is the fact that minimum deposits are extremely high, what makes this even more suspicious, besides the fact that this broker is unregulated, are the features which are offered for each account.
Many of these accounts share similar features despite the deposit costs being so high. Let us start with the similarities between all of these account types. 24/7 live support is offered to every account types. Each client also receives an online financial course, though we doubt its credibility. Metals, energies, world indices, and FX Majors & Minors are also available for trade for all accounts.
You may be wondering if those are the deposit costs and the features, you can understand why when it comes to ECN Capital opinions are never in high regard. But we are not finished.
Now onto the differences. Bronze Account holders have no access to free signals while Silver Account members get one week free, Gold members get one month free, Platinum members get signals free for the lifetime of their accounts and Mega members get VIP signals free for the lifetime of their account as well.
Free VPS Service is only accessible by Mega Account holders, so is the access to an analyst manager. It's rather suspicious that not even a Platinum account holder who has to pay between $50,000 and a $100,000 cannot get an analyst manager.
Training is available to all accounts except for the Bronze account while webinars are only available to Platinum and Mega Account holders. Access to agricultures is only available to Gold, Platinum, and Mega clients.
The trade size varies for each account with the Bronze Account receiving 0.1, Silver Account having 0.2, Gold members having 0.4, Platinum having 0.6, and Mega members having a trade size of 1.
The leverage for indices varies also with Indices for Bronze members having a leverage of 1:50 while Silver and Gold Members have a leverage of 1:100. Platinum and Mega members round out the group with the highest leverages for indices at 1:200.
FX leverage is the same for each account at 1:200 with the exception of the Mega account which has FX leverage at 1:400. Commodities leverage is 1:100 for Bronze and Silver Accounts while it is 1:200 for Gold, Platinum, and Mega Accounts.
ECN Capital Bonus
There are bonuses available for each account at ECN Capital. The Platinum and Mega Account holders receive a 50% bonus on all deposits and ask their account managers for a higher one. The other accounts receive bonuses less than that in descending order. Gold members receive a 40% bonus, Silver members receive 30%, and Bronze members receive a 20% bonus.
ECN Capital Platform
A good trading platform is essential to your success as a trader. So it's important to choose a broker with a reliable platform or two because having options help you because not all platforms work for all traders. That being said, we have covered everything this broker has to offer and when it comes to ECN Capital fraud may be the first thing that comes to mind. Some people may wonder about the platform as most cases, that is truly the determining factor.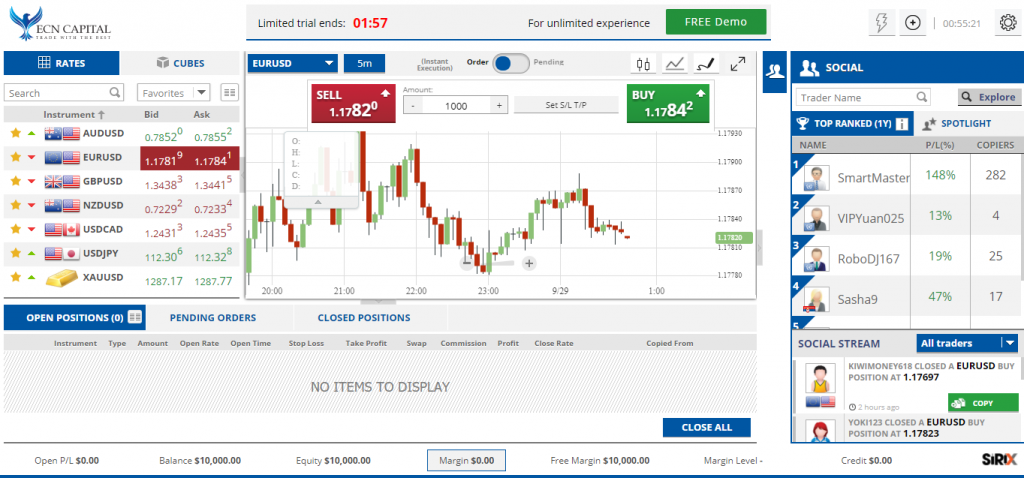 Unfortunately, ECN Capital only has one trading platform which is the Sirix trader. It is a social trading platform and it fits ECN Capital's social trading angle, however, it does have its drawbacks. These include, but are not limited to, a crowded user interface as well as unusual trading indicators. Both of these can make it difficult to learn and effectively use the Sirix trader. That, as well as the fact that it is a heavy web-based platform that requires a strong connection to run smoothly, makes it difficult to learn how to use and operate this trading platform.
ECN Capital Conclusion
Thank you for reading our review on ECN Capital. We know you wanted to know "is ECN Capital legit?" and we believe we answered the question. This broker lacks any form of regulation, has dismal customer support and also ridiculously high account deposits. These are all common among scam brokers and for your sanity as well as the safety of your money, we advise you stay away from them.