eToro Review

eToro started right around the time when various other retail Forex brokers were setting up online platforms, in 2006. Back then, the company only offered Forex trading, and it didn't show any significant growth initially. That was because eToro Forex broker was lost among the crowd. In 2010, however, eToro launched one of the first social trading platforms that made it easier for traders to copy one another's trades, and this officially put eToro on the map.
The social trading features included OpenBook where traders could see other traders' portfolios and CopyTrading which allowed traders to copy other traders' trades. By copying another trader's trades, your account initiates the same trades as the other trader. Later on, both of these features were combined into a single social investment network after becoming the largest global social trading network.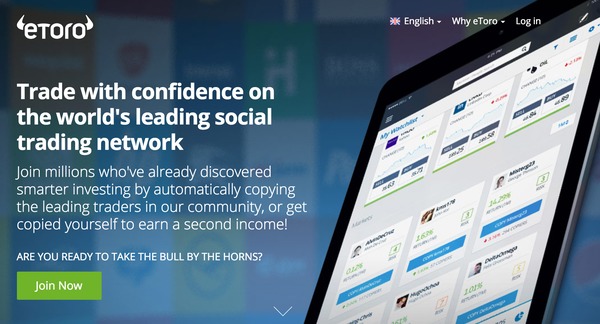 Now, the company offers more than just Forex, having included stocks, indices and CFDs to their portfolio. The main headquarters remain in Israel where the company was founded, but they have offices in London and Cyprus. These locations were ideal to grant them the licensing they require from both the FCA and CySEC. With these licenses, eToro can solicit and sign up clients from many clients around the world.
eToro opinions are mainly positive, with some comments coming from major financial magazines like Bloomberg and the Financial Times. Even online eToro reviews are mainly positive, but there will always be some claiming that there is an eToro scam. The truth is that eToro online broker has grown astronomically to reach a client base of over 5 million clients, and the growth is not slowing.
Social trading network
You can't talk about eToro trading broker without mentioning their social trading network which is, as mentioned before, the largest such network in the world. Any eToro client is able to publish their portfolio on the network so that others could see. Remember, you will still be in control of how much you choose to reveal, so that none of your personal data is leaked.
Traders who choose to do this can help less experienced traders by allowing them to either copy their trades of invest with the trader of their choice. It is essentially like a PAMM account, and those who choose to invest can enjoy the benefits of an investment opportunity.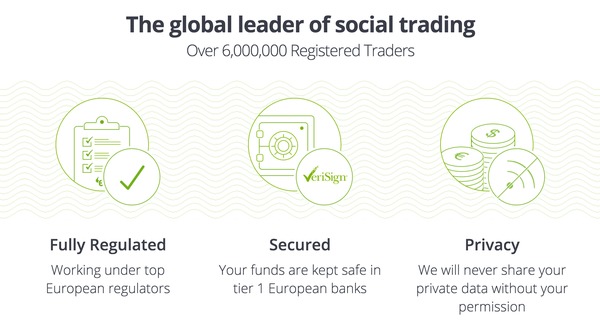 Being a social platform rather than an institution, the terms of investing in the platform are way friendlier, and this is what has grown the platform so much. Besides the investing, you can always connect and hear what other traders think of the markets. In this way, you get eToro opinions about the latest market movements so that you can place your trades accordingly.
Besides this social platform, the broker themselves offer free training on trading the various markets. It is a very useful tool because the information comes from experts in the various fields, and you get to become an even better trader.
Trading instruments
The Forex market was eToro's initial offering, which allowed traders to make trades on the price movements of currency pairs. This service still exists, and there are many currency pairs you can trade using eToro.
Other instruments include stocks, which is another popular tool by eToro clients as you can tell from various eToro opinions. eToro gives access to various stocks around the world from exchanges in the US and across Europe. What makes stock trading through eToro so popular is that they don't impose commissions on the profits you make, instead making a profit only from the spreads. Still, they keep their spreads low, such that anyone can still make a profit. There are also indices, which are of exchanges from around the world, and these too have favourable trading conditions.
Finally, they offer CFDs on various markets including commodities and ETFs. By using CFDs, they make these markets more accessible even with a small investment, and there are plenty of options to choose from. The commodities market, for example, will have agricultural produce, precious and industrial metals as well as energy products. With such a wide variety, the possibilities are endless.
Trading conditions
eToro have their own proprietary software, which is available for downloads on both android and iOS devices. On your computer, you can only trade via the web platform, which is still easy enough to use with its simple interface. A standard account will only require a minimum of $50 deposit, after which you will gain access to all the above mentioned tradable instruments. You can also make this deposit in a number of ways, from the more common payment service providers (Skrill and Neteller) to bank transfers and credit cards.

All in all, eToro is definitely a leading online broker, and the skies seem to be their limit as we see continuous growth in the company.