Excotrader Review

Excotrader was founded in 2018 and since its creation has managed to make its name in the trading society. The broker offers various asset classes including: Forex, Cryptocurrency, Commodities, and Indices. What makes this broker stand out is the low trading fees. There are two account types to choose from and they both have different fee structure to meet the needs of different trader types.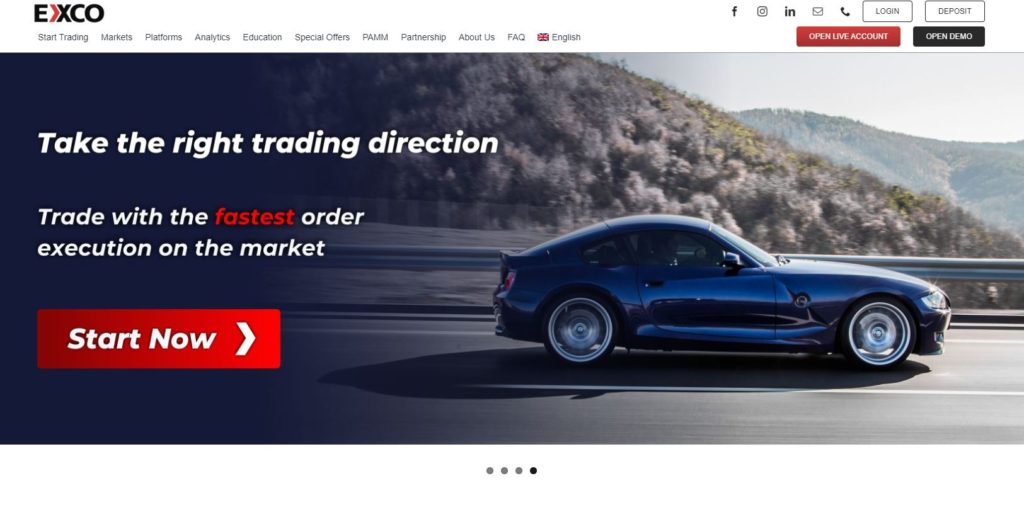 The broker offers up to 1000:1 leverage for both account type holders. And leverage changed depending on the account equity:
Leverage 1:1000 up to 500 USD equity,
Leverage 1:500 up to 3000 USD equity,
Leverage 1:200 >3000 equity,
Leverage1:100 >10000 USD equity.
Leverage is also different when trading different asset classes. For FX pairs, it's up to 500:1, for commodities and indices – 100:1, and for cryptos – 5:1. High leverage is not always good for safety. Inexperienced traders should go for the 30:1 or 20:1 leverage. High leverage helps traders increase their purchasing power, and that can result in higher returns or higher losses.
What are trading conditions?
Traders come in all shapes and sizes, as there are many ways to make money in the markets. What works for one trader, almost certainly will not work for the other. To meet the needs of various traders, Excotrader offers two account types for trading live: EXCO ECN and EXCO STP. Both types have market order execution method and similar leverage up to 500:1. The main difference is in fee structure.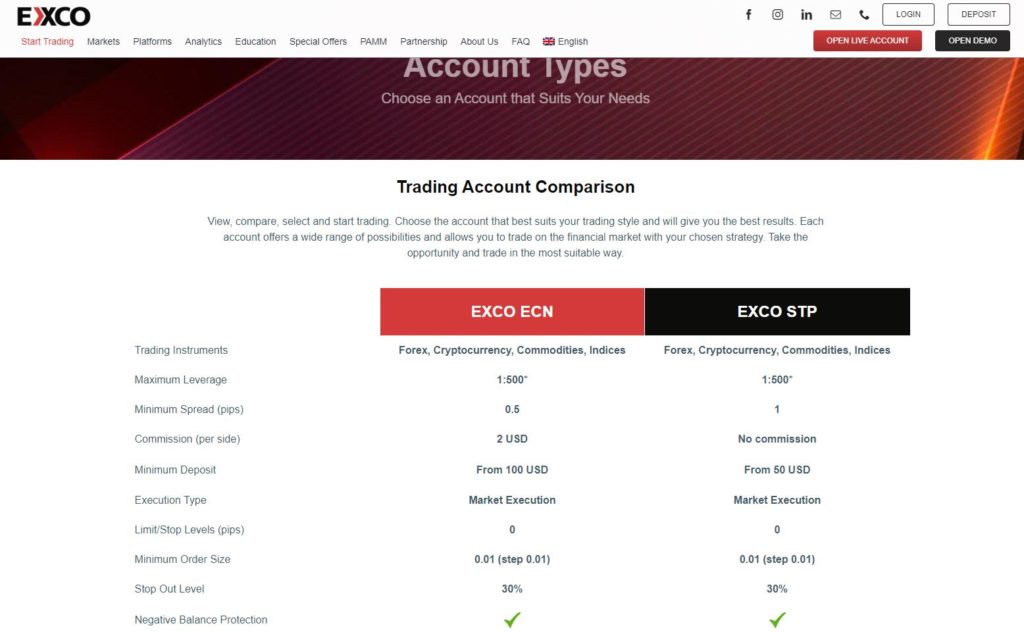 EXCO ECN account
EXCO ECN account charges traders with 0.5 pip markup and 2 USD commission per lot per side. The fee structure is attractive for intraday traders because they place many trades daily and prefer lower spreads to lower commissions. Opening this account type takes 100 USD as minimum initial deposit. Hedging, Automated Trading, Mobile Trading, and One-Click Trading are all allowed with this account type.
EXCO STP account
EXCO STP account type charges traders 1 pips in spread markups. On the upside, there are no commissions. Commission free trading is preferable for position traders that spend more time on analyzing and planing trades. Position traders make much fewer trades than intraday traders do, as a result, they care less about spreads and more about commissions.
Leverage, 30% Stop Out level, instruments availability and other factors are all the same for both account type holders.
Keep in mind that, in order to open an EXCO STP account, 50 USD initial deposit is required. Deposits can be made using various methods for opening both account types.
Deposit methods include: Bank Transfer, Visa, Mastercard, crypto payments such as Bitcoin Ethereum, Tether and Litecoin, Payment Asia, and DusuPay.
Trading platform and automated trading
Selecting the right platform is essential for success in trading. Trading platforms help analyze price action, plan and execute trades, in addition, platforms are critical in developing and testing trading strategies. Excotrader offers an industry leader MetaTrader 4, and home-built EXCO Prime software for trading. Both platforms have their strengths and weaknesses.
MetaTrader 4 was build a long time ago, the platform was released in 2005 by MetaQuotes. It was one of the first platforms that instantly attracted the vast majority of traders due to simplicity and reliability. The MT4 remains a highly demanded platform today after so many years. The main reason why the software is unbeatable is the fact that it's highly reliable when it comes to executing trades. Most brokers offer this platform and Excotrader is not an exception.
MT4 enables automated trading using Expert Advisors EAs. The EAs are algorithms that can be purchased in the Meta Market or built based on your preferences. Trading automation is especially attractive for high frequency traders as robots do not lose precious time on thinking. An obvious downside of using robots is that they fail to read news announcements, and they only trade using technical data.
EXCO Prime is a much more modern platform. It offers smooth and slick design. There's desktop, mobile and web trading version available. The platform enables social trading. If you have a profitable strategy and know how to apply the strategy to receive benefits consistently, you can become a trading signals provider and create an additional source of income. In addition, trading can feel lonely endeavor, especially if you are a retail trader placing orders from a bedroom. Social trading is a great benefit in this regard. EXCO Prime offers advanced charts and indicators for conducting a thorough market analysis. The platform comes with built-in economic calendar and various helpful tools.
Moth MT4 and EXCO Prime offer mobile trading app that is available for both apple and android devices. Using mobile as your primary trading platform is not recommended as traders need bigger screens for conducting a thorough analysis, however, mobile apps are super handy when it comes to keeping track of trades. The apps enable traders to place all trade order types, set Take Profit, Stop Loss targets and deposit/withdraw money from their account. In addition, mobile apps are helpful in an emergency situation. For instance, let's say you forgot to place a stop loss order, you can easily do that using your mobile.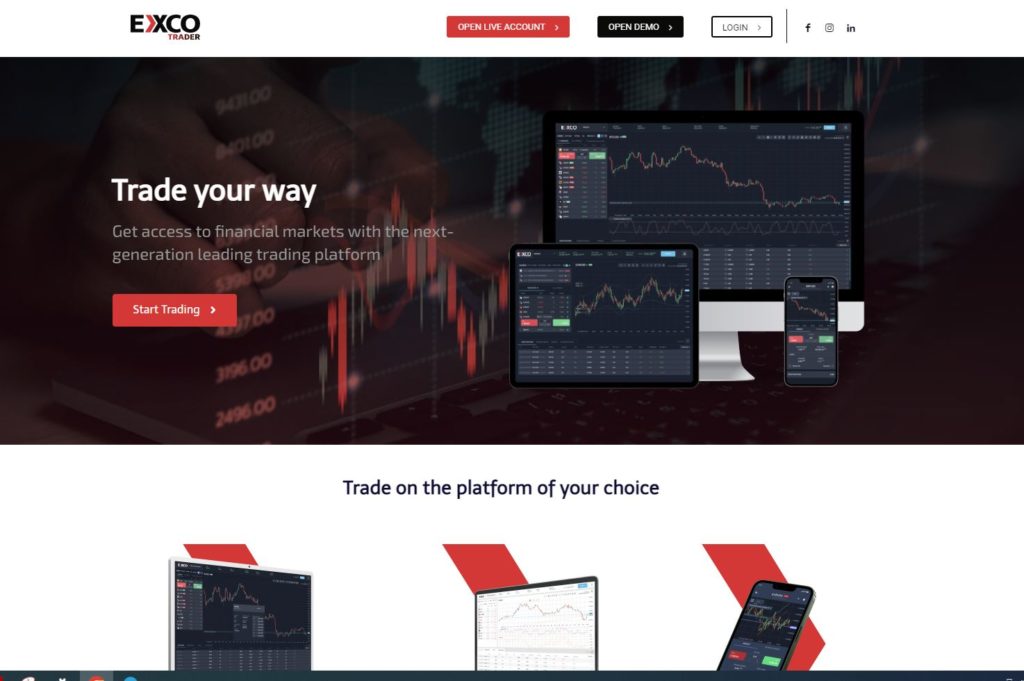 .
Trading instruments
Excotrader provides access to various asset types. The list includes: Forex, Cryptocurrency, Commodities, Indices. There are major, minor and exotic pairs available for trading. Major pairs have one part US Dollar and the other part major currency pair such as EUR, GBP, JPY, CAD, CHF, AUD, NZD. EUR/USD pair is the most liquid, as a result the spreads for this pair are the tightest. Leverage for trading currencies is up to 500:1.
Crypto traders have up to 5:1 leverage and access to popular cryptos such as Bitcoin, Ethereum, Litecoin, etc. Be noted that these are not crypto coins, these are crypto CFDs. The main benefit of trading with CFDs is that you can benefit from price fluctuations without the need of owning the asset. There's no need to worry about crypto wallets and where to cash out profits, the profits go straight to your trading balance. In addition, the CFDs can be traded in both long and short direction. While, real coins are only beneficial when their price goes up. On the downside, crypto CFDs are for medium and short term trading. Traders that are looking for ways to invest in crypto prefer physical assets due to low trading fees long term.
Indices and commodities with Excotrader both have up to 100:1 leverage available. Indexes of global and US, and European companies help traders assess the health of certain markets or economies. For instance, GER 40 index consists of top 40 German companies. The index follows the performance of those companies and is a great indicator of the country's economic health. Indexes can also be traded as CFDs.
With EXCO trader, you can access hard and soft commodities such as precious metals, energies, sugar, etc. Commodity prices change based on the global supply and demand.
Conclusion
To sum everything up, Excotrader offers various assets for trading. The list consists of Forex pairs, Cryptocurrency, Commodities, Indices. The broker was founded in 2018 and since then has managed to increase the number of customers dramatically. Platforms offered are MetaTrader 4 and EXCO Prime. Both are highly reliable and practical. Minimum initial deposit required to open an account with this broker is as little as 50 USD. And there are multiple methods for depositing. Deposit methods include: Bank Transfer, Visa, Mastercard, crypto payments such as Bitcoin Ethereum, Tether and Litecoin, Payment Asia, and DusuPay.