FirewoodFX Broker Review – Is It a Good Brokerage?

FirewoodFX is a global online broker that has already been operating for several years, attracting the attention of various traders around the world. As stated on the official website, the company strives to adopt innovations and create a favorable trading atmosphere for its clients. FirewoodFX is generally focused more on professional traders who have already acquired significant experience in trading. In this FirewoodFX review, we will talk more about the broker's activities, the services it offers, and whether it can be trusted or not. In addition, we will also have a look at the legal side of the brokerage company in compliance with international standards.
FirewoodFX Regulation and General Information – Is It Legit?
FirewoodFX started operating in 2014. The company is a global online brokerage. Registered in Saint Vincent and the Grenadines, there is no valid regulatory information about the company's legal side. It seems that FirewoodFX is not licensed, meaning there are risks that every trader should take into account, before registering with the broker. The absence of the license means that there is no framework that would regulate the broker's activities and operation in the financial industry. Furthermore, we should also note that a client's funds could be ill-protected because we could not come across a feature of negative balance protection on the website. The company does not accept clients from the United States. As for AML policy which is one of the cornerstones of Forex brokers, there is no information about that as well.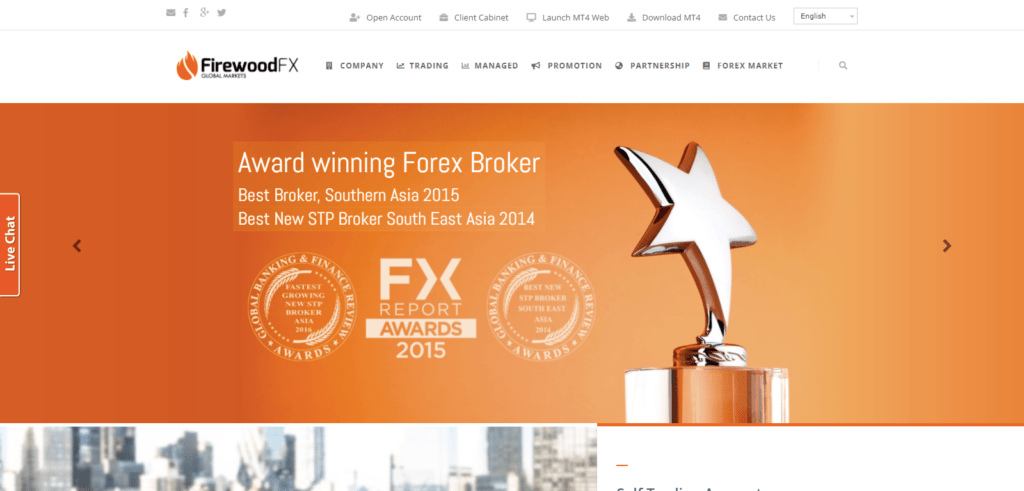 FirewoodFX Trading Accounts
FirewoodFX currently provides 3 account types with 2 options of pricing format: Micro, Standard, and Premium. In order to open Micro and Standard accounts, you would need a minimum of $10, while a Premium account requires $100 for opening. In most categories, these accounts resemble each other – especially Micro and Standard ones. Premium account is generally designed for more experienced users, who already have some knowledge of Forex trading and know how to use features efficiently. Leverage and stop-out levels are the same for every account. Hedging and scalping are also possible for Micro, Standard, and Premium accounts.
As for swap-free accounts, which is also synonymous with Islamic accounts, we can note that this is a possibility on all 3 accounts. This is an account that is primarily directed towards users, who practice the Muslim faith. On the website, there is also a possibility of a demo account, where you are given virtual funds. Trading happens in a simulated environment and even if you lose or win trades it does not affect your real balance. This is aimed at both novice and professional traders who want to practice. The demo account has a virtual $10,000 available.
FirewoodFX Trading and Non-Trading Fees – What are They?
First, we should start talking about trading fees that are present on the FirewoodFX website. Spreads start from 1 pip on Premium accounts. For Standard and Micro accounts spreads start from 2 and 3 pips respectively. There are no commissions as we can see on these accounts, which may seem good at the first sight, but every broker needs a reliable source of income, which in this case is absent. A swap-free account is available. Users can create Islamic accounts too.
We should also have a look at non-trading fees such as commissions on withdrawals and deposits. Depending on the payment method you are using these fees could vary. For some, deposits are completely free of charge, while both Visa and Mastercard require 0.5% of the deposited money. The same goes for withdrawals – you need to check the information first before you go for withdrawals from the website. We could not find information regarding inactivity fees on the website, meaning users can spend some time without trading and they won't be charged.
FirewoodFX Available Trading Assets
Besides trading Forex the company also offers commodities, metals, indices for trading. Depending on the trading instrument you are going to choose, conditions will vary. The maximum leverage you can get is up to 1:1000, but this also differs from instrument to instrument. We should also point out that such high leverage could be harmful to novice traders, because if you do not know what to do you will end up in trouble pretty quickly. For some FX brokers, there are restrictions on high leverage, but in the case of FirewoodFX, we could not find restrictions.
FirewoodFX Trading Platforms
On FirewoodFX users can try out MetaTrader 4 trading platform, which is available both on desktop and mobile devices.  With various indicators and built-in tools, MetaTrader 4 also support copy-trading signal service from Metaquotes. MetaTrader 4 can be downloaded on both Android and iOS devices simply by following the instructions on the website, but you need to make sure you have a phone with strong capabilities to run the app. MetaTrader 4 platform that is available on the web has graphical objects, 9 timeframes and a full set of trading orders for its customers. As we can see there is no WebTrader or MetaTrader 5 platform available on the website and you can only trade instruments with the help of MetaTrader 4.

FirewoodFX Deposits and Withdrawals
FirewoodFX has several methods for depositing and withdrawals but we will mention some of them in our review. The most popular option is the possibility of depositing money with Visa and Mastercard. The minimum amount of money you can deposit with the following methods is $50. We should also point out that for some methods the minimum amount could be different. FirewoodFX also supports deposits with the help of Wire Transfer, Perfectmoney, Tether. The same can be said about withdrawals. The processing time for transactions usually depends on your location. Sometimes it could take up to several hours before your transaction is finished.
When we talk about withdrawals on FirewoodFX, you need to consider that frequently banks need to verify your transactions, meaning that the transfer could take roughly up to 7 working days. What we do not like about deposits and withdrawals on FirewoodFX is the fact that it takes commissions, which is pretty annoying on deposits especially.
FirewoodFX Educational Section
FirewoodFX does not have an educational section. Users can find out information about Forex terms in the Forex glossary, but we were not able to find any information regarding webinars or online courses where users can find out more information about trading and get knowledge. Furthermore, the feature is not available even after you are registered. There is no blog whatsoever and clients can be left disappointed with the fact that they cannot get useful information from the website. The broker does have a deposit bonus for new users which can make up for the absence of the educational section but in short, this section is pretty flawed on the website.
FirewoodFX Customer Support
FirewoodFX customer support can be contacted through the following methods: live chat, online form and e-mail. The first option is the most popular one because you will get an answer almost immediately. As for the online form and e-mail answers could take up to several days depending on the severity of your problem. Users note that their queries are frequently neglected which we think is a massive disadvantage of the FirewoodFX broker.
At the moment users can only get information in the English language. The website is available in other languages as well but the support is not provided. We think that the absence of other popular languages is disadvantageous for the broker's reputation.

Final Verdict
To summarize our FirewoodFX review we need to answer the main question, which would be interesting for every customer – is FirewoodFX broker legit? Considering all the necessary details and features of the broker, first, we need to mention that the brokerage company does not have any license which increases the chances of being scammed. Furthermore, commissions for deposits and withdrawals are large and we do not think that the majority of users will "like" this feature. The educational section is completely absent from the website. We would not recommend FirewoodFX broker to our customers and think that it might cause some damage to them.