ForexTB Review – Can You Trust This Forex Brokerage?

ForexTB Broker is an online trading platform owned and operated by Forex TB Limited – a Cyprus Investment Firm. The company claims to be having a powerful intuitive trading platform and other high-quality trading services that are accessible anywhere and from any kind of device. In order for you to decide if this platform is what it states to be, we decided to do research and find out if this Forex broker is worthy of your time, money, and attention. The good news is that the website is actually licensed by Cyprus Securities and Exchange Commission (also known as CySEC) which is a highly reputable financial regulatory agency, that aims to ensure the healthy and secure development of the securities market. What this means is that with this website, you will not have to worry about privacy issues that might be related to other fraudulent Forex companies (e.g stealing your money).
The leverage ratio for professional clients is up to 1:400, while the same for retail clients is 1:30 due to European Securities and Markets Authority (ESMA) regulations. As for spreads, they are floating and can differ depending on which type of account you use. The lowest we were able to discover is 1.8 pips on EUR/USD using VIP account and 2.2 pips on GBP/USD. Customers can trade using MetaTrader 4 which lets you monitor the market and have a better decision with Forex and other CFDs.
Unfortunately, ForexTB FX Brokerage does not have any promotional offers available currently. For account types, you can go for Basic, Gold, Platinum, and VIP. Using these accounts one can trade Forex, CFDs, Stock, Index, Commodity, and Cryptocurrencies.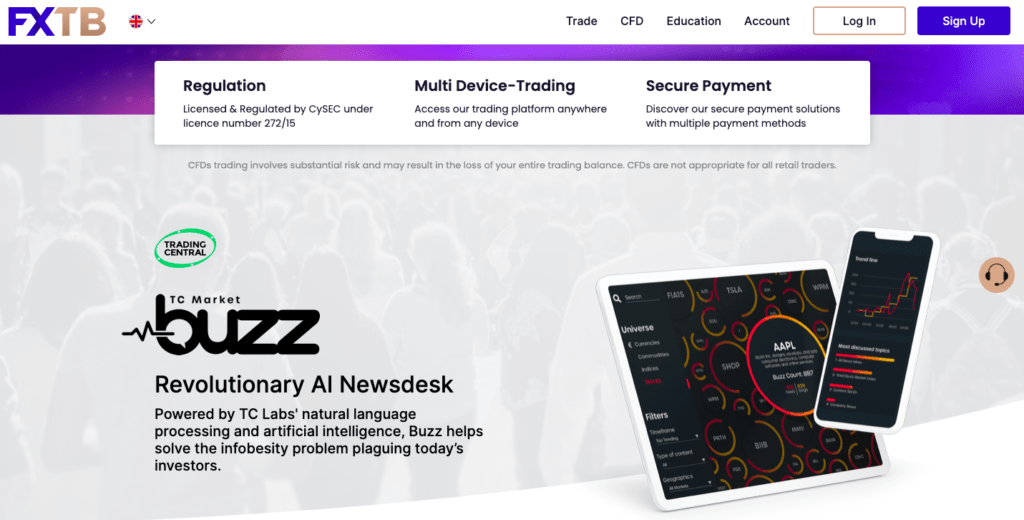 Is ForexTB Legit?
Yes, ForexTB is legit because it is fully licensed and regulated by CySEC under license number 272/15 which is provided on their main webpage giving you the ability to check the regulatory status by yourself. The company is officially authorized to provide financial services to different kinds of clients within the European Economic Area, which is a guarantee of safety and transparency. What this means is that if something inconvenient happens during the trading process (e.g they steal your money or manipulate market prices) the financial regulatory body will take all the necessary actions to protect you as a customer. The presence of a legal section on their main webpage also evokes trust in their activities.
ForexTB Review – Trading Features
In order to find out whether this platform can be included in the list of the most reliable Forex brokerage companies, we decided to include a more detailed review of its trading features in our review. Let's take a look at each of them.
Spreads
The spreads can be called competitive if you are a VIP account owner as they are around 1.8 pips on EUR/USD and can be considered normal, however, for the basic account, they go up to 3.2 pips on EUR/USD and is above the industry's average. This is wider compared to all the other reputable competitors available on the market. What we mean is that the company leaves you with the possibility to discover other platforms which can offer you more favorable conditions that suit your interests better.
Leverage
As we already mentioned earlier in this review, the maximum leverage for professional clients is up to 1:400 which is good for experienced traders, but for beginners, it can be quite excessive and risky, as it may lead to losing a significant amount of money. The retail clients are restricted to a 1:30 leverage ratio which prevents them from increasing their risk exposure. It is important to note that CFDs mostly come with a high risk of losing money due to leverage and we advise you to consider some things before choosing to trade with CFDs.
Account Types
For account types, customers can choose from 4 existing types which include Basic, Gold, Platinum, and VIP. Each of these comes with its own specifications and requirements, giving you the ability to choose the one that has the best offerings for you. For instance, the VIP account has no additional fees, while the platinum lets you make 3 monthly free withdrawals. The website also has a demo account option available which is a great feature, giving you the ability to test out their financial services for free, without spending actual money.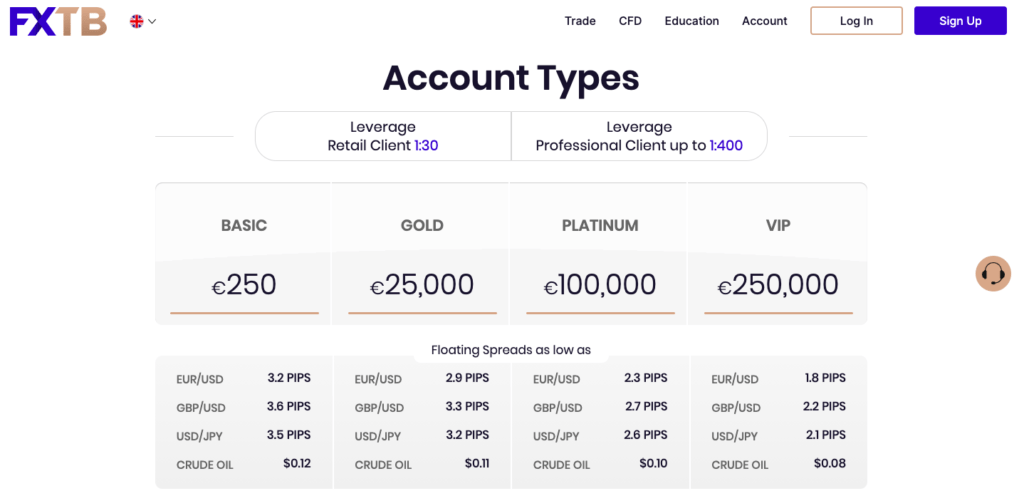 Minimum Deposit
The minimum deposit is set to 250 euros which is above the industry's average and for most traders, it might look excessive. For the VIP account, this indicator might go up to 250000 euros, while platinum and gold come with 100000 and 25000 euros relatively. We once again feel the need to mention the fact that there are a lot of other companies on the market, offering better trading conditions.
Bonus
We were not able to discover any bonuses or promotional offers available on the ForexTB website, which is definitely a minus because adding extra value to your current bankroll can never be a bad idea. However, this might be due to regulations that restrict Forex brokerage companies to attract customers through promotional offers and codes.
All in all, it is possible to say that the company definitely has some good values but the overall trading features do not correlate with the industry's standards and do not look very favorable to us. For instance, the minimum deposit along with spreads might be excessive and they do not offer good trading possibilities.
ForexTB – Final Verdict
We do believe that ForexTB actually has some potential, as it is a fully licensed financial platform that you can trust your money with. However, this alone is not enough for us to recommend this website to you. The absence of bonus along with other trading features such as spreads and minimum deposits do not look very attractive to us – Considering all the facts that we provided you with, it is still up to you to decide whether this platform is worth your effort and financial assets.