ForexVox Review – Can you Trust This Forex Company?

ForexVox Forex Broker is an online financial trading platform, that claims to be the fastest-growing trading community with 100+ products to trade, 0$ starting deposit, and other important benefits. In order to find out whether all of these are true, we decided to do a little research. At the first glance, the main webpage of this company seems quite user-friendly, with all the necessary information that one might need. There is a separate section for "regulation" which provides information that ForexVox is a trading name of Valutrades Limited which is registered in England and authorized by the Financial Conduct Authority (also known as FCA). This is already a good sign because it means that while trading on this platform, you do not have to worry about money or privacy issues, that might be connected to other fraudulent companies.
Unfortunately, the site does not provide specific information about leverages – that is strange because such information might influence customer's decision-making process. However, after digging out, we were able to discover that leverage goes up to 1:500, while spreads for EUR/USD are somewhere around 1 pip. ForexVox FX Brokerage uses MetaTrader 4, which is considered the most reliable tool giving traders the ability to trade FX and CFD markets.
ForexVox does not seem to have a minimum deposit requirement, as their main webpage suggests that you do not need a specific amount of money in order to start trading – we were quite surprised as this is quite uncommon for such platforms. The site does not have any promotional or bonus offers available right now. Another bad thing is that the site does not feature any information on account types – we only find out that there is a demo account which might be a plus. Customers of ForexVox have the ability to trade Forex, Indices, Metals, and Commodities. It is also important to note that they do not seem to have cryptos available on their website.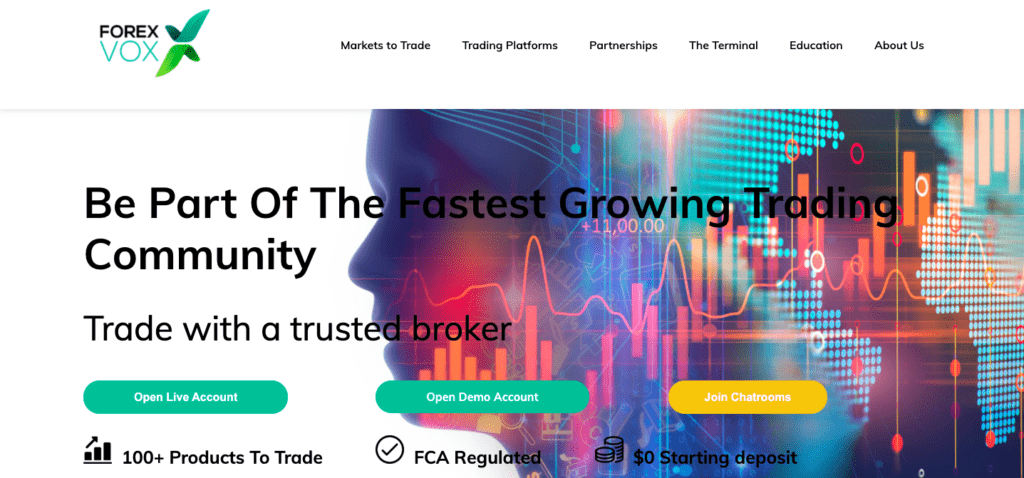 Is ForexVox Legit?
Yes, ForexVox can definitely be called legit as they are authorized and fully regulated by the Financial Conduct Authority (FCA) in the UK. The FCA is considered one of the most trustworthy and reputable financial regulators in Europe. What you need to know is that all the regulators authorized by the FCA are covered by the FSCS – that is a compensation scheme that guarantees the security of all your deposits made on this platform. Traders using ForexVox will never have to worry about stealing their deposits, which is quite common for other fraudulent companies available on the internet.
ForexVox – Trading Features
In order to find out whether ForexVox is worthy of your time, money, and attention, we decided to do a more detailed analysis of their trading features in our ForexVox review, so you make a better decision based on all the important information. Let's take a look at each of them.
Spreads
As we already mentioned earlier in this review, the spreads offered on the website are 1.0 pips for EUR/USD. MT4 Web version gives customers a spread somewhere between 0.1 and 0.2 pips with the commission of 2$ per one lot, which is actually a very attractive offer and with this indicator, ForexVox definitely correlates with the industry's average.

Leverage
The leverage information was very hard to find, however, we still were able to find it. It goes up to 1:500, which is a very risky ratio, especially for beginners. Experienced traders might like it, but it is important to keep in mind that such leverage can not only help you earn some good money, but also make you lose it in a matter of minutes. That's why high leverage ratios are restricted in the majority of countries including EU members, the UK, the USA, Canada, etc.
Account Types
There is no separate section on the website where you can find information about account types. The main webpage suggests only two options, including live and demo accounts. A live account is a standard one, and after signing up for that, you can start your trading journey right away. The presence of a demo account is also a good sign because it gives customers the ability to test out the services offered by ForexVox for free, without actually risking any financial assets. However, we would like more detailed information about different kinds of accounts – if there are any.
Minimum Deposit
The majority of ForexVox reviews might be positive due to the fact that they simply do not have any minimum deposit requirements, meaning that customers only need to deposit enough money to cover the margin requirements of their trades. This is pretty good, as the majority of popular brokers do have minimum deposits, while on ForexVox you do not need to limit yourself.
Bonuses
ForexVox does not have any deposit, no deposit, or welcome bonus available for their clients. This is strange because having promotional offers is a common practice among brokerage companies and we were quite surprised when we find out that they do not have any. However, it is also important to note that it might be due to the regulations, as some financial regulatory bodies restrict companies from attracting new customers through promo codes and bonus offers.
All in all, it is clear to see that the website actually lacks some of the valuable information that might be important to their customers. Because of that, it is not very easy to evaluate whether their trading features correlate with the industry's standard or not. From what we know, their leverage ratio is above the average, spreads are fine, but overall, they do not look very attractive to us, as there are a lot of similar platforms with better offerings available on their website.
ForexVox – Final Verdict
We do believe that this brokerage company actually has some potential because it is actually regulated & licensed, and that is the most important part. We told you all about the other features as well, and right now it is up to you to decide if ForexVox is worthy of your time or not.