Fortissio Review – The Reasons Why You Should Avoid this Broker

Before you begin your Forex trading endeavor and open your very-first position, you should first choose a reliable broker that provides you with all the tools and features necessary for a stable trading session.
Unfortunately, it's not always easy to find a trustworthy broker in the market. There are many scammers lurking underneath the surface, waiting for you to make a mistake and give away your financial credentials. From there, it's extremely easy to lose your money in a Ponzi scheme.
Today, our reviewers will explore the features and conditions of the Fortissio Forex broker and help you make an informed decision.
Fortissio.com review – Website and software
To kick things off, let's take a look at the first thing you interact with when looking at the broker – its website. When you go to Fortissio.com, you're greeted with this visually cluttered interface that's clearly way over its memory limits: it takes a couple of seconds to fully load the visuals right on the first page.
Besides, even the quality of these visuals is a bit off: they lack modern touch and resemble old Windows XP aesthetics, which doesn't really give us a favorable Fortissio opinion, especially since it's a relatively new broker established in 2017.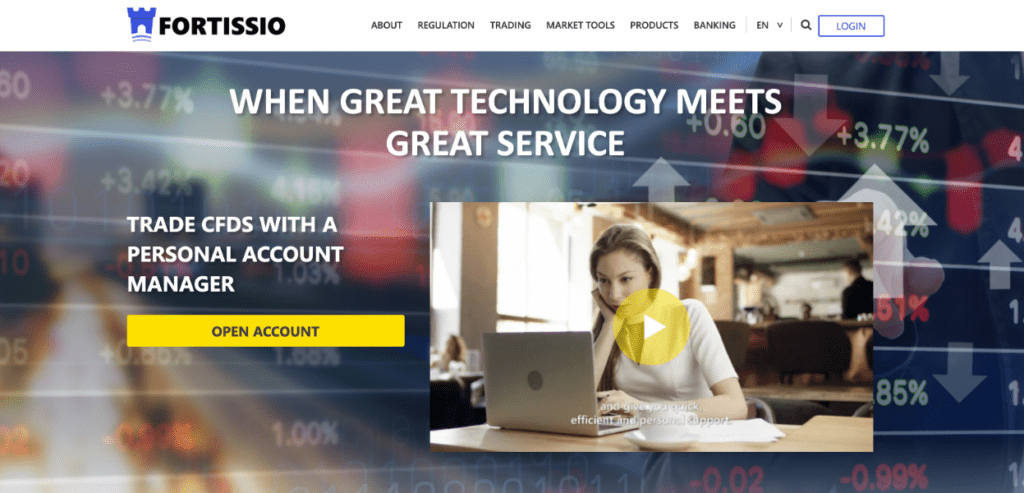 When it comes to the informative aspect of the website, we can at least admit that we were able to find just about any piece of information without any hassle. With that being said, however, we still need to find out just how accurate that information is.
As we have discovered, Fortissio offers 9 different retail accounts to its clients, which definitely is overkill for just about any broker. Regularly, trustworthy brokers feature 3-4 different account types on their platforms, and even that is often a bit too much for catering to all sorts of traders' needs.
This many accounts only deepens our suspicions about the Fortissio scam. The thinking process behind it is that by offering 9 different account types, Fortissio is trying to impress its clients with an irrelevant 'advantage' and cover many gray areas that we'll uncover in a bit.
Trading software is yet another suspicious element of this broker. You see, the majority of reliable firms go for more established platforms like the MetaTrader or cTrader, ones that are well-known to have steady performance and a good reputation.
However, Fortissio offers a rather unknown platform called PROfit. Now, we don't know what exactly is the appeal of this platform but Fortissio does try to sell it as 'One of the premier trading platforms in the world', which we're finding very difficult to believe.
Once again, the suspicion is that the broker uses this unknown platform to better plant its schemes and anonymously scam its clients. And since there's no huge user community within this platform, there's not going to be any repercussions for Fortissio.
Is Fortissio well-regulated?
Moving on, we should discuss probably the most important aspect of any Forex broker – regulation. Regulation is the main factor that determines the reliability of a broker, and as we have already established this, you definitely need a reliable broker for a safe trading experience.
As we explored the Fortissio website further, we found out that the broker is regulated by the Hellenic Capital Market Commission (HCMC) from Greece. Now, while Greece is an EU member state, it's worth noting that it's arguably the least responsible one among the 27 members. It regularly bloats its budget, takes loans from other members, and has very poor monetary and fiscal policies.
Besides, the HCMC license is a very unpopular regulatory material in Forex. What all that means is we have finally come across some tangible proofs of the scam in our Fortissio review. Because of the country where it's based and its overall prestige, it's highly unlikely that HCMC can successfully oversee the financial activities of a Forex broker, especially since it's an international broker.
It's more likely that Fortissio is using this piece as a cover to lure in as many clients as possible. Besides, even some of the main requirements of the EU-based licenses are straight-up disregarded and we'll explore them in the next section.
What about the trading terms and conditions?
Finally, let's take a look at the actual trading terms and conditions that make up the overall trading process at Fortissio. As the website showcases, all the trading instruments come in CFDs (Contracts for Difference), instead of spot assets. And there are 7 different categories to choose from:
CFDs on Currencies
CFDs on Stocks
CFDs
CFDs on Indices
CFDs on Commodities
CFDs on ETFs
CFDs on Synthetic Derivatives
The fact that you can choose from a variety of trading options is definitely an advantage, however, it still doesn't alleviate our Fortissio suspicions. And here's one proof of that: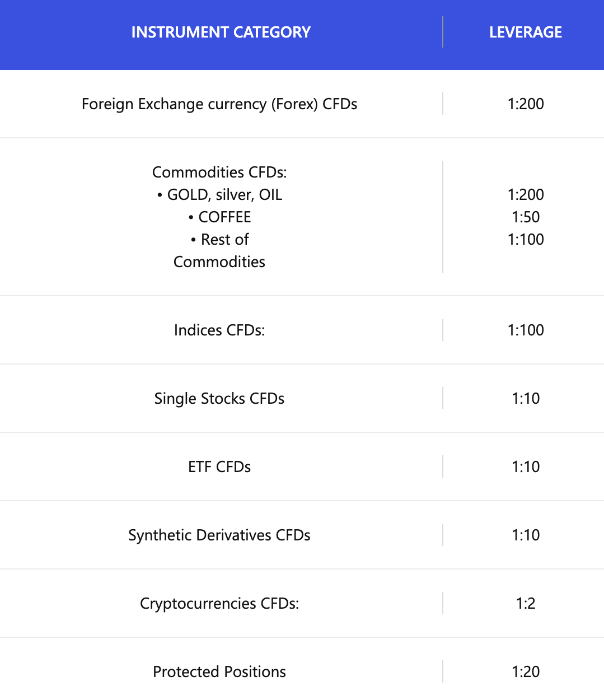 As the broker claims, it comes with an HCMC license, which is bound to all sorts of regulations imposed by the EU itself. One such regulation is that the brokers shouldn't offer leverage rates above 1:30, considering the risks associated with using this feature in trades.
At Fortissio, you can the maximum of 1:200 leverage, which, as you'd agree, is much higher than 1:30. Apparently, Fortissio isn't really concerned with the safety issues of high leverage, not to mention the regulatory implications that the HCMC license should invoke for violating its guidelines.
When it comes to spreads, Fortissio does the exact opposite of its leverage offerings: its minimum spreads go down to 3 pips, which is definitely not competitive with other brokers' spreads.
As for making deposits and withdrawals, Fortissio does offer a pretty decent range of payment methods: Credit/debit cards, bank wire, and e-wallets like Skrill, Neteller, and EcoPayz. However, the minimum deposit requirement is 200 USD, which is pretty limiting for many beginners.
Can Fortissio be trusted?
So, after all we've just said about this broker, should you trade with Fortissio? Well, let's have a little rundown once more.
As noted earlier, Fortissio has a visually cluttered and laggy website that does seemingly offer all the information you need for trading. However, upon further inspection, it's pretty evident that at least some of these bits of information are misleading.
When it comes to licensing, Fortissio holds an HCMC license, which, in our experience, doesn't seem to be an effective regulatory measure. Plus, we found out that some of the trading features don't even abide by the standards of the said license.
So, is Fortissio legit? We think not! Even if it's not a scam, you still shouldn't entrust your funds with this broker.