FTGMarkets Review – What should you know about this broker?

Trading Forex is, in itself, quite a dangerous endeavor: for one reason or another, you may find yourself plunged deep into losses that destroy your whole account.
Yet that's not the only danger you face on the market. There are lots of service providers that claim to offer the most stable trading platform, yet their offerings reek of scam. Being able to tell which broker has more trustworthy features can have a huge effect on your trading success.
In the following FTGMarkets review, we'll examine every little feature that you'll find on the platform and offer our ultimate verdict about the credibility of this broker.
Trading numbers at FTGMarkets
The first reviewing section in our article will be trading terms and conditions. As our team has discovered during this review, FTGMarkets offers a big variety of tradable instruments, namely:
Currency pairs (majors, minors, exotics)
Indices
Cryptocurrencies
Commodities
Stocks and ETFs
With this level of flexibility, you can diversify your trading portfolio and render it more rigid against sudden market changes. For that, we have to commend the FTGMarkets Forex broker.
Despite the diversity of tradable instruments, however, we're not entirely convinced that trading with FTGMarkets is going to be a lucrative or safe experience for you. One of the main reasons for that is the leverage. As you may already know, leverage is used to increase the initial capital standing by a significant rate, borrowing money from the broker and using it to buy more assets.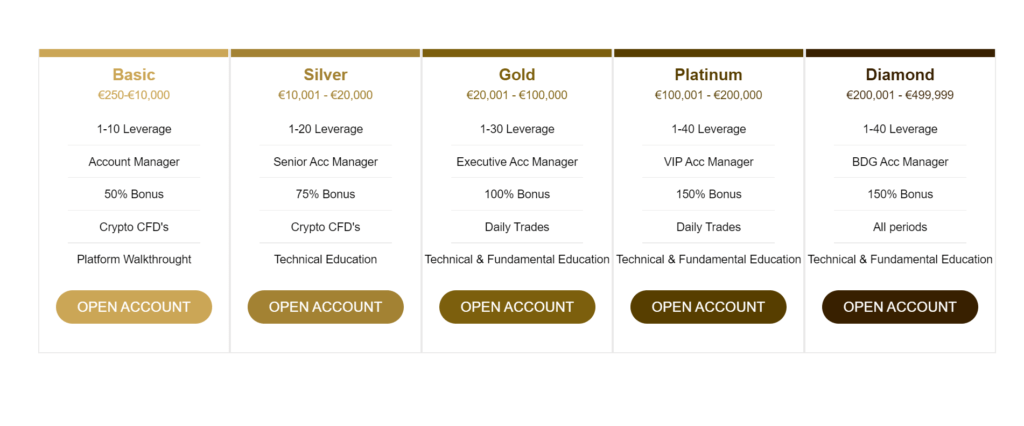 Usually, Forex brokers offer the maximum leverage of 1:200 or 1:300, which is the most regular rate in this industry – not low and not suspiciously high. Yet FTGMarkets offers a very underwhelming 1:40 leverage for currencies, and that is only if you pay at least 100,000 EUR for the Platinum account or higher. For lower accounts, the leverage goes even smaller at 1:20 and even 1:10.
We tried to find out how high spreads and other commissions were at FTGMarkets but unfortunately, the broker doesn't provide information about that on its platform. This is a big disadvantage for the broker as it fails to convince its potential clients in the affordability of its services (if they're indeed affordable).
When it comes to FTGMarkets promotions, we found that all account types feature at least a 50% deposit bonus, which goes all the way up to 150%, if you're willing to pay hundreds of thousands of euros in cash. Yet we don't really think that these bonuses can possibly offset the disadvantages found in other trading offerings.
Finally, let's take a look at which methods you can use for deposits and withdrawals. Once again, we weren't able to find much information about the exact details for transactions; the only thing we found out is that you can use Visa and MasterCard credit/debit cards, WebMoney, Western Union, and Bitcoin – no other e-wallets.
The Ftgmarkets.com review
Next up, let's take an in-depth look at the website and the software support. The first thing that jumps to the eye is that this particular interface looks very dull and uninviting. The brokers with more focus on great user experience try to simplify their websites, removing all the unnecessary decorations and visual effects.
Yet FTGMarkets goes full-on with rich wallpapers and fancy bubbles, not to mention loads of transition effects. This greatly diminishes the informative aspect of the website, which is itself very poor. As we've already pointed out several times, FTGMarkets doesn't provide an awful lot of information about many features, be it spreads, commissions, or payment limits.
As for trading accounts, FTGMarkets features five different account types:
Basic – 250-10,000 EUR
Silver – 10,001-20,000 EUR
Gold – 20,001-100,000 EUR
Platinum – 100,001-200,000 EUR
Diamond – 200,001-499,999 EUR
As you can see, the broker clearly goes for a professional trading base that can spill their money into this platform. That's the only logical explanation we have for this ridiculous fact that the next trading account after the Basic one requires a whopping 10,001 EUR minimum deposit.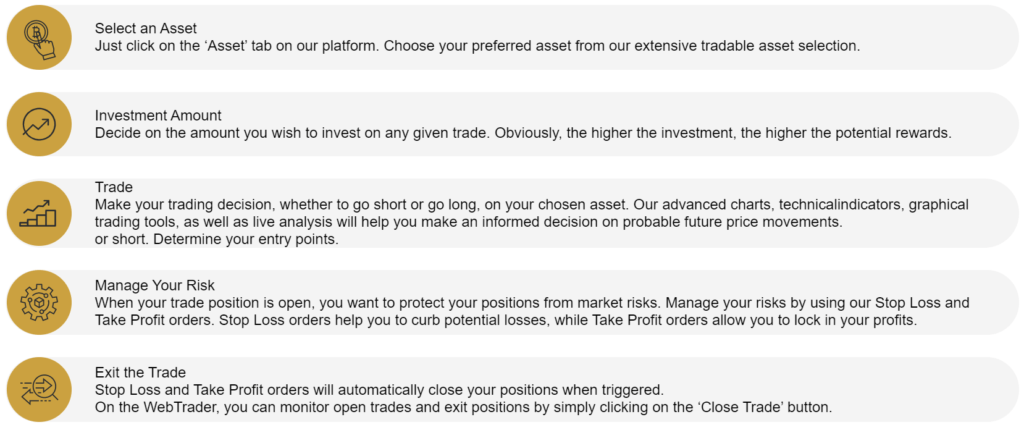 Another pressing issue that we'd like to discuss is the educational section. Sure, the FTGMarkets FX brokerage offers a lot of materials like online courses, technical and fundamental education, and many more, these are only available for the high-end accounts. So, if you pay 9,000 EUR to the broker, you'll still not go past the very basic platform walkthrough.
Lastly, we also tried to look for the platform that powers the trading processes at FTGMarkets, yet there are no specific details about it. The only thing we know for sure is that it is a WebTrader built-in right into the website. Beyond that, we don't know what is the maximum amount you can trade, what the execution type is, or other important details.
Is FTGMarkets legit?
This level is secrecy isn't only visible in trading terms and conditions; FTGMarkets doesn't even say whether it has a license or not.
And in such situations, when the broker chooses not to mention a license, we automatically assume that it doesn't actually have one. That's exactly what we're doing in the case of FTGMarkets because a trustworthy broker would definitely give you a notice that your funds are protected under the financial guidelines of this or that institution.
For that reason, we think that the FTGMarkets scam is a viable possibility. Without a license, FTGMarkets can engage in fraudulent activities, steal people's money, and expect impunity at every level. Plus, the absence of any governmental oversight makes it much easier for the broker to conceal earnings and avoid paying taxes.
Therefore, FTGMarkets has actually set up a pretty convenient system for itself – not necessarily for its clients though.
Should you trade with FTGMarkets?
So, let's ask the ultimate question one more time: can FTGMarkets be trusted?
In front of us, there's a broker that doesn't care much about offering lucrative trading conditions, yet it goes miles by demanding astronomical minimum deposits for high-end accounts.
FTGMarkets' website looks very amateurish and uninspiring, not to mention that it doesn't provide information about lots of important features. The account types are also very "needy" and the educational section is pretty much inaccessible for the Basic account holders.
And when it comes to the license, FTGMarkets is as good as a regular unregulated broker, which is to say you should absolutely avoid doing business with it at any cost. So, that's our answer: FTGMarkets cannot be trusted at this point.