FxGrandTrade Review – Is the broker legit?

When entering the Forex market, it is absolutely essential to find a trustworthy service provider. There's an abundance of Forex brokers on the internet that claim to have the best trading platform. Yet not all of them are worthy of customer's choice.
When looking for your perfect trading counterparty, you need to look at some of the most crucial aspects like the website, trading terms and conditions, and licensing.
These individual aspects make up the entire trading platform and determine the credibility of the broker. On our part, we'd like to help you in making this important choice by regularly creating new Forex broker reviews.
Today, we'll talk about the FxGrandTrade Forex broker and review everything it offers. So, let's not waste any more time and get right to the review.
The website
First off, we have to start with visual appearances and software support. Unfortunately, the Fxgrandtrade.com review didn't leave a very nice impression on us, and here's why:
The interface has a very bland design that doesn't convey professionalism or experience, even though FxGrandTrade claims to have been operating on the Forex market for more than 14 years now. The website looks very amateurish with not many thematic sections, and even those that are added there don't function properly (try to go to the Create Account section and you'll see what we mean).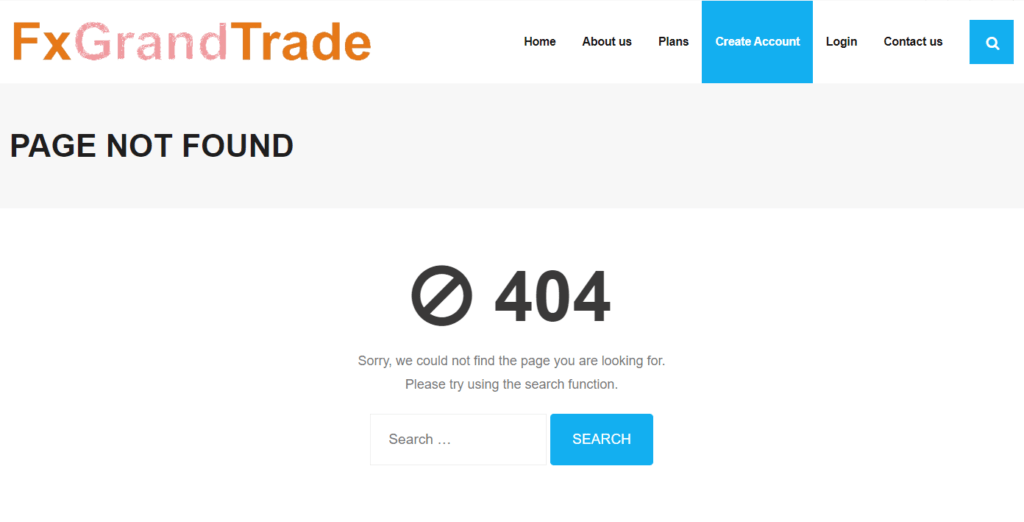 Speaking of accounts, there are six different offerings on FxGrandTrade: Basic, Bronze, Silver, Gold, Premium, and Ultimate. Even in this section, we cannot help but notice the randomness of the account names where some of them are named after precious metals and some are just describing the level of the actual account.
When it comes to the informative aspect of the website, we're still greeted with the same level of haziness: the FxGrandTrade FX brokerage doesn't disclose anything regarding its trading terms and conditions, licensing, or the software it offers to the traders.
We couldn't find anything about whether the broker uses WebTrader or MetaTrader trading platforms. This further enforces our FxGrandTrade fraud suspicions.
Our FxGrandTrade opinion on trading numbers
The next important section we need to talk about is trading terms and conditions. This section is exactly what the majority of traders are interested in as it gives them a better idea of how lucrative their trades are going to be.
With that mindset, we set out to find any information regarding leverage, spread, and other financial offerings. Yet our efforts turned out to be in vain because we weren't able to find much. FxGrandTrade promotions are virtually mute on how big the leverage multiplication rate is, what the difference between buying and selling prices are, etc.
The only vague information we were able to salvage is that the broker supports four financial platforms for deposits and withdrawals: Western Union, MoneyGram, Bank Wire, and Bitcoin. Sure, it's nice to see a cryptocurrency in the payment section but what about Visa and MasterCard credit cards? Where are the widely-used e-wallets? Again, FxGrandTrade manages to not impress us with its offerings.

And then there's trading instruments themselves. On the very first page, the broker claims that it offers lots of different symbols such as Forex pairs, crypto pairs, indices, futures, etc. Yet when we examined the website a bit closer, we only fou
nd one table with just 10 cryptocurrencies and their prices. Does that mean FxGrandTrade is a crypto broker or it simply forgot to include information about other instruments?
Either way, the lack of communication and underwhelming offerings (those that we managed to salvage at least) make our FxGrandTrade scam suspicions more and more grounded.
Regulation
Finally, we need to talk about regulation. Forex brokers have all the means they need to easily scam people, and having a proper license limits their abilities to do so.
We sought for any notice about the licensing on the website with that mindset. We were even ready to forget all the miscommunication issues we've talked about above if the broker had a proper regulatory material. However, to our dismay, there wasn't any.
FxGrandTrade doesn't mention anything specific or vague about where it was originally established, where its headquarters lie, or where it received its financial license. This gives us no choice but to declare that the FxGrandTrade Forex broker is an unregulated entity. And like other unregulated entities, it most certainly isn't trustworthy.
Should you trade with FxGrandTrade?
So, after everything we've discussed above, be it the website, trading offerings, or the licensing, is it reasonable to do business with FxGrandTrade?
Well, we don't want to judge anyone but those who would gladly associate themselves with this broker don't seem to be concerned about their financial stability too much. In our opinion, the FxGrandTrade fraud is very real and it's best that you avoid this broker completely!