FXGT Review – Our honest opinion about the broker's credibility

A Forex broker is an integral part of any trading process, be it in Forex, stocks, or any other financial market. Brokers are what facilitate trading, connect traders to liquidity providers, and provide various tools and indicators for a smooth and planned trading experience.
While a credible broker can make trading a lucrative activity, a scam broker can just as easily lead traders into a financial disaster. The shady platform behind fancy looks and feels often trick people into believing that the given broker is trustworthy.
Fortunately, there are lots of sources and materials on the web that provide insightful opinions about the broker and its offerings. The following FXGT review is exactly that. We'll be covering everything from the website, licensing, and trading terms and conditions.
Fxgt.com review
The FXGT website may seem like a professional website with its fancy looks and visual effects but for us, this interface is less inspiring and overcomplicated.
We're always saying that a good broker website is the one that delivers valuable information whilst maintaining overall simplicity in its design. So far, the design part hasn't lived up to these expectations, but what about the informative side? Well, there were some parts that we were able to find without a problem but to find other details like the licensing or a more detailed background of the company, we either had to struggle or couldn't find anything at all.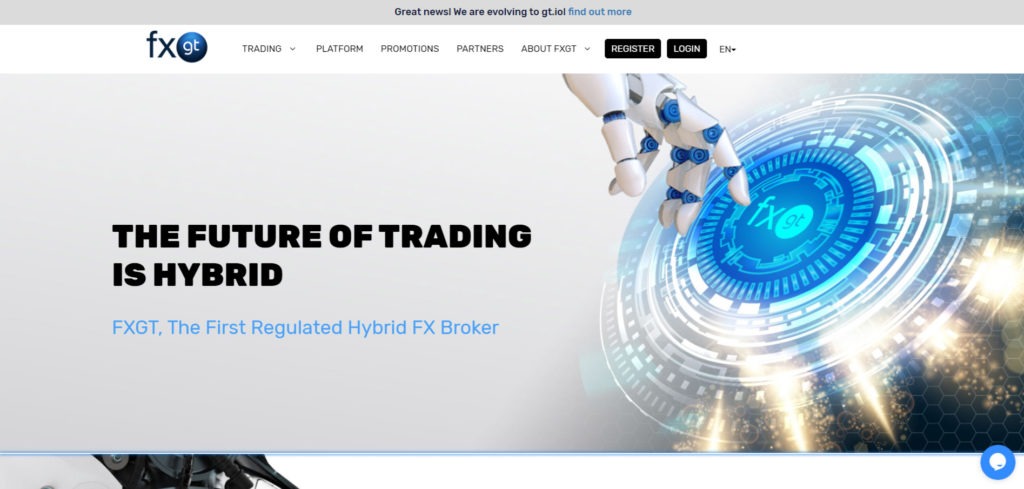 Then there's a whole new issue with the account separation. You see, the majority of Forex brokers offer at least three account packages to their clients, which is their way of saying they care about traders with different experience levels.
Yet with the FXGT Forex broker, we don't see that kind of attitude. There's only one universal account that is supposed to fit all traders, or, to be more accurate, all traders should fit the account. And it's not a very good message sent to traders.
Lastly, there comes trading software. Again, lots of legit Forex brokers usually stick with MetaTrader 4 – a more simplistic and easy-to-use trading platform. At FXGT though, we only see MetaTrader 5, which may have an identical design, but it's way more complicated. Traders all around the web are indicating that when it comes to simplicity, they always prefer MT4.
The licensing
Moving on, let's discuss what regulatory restrictions there are at FXGT FX brokerage. As we pointed out in the previous chapter, you need to do a little digging in order to find out which financial institution has issued the license for FXGT.
And when we found it, it brought up many questions. You see, a company that is registered in the Republic of Seychelles should at least have a license from its financial regulator, yet we only saw one license that comes from across the ocean – South Africa (FSCA), which is kind of weird.
But that's not it: an international broker that operates in lots of different countries and on almost all continents has only one license from a moderately developed country. We don't know about anyone else but for us, an international Forex broker like FXGT should have different licenses from different areas, so that its actions are constantly in check.
Only one center of regulatory oversight doesn't really ensure that the FXGT scam is not only detected but avoided too. Therefore, we cannot really recommend FXGT at this point.
Are FXGT promotions legit?
Last but not least, let's discuss trading numbers and other conditions. The first thing to point out here is that FXGT has a wide array of tradable assets. During the Fxgt.com review, we found five different asset classes: Forex pairs, cryptocurrencies, shares, stocks, and precious metals & energies.
The conditions that accompany these assets are rather impressive. In fact, when examining more closely, we think they're too good to be true. Let's start with leverage.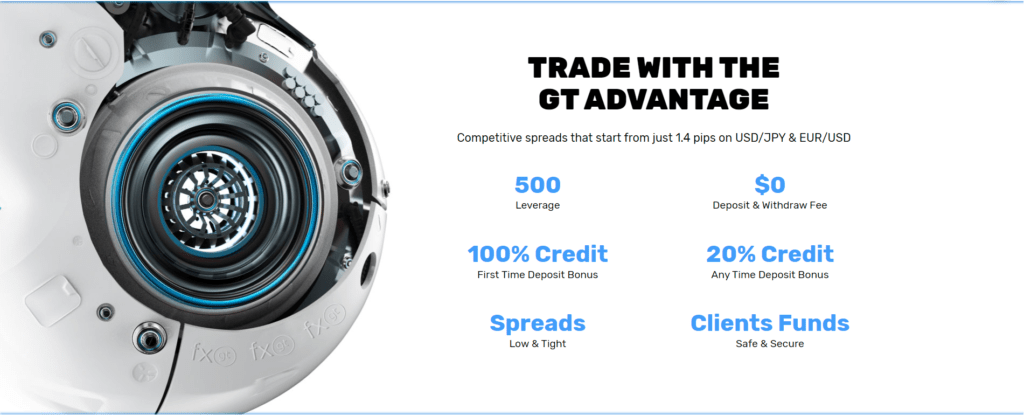 The average leverage ratio offered by the majority of Forex brokers revolves around 1:200; that is, the brokers with enough credibility offer this level of leverage. However, FXGT goes way beyond the average with its 1:500 leverage offering. And while maybe this much multiplication rate positively affects the size of profits, it does exactly the same for losses. For that reason, brokers warn their clients to use leverage very carefully, something that is totally missing at FXGT Forex broker.
The same can be said about spreads. The minimum spread of 0.00014 pips is a very impressive, yet somewhat suspicious trading condition. As you may know, spreads are used by brokers to fund their platforms. And when FXGT says it takes a very tiny fraction of generated profits, we become suspicious of the source of income of this broker, especially when considering that there are absolutely no commissions on deposits or withdrawals either.
Our suspicions became more acute when we found out that the broker has a $5 minimum deposit requirement for its clients. This, again, is a very astonishing condition, when considering the market average of around $100-$200 requirements.
As for actually making those deposits, FXGT actually has many financial platforms that you can use, be it credit/debit cards, bank wire, or cryptocurrencies. Yet this doesn't overweight our low FXGT opinions. Even if both deposits and withdrawals are completely commission-less; if anything, they add up to our suspicions.
Final verdict
In conclusion, what do we think about this broker? Is FXGT legit enough to trust it with your funds?
Well, judging from all the details we found during this review, there are simply too many flaws to make a financial commitment with this broker. The license feels all over the place, the website is amateurish and overcooked, and the numbers and requirements are simply too good.
Suspicions to this extent are to be considered very carefully. Therefore, just to be safe, we'd not recommend trading with FXGT.