GlobalBase Review – Should You Trade with This Online Cryptocurrency Broker?

GlobalBase Introduction
Since cryptocurrencies and crypto trading have become more and more popular, there are many online crypto brokers that are now participating in the game. Therefore, it's necessary for traders to do their own research about the available brokers and choose the one that best fits with their requirements. With that in mind, in this article, we'd like to review the features of GlobalBase, one of the emerging online crypto brokers that have caught our attention.
GlobalBase is an online cryptocurrency broker which provides an innovative platform with a rich variety of digital assets, various useful tools, and 24/7 customer support. In addition, the brand employs modern security measures to ensure the safety of customers' personal and financial information.
Traders can easily become a part of the GlobalBase community to access the global cryptocurrencies market by signing up for an account and starting to trade through the platform. GlobalBase customers can benefit from the informative blog section on its website, to improve their knowledge about digital assets.
GlobalBase Pros and Cons
Pros
A dynamic web-based platform with a stable security framework and various helpful tools
A wide variety of cryptocurrencies, including high-profile altcoins
Customer support 24/7 via live chat, inquiry form, and email
Cons
No trading app available
No fiat-denominated crypto instruments
Source: https://globalbase.io/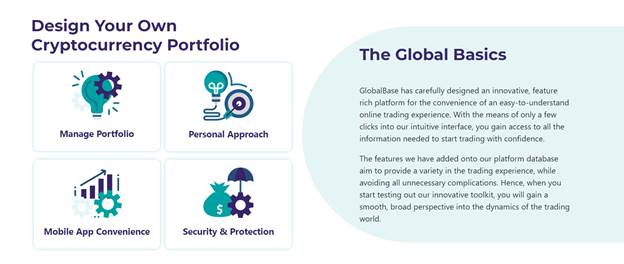 Security policies
In order to protect financial transactions and trading orders, GlobalBase employs a solid security network and complies with AML and KYC policies. In addition, only withdrawals from active and fully verified accounts are processed by the compliance department. Therefore, customers' accounts and funds are protected, and all illegal or fraudulent activities are thoroughly prevented.
Furthermore, GlobalBase account holders are urged to take necessary precautions from their side and use strong passwords to best protect their accounts.
Deposits and withdrawals
GlobalBase offers several different payment methods, including debit/credit cards, wire transfers, and e-wallets. After registering for an account, customers can make deposits and withdrawals easily whenever they want.
According to the information available on its website, GlobalBase is also known for its efficient and quick withdrawal process. Considering that a fast, easy, and safe withdrawal process is an important part of trading online, GlobalBase makes a great effort to process customers' withdrawals as soon as possible. However, remember that the withdrawal speed also depends on the ability to accurately verify customers' identity as well as to make sure that no malicious attempt has been made to breach any of the infrastructure.
Source: https://globalbase.io/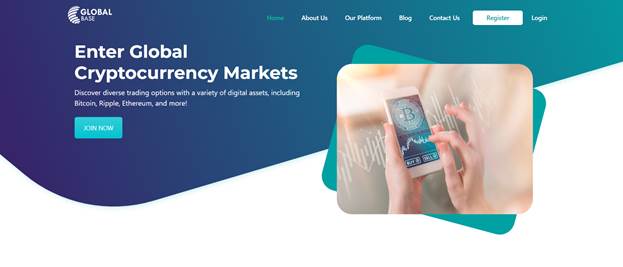 Should we trade with GlobalBase?
After going back and forth analyzing the advantages that develop when joining GlobalBase, it's fair to conclude that this is a quite good option for those who are enthusiastic about crypto trading. It covers a wide range of cryptocurrencies, and offers a dynamic web-based platform, intuitive advanced technology – all for a small initial deposit requirement. There is also a comprehensive customer service package, and many other edges that opening an account with GlobalBase may give traders. Not all crypto brokers can achieve that, so it's clear why you should choose to trade with GlobalBase and why its customer base keeps growing each day.