GoldenCoins review – Insights into a promising crypto trading offer

About GoldenCoins
Over the years, a lot of new brands have emerged, each with interesting trading offers related to the crypto market. However, not all of them managed to stay in the game for the long run. This industry still has room to mature, so a very flexible mindset is required, not just when it comes to traders, but also to the brands that aim to ensure competitive services.
GoldenCoins is specialized in cryptocurrency trading and wants to show that its infrastructure is able to pass the test of time. A dedicated team of hard-working experts has been crafting this offer for a long period and now. With the enhanced interest in this brand lately, it seems only right that we talk about some of the benefits you can get when signing up with GoldenCoins.
Trading crypto assets
If you want to trade crypto securely, then GoldenCoins is one of the right places to be. The company has developed a unique web-based platform, integrating only advanced tech that makes sense for crypto traders. It's possible to analyze prices from different angles, thanks to TradingView charts integration.
Also, feel free to choose from a variety of order types and manage risk with professional tools. What's even more important to note is that the user interface remains easy to manage, despite so many tools integrated into the platform.
GoldenCoins takes one big leap forward with regard to its asset coverage, mainly since customers gain access to a comprehensive list of tokens. The focus is on crypto, so you should be able to buy or sell not just Bitcoin or Ethereum, but plenty of other altcoins that have been popular as of late, with no hassle at all.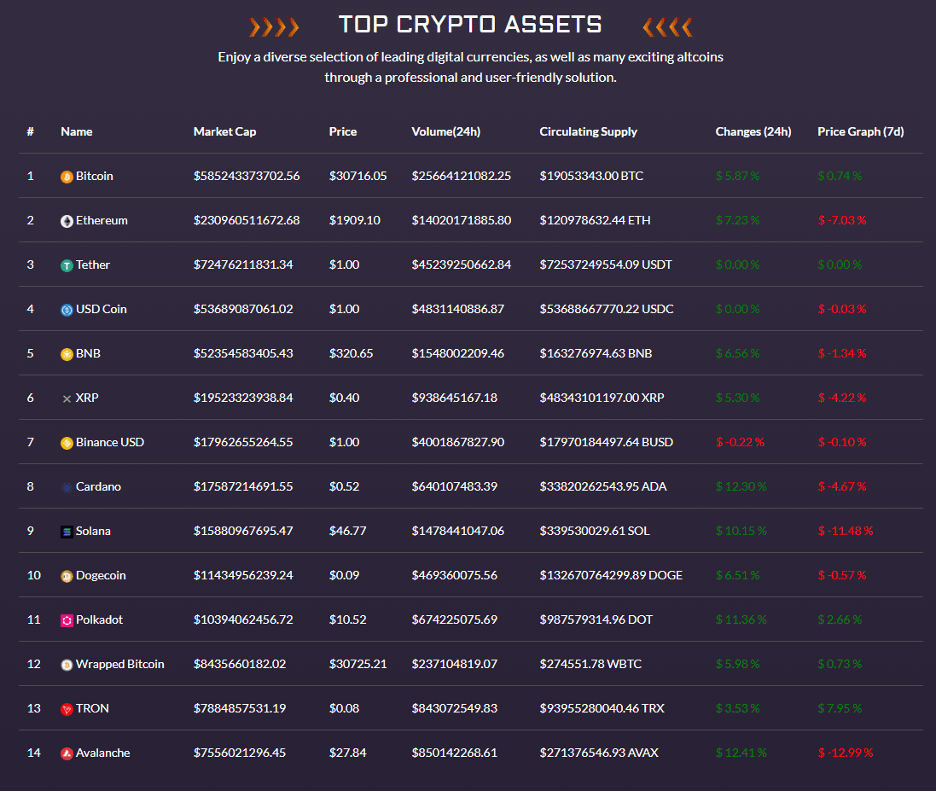 Source: goldencoins.io
The GoldenCoins platform applies the latest security protocols, keeping user information safe and making sure that you can trade freely, without having to worry about hacking attempts. This company offers derivatives based on crypto, so there aren't any wallets or physical asset transfers involved.
Opening an account
Based on the account opening procedure, GoldenCoins seems to be a welcoming brand. This is just a simple formality and getting started with trading is only a few steps away. Head over to goldencoins.io, click on 'register' and provide the personal details required by the company.
Once the account is ready, all traders must comply with KYC and send copies of the identification documents requested by the brand. Only after your account is fully verified, will you get access to the full benefits associated with GoldenCoins.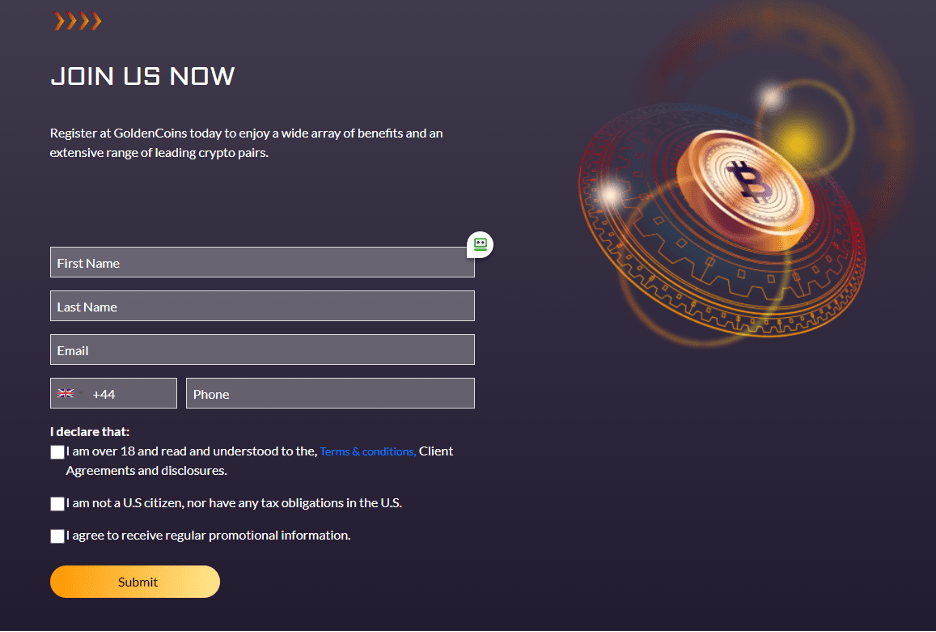 Source: https://goldencoins.io/registration/
A deposit can be made within minutes, in case you want to make a fiat payment using a credit or debit card. GoldenCoins works with trusted payment solutions, so there is no chance that your card details will be leaked.
Summary on GoldenCoins
Nothing is certain about the future of crypto, which is why the market might have to reprice tokens aggressively many times in the near future. Working with a brand like GoldenCoins means you can be well-positioned when prices move up, but most importantly when there is strong bearish sentiment dominating.