GoldenTradex Review – Scam or Legit?

GoldenTradex is a trading name for Evest Group, an Australian brokerage firm established on the 18th of September, 2018, with their review date coming up later this year. They claim to offer various different trading instruments across a multitude of trading accounts. Something that will not be discussed in this review due to the security concerns of the company.
Evest Group might've been established in 2018, but the GoldenTradex domain has only existed for 14 days at the time of writing this review. Why would they wait such a long time before establishing a domain?
Well, they didn't.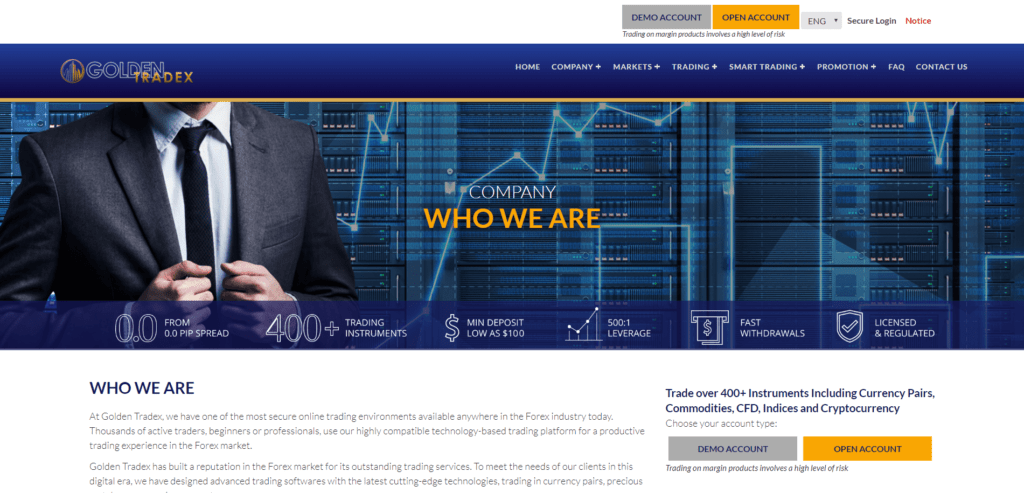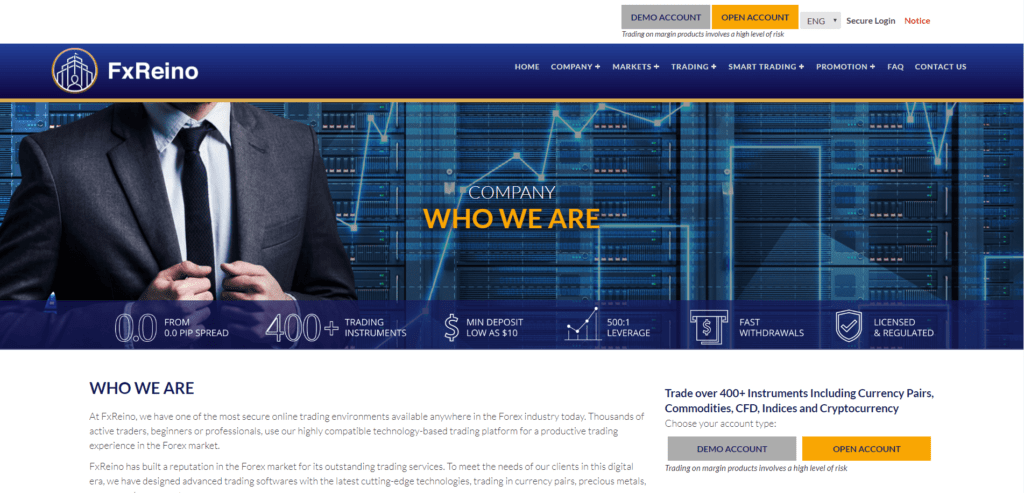 Evest Group used to operate under the trading name of FxReino. While they can change their trading name with ease, changing their LLC isn't as simple, so tracing FxReino and GoldenTradex to Evest Group wasn't that hard, other than the obvious copy-pasted website with just the mentions of FxReino replaced with GoldenTradex.
Furthermore, they're not even revealing the fact that they've abandoned that domain but masking it instead.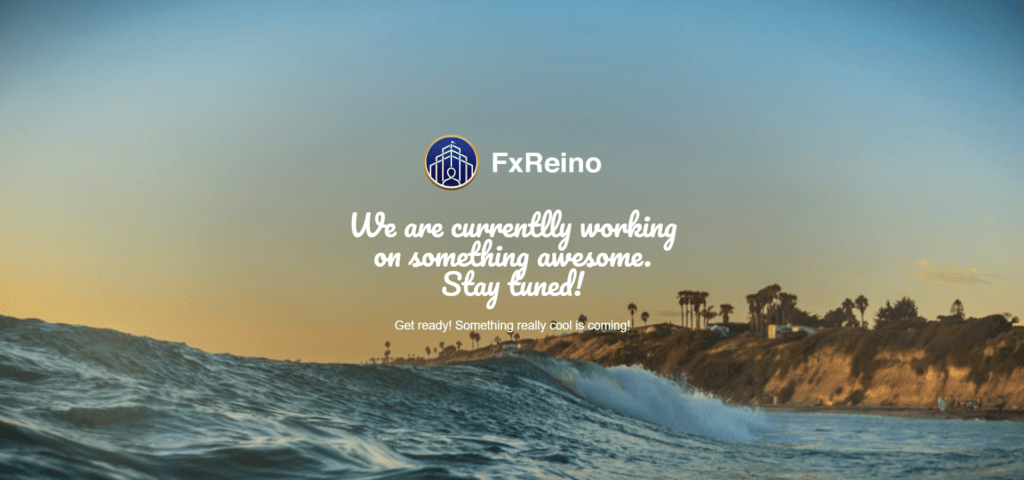 Why would they change their trade name?
A simple Google search of the company's name will reveal numerous amounts of negative user reviews on different platforms, with people sharing their experiences and mercilessly throwing the word "scam" around.
It's easy to say that this had negatively affected their reputation, and as a result, their traffic and number of clients. Thus, a new name was needed to distance themselves from FxReino.
Though they could've honestly put more effort into this as the new GoldenTradex website is a quite literal copypasta of FxReino with just the names swapped out.
Regulations
Golden Tradex is the trading name for Evest Group (SVG) Ltd, Evest Group (USA) Ltd and Evest Group Pty Ltd. When you visit GoldeTradex's website, one of the first things you see on the website is the mentions of security & regulations. They go out of their way to name all the appropriate regulatory authorities that all of their companies supposedly comply with, specifically:
Evest Group (SVG) Ltd is allegedly incorporated under a registered number of 25182 IBC 2018 by the Registrar of International Business Companies and registered under Financial Services Authority (FSA).
Evest Group (SA) Ltd is said to be a member of the National Futures Association (NFA) in the US and provides an ID of 0523103.
Evest Group Pty Ltd is said to be registered under the Australian Securities and Investments Commission (ASIC) and provides a company number of 62808630687.
While all of the information above looks legit at first glance to those that are uninformed in this field, there's more than what meets the eye.
First things first, the biggest red flag that is being set off is the mention of FSA. Financial Securities Authority (FSA) was a quasi-judicial body responsible for the regulation of the financial services industry in the United Kingdom. The keyword being was, as it was abolished in April of 2013, nearly 7 years ago. Its responsibilities were divided into two new regulatory authorities, the Financial Conduct Authority (FCA) and the Prudential Regulation Authority (PRA).
Secondly, the company states on their website they are a member of the National Futures Association (NFA). However, when double checking this and searching for the company by their firm name and ID will reveal that they are not actually associated with the NFA.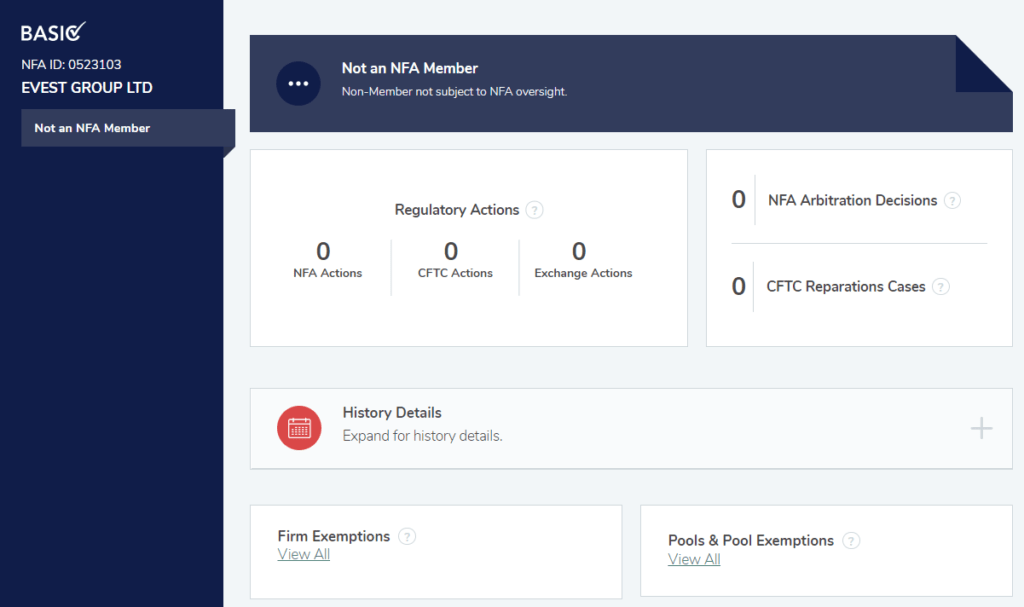 Furthermore, they claim they are registered under the Australian Securities and Investments Commission (ASIC) under the name Evest Group Pty Ltd and give a company number of 62808630687.

The number is a hyperlink that leads to what seems like a legitimate legal document that is supposed to prove their registration.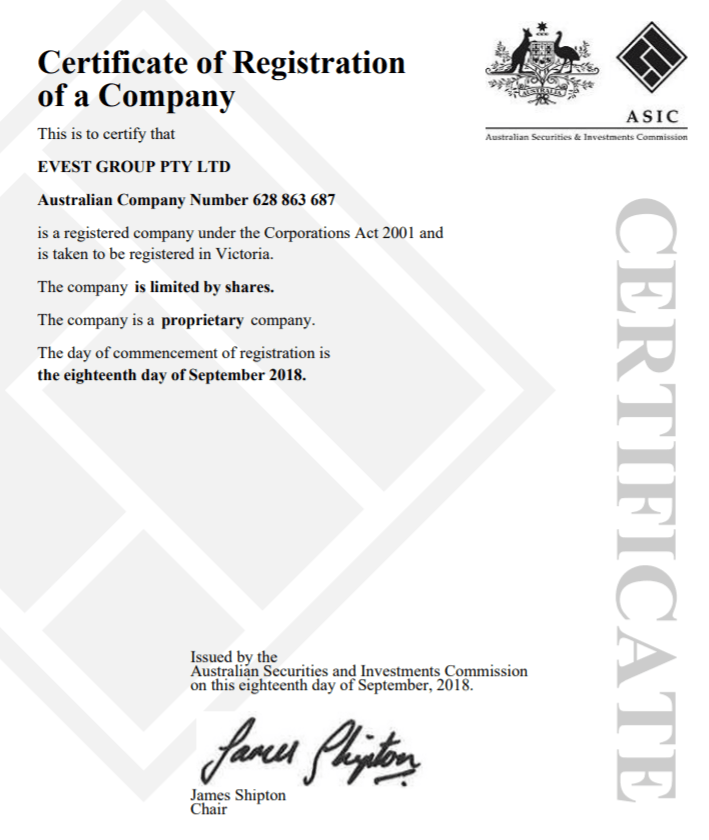 However, when searching for them on the official ASIC website, there is absolutely no data about them.


This leaves us with the only logical conclusion that they faked the supposed legal document that they have on their website.
Finally, we've looked on the registers of Financial Conduct Authority (FCA), Cyprus Securities and Exchange Commission (CySec) and International Financial Services Commission (IFSC) and have found that there is absolutely no data about Evest Group, GoldenTradex or FxReino.
Given the fact that there is no factual evidence of them being regulated, it is easy to assume that they do not have the right to hold funds of clients, trade for them and they might not even have access to the financial markets they claim to have. It's certainly thought-provoking as to why they would display this so easily, were they hoping nobody would double-check their claims?
For a company that claims to have high values in commitment, integrity, and passion, they certainly don't behave as they do, nor do they have anything supporting this.

Commitment – They can't even fully commit to distancing themselves from their past as FxReino. It was amusing to see how the only differences between the two platforms are just "FxReino" replaced with "GoldenTradex", as well as the slightly more dimmed photos.
Integrity – How can a company speak about integrity when it spreads misleading information to its potential clients. Regulations are a very serious topic when it comes to trading and investing. Whether or not a firm is regulated can be the difference between actually trading on the financial instruments available, versus saying goodbye to all of the funds upon clicking deposit.
Passion – All of the user reviews that are circulating the internet hint towards the fact that the only thing Evest Group is passionate about, is getting as many funds from their unwary current and potential clients in their database.
Bonuses
Despite mentioning at the start that we won't be covering any of the services that GoldenTradex offers, their bonuses were something rather peculiar and worth mentioning.
GoldenTradex offers 2 bonuses to its traders at the time of writing this review.
The first one is the "No Deposit Bonus". Upon opening an account with GoldenTradex, traders will receive a $30 worth of credit that can be used to trade. The $30 itself is not refundable, however the profits from it are.
Quite an attractive bonus, which is exactly its purpose. To attract new traders to invest with them, as there is currently no sense of security when it comes to funding an account with them.
The second bonus is "Education Bonus Promotion". The promotion simply states that traders will be granted $5,000 that is withdrawable.

In the Terms and Conditions, it is stated that the bonus may be offered by the company from time to time.

Which means absolutely no guarantees of getting the bonus yourself.
Furthermore, the bonus is only available in Malaysia, Indonesia, the Republic of China, Vietnam and Thailand. The residents of the countries above will also need to purchase the "Education Package" from their Academy and send proof of the purchase to their email.
Moreover, the bonus is up to $5,000, with the maximum amount you're eligible for depending on the amount you first deposit. The bonus is 50% of your initial deposit, meaning if you were to deposit the minimum amount that is $100, you're only eligible for an education bonus promotion of $50. Meaning, to be eligible for the entire $5,000 bonus, you'll need to deposit $10,000 on your first ever deposit.
As well as tight restrictions for the eligibility of its withdrawal, such as needing to trade X amount of standard lots where X = Bonus Amount / 5.
While also forfeiting your right to the bonus if you start withdrawing your initial deposit.

Summary
To recap, GoldenTradex is the trade name of Evest Group. Allegedly they are an Australian brokerage firm and are setting off major red flags. Evest Group used to trade under the name of FxReino.
The exact reason behind them abandoning FxReino is unknown. However, a search of the name will reveal a cluster of negative reviews on numerous platforms where users share their negative experiences with the firm. If you try to go on the platform now, it will seem as in FxReino is working towards something, but in reality, it has moved on to GoldenTradex.
The company lists its alleged regulations on its website. However, upon having a closer look and double-checking their regulations, we will find that they are not a member of FNA or regulated by any of the other firms they listed.
Even if they were to offer legitimate help and services, they would be fined greatly for it for not being regulated.
To top it all off, the bonuses they are offering seem ridiculously suspicious and aren't discussed in enough detail, which can be attributed to the fact that they are designed to lure in unsuspecting traders, without providing them with the needed amount of knowledge.
Whether or not GoldenTradex, or Evest Group, is a scamming company cannot be said for sure. One of the things they got going for themselves it the lack of presence on the official FCA register, where we will find even scam companies as well under the unauthorized category.
Trading with GoldenTradex posses a great risk at this point in time, while they might not be a scam, there are a lot of legitimate companies out there in this field and is not worth the risk. Instead, it is advised to stay away from them for the time being and instead look into other reliable and trustworthy brokers instead.