GrandFX Trade Review – Should you trade with this broker?

What is the purpose of a Forex broker in trading and why should anyone think about finding the right broker for themselves? These are the questions every trader should ask themselves before entering any financial market.
A Forex broker can be a reason for both financial success and demise. A credible broker with down-to-earth offerings and legit license can provide all the tools necessary to facilitate lucrative trading, whereas a scam broker will have bloated promotions and a very shady license, as a result of which you're slowly going towards a failure.
Therefore, you must think well before you select the right broker. And an in-depth broker review can come in handy for that. Today, we'll take a look at the GrandFX Trade FX brokerage and determine its credibility.
Can GrandFX Trade be trusted?
First things first, we have to start our review by assessing the broker's license. It is the single most crucial aspect that can help us determine the credibility of GrandFX Trade.
Interestingly, there is a clause down at the bottom of the website that notes that GrandFX Trade has headquarters in the UK and Belie. Normally, one would assume that for that reason, the broker would have licenses from two separate countries: the FCA license for the UK and the IFSC license for Belize.

Yet we only see the IFSC license from the International Financial Services Commission. And we're bound to point out that it's not the strongest regulatory material out there. That's because Belize is a somewhat weak Central American country that cannot ensure high financial standards within its borders, not to say anything about outside of them.
Therefore, we believe that the GrandFX Trade Forex broker uses the country as a "safe haven," hiding its earnings and illicit activities from stronger and more capable institutions.
The website overview
Moving on, let's talk about the website and software-related aspects of GrandFX Trade. First off, the interface: we have to say that we're not particularly impressed by the design chosen by the broker. There are some unnecessary wallpapers that do nothing other than distract viewers' eyes from what's truly important – information.
Besides, GrandFX Trade seems to be hiding some details from its clients. We searched for the company background for a while and couldn't find anything except for the notice of headquarters address and licensing. This fuels our GrandFX Trade scam suspicions even more.
Other than that, we were able to easily find information about the leverage, spreads, and other trading conditions. However, we also have our suspicions regarding these offerings, which we'll discuss in the next segment of this review.
The next aspect of the Grandfx-trade.com review is account separation. Right on the first page of the website, there's a window containing five different account packages: Basic, Silver, Gold, Premium, and Diamond. These accounts have different spreads, leverage ratios, minimum deposit requirements, and many other differences.
And then there are trading platforms. At GrandFX Trade, you'll find proprietary desktop and web trading programs, which have their advantages like simplicity and more tailored experience. However, there's one big disadvantage: unlike a more widely-known MetaTrader platform (or any other), proprietary platforms are more likely to include a scam because there's no monitoring base that can detect that scam. Therefore, it's beneficial for scammers to have their own platform that can do their job.
Reviewing GrandFX Trade promotions
Finally, let's discuss various numbers and conditions available on GrandFX Trade. We'll start with spreads and the leverage. As you may already know, the majority of Forex brokers use spreads as the sole source of income to fund their services. That's why they tend to avoid charging commissions.
However, during our review, we found out that GrandFX Trade's spreads start from 0 pips, meaning there are times when the broker doesn't charge anything from the trades. This is somewhat suspicious, considering that the broker needs funds to power its platform and it singlehandedly gives away this crucial source of income. Or does it?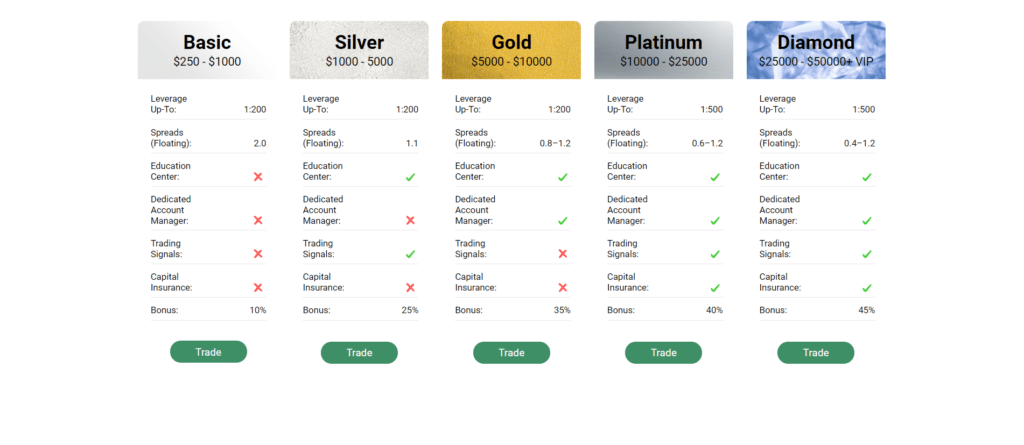 Next up, there's the leverage with the same level of suspicion. The majority of Forex brokers offer a maximum of 1:200-1:300 leverage ratios to their clients, realizing that higher multiplication rates are very dangerous to their whole financial account. Yet GrandFX Trade dives headlong by offering a 1:500 leverage. In our GrandFX Trade opinion, this is to attract as many clients as possible and trick them into a financial scheme.
Now, while the broker appeals to its potential clients with flashy spread and leverage conditions, it does the opposite with a minimum deposit requirement: in order to open the Basic account, you have to deposit at least $250 that will get you a 1:200 leverage and 2 pip spreads. This will certainly feel like plunder for beginner traders who want basic trading conditions at an affordable cost, which $250 isn't.
Another interesting thing about trading terms and conditions is that while GrandFX Trade claims to be a multiasset trading platform, we were only able to find Forex pairs on the website. Maybe the broker supported those assets at some point? Maybe it lies to attract people? Either way, it's not nice to list a product that's not actually available.
As for bonuses, there's not much to say about them really. The Referral bonus at 15% and varying deposit bonuses for different accounts are a nice addition to the platform, yet they don't disperse our already-firm suspicions.
And then there are financial platforms using which you make deposits and withdrawals. As the broker vaguely notes, you can use Visa and MasterCard credit cards, bank wire, and Bitcoin to make payments. However, if you're interested in deposit/withdrawal conditions, your only option is to make a guess because the broker certainly doesn't talk about them.
Should you trust GrandFX Trade?
In conclusion, what should you do with this broker? Should you entrust your funds to GrandFX Trade and trade with it?
We think not! GrandFX Trade has too many suspicious aspects that render it unsafe to associate with: the licensing is shady, the website looks overcooked, and trading terms and conditions are overzealous.
In short, the GrandFX Trade fraud reports may actually be true and therefore, you should avoid this broker.