Grand FX Pro Review – Should you entrust your funds to the broker?

When entering the Forex market, it is imperative to find a credible broker whom you can entrust your funds and trade safely. In the current financial world of scams and Ponzi schemes, it is especially important to make the right decision.
These days, it is challenging to distinguish credible brokers from fraudulent ones. The chasm between them has become dangerously shallow. The main reason for that is that the internet and modern technology allow scammers to present themselves in the best fashion possible: creating a slick and appealing website, delivering educational content, and covering trading numbers with flashy covers.
However, by conducting research and really looking into these offerings, it's impossible not to detect some rifts and flaws in them. And that's exactly what we're going to do now with this Grand FX Pro review.
So, strap on and let's get right to the business!
The licensing
First things first, let's begin our review with the license. It is a single most important aspect of any broker review that helps us uncover the real face of a broker.
In the case of Grand FX Pro Forex broker, we're greeted with an SVGFSA license from St. Vincent and the Grenadines. The Financial Services Authority of the country is the main financial regulator, being responsible for a safe and stable financial environment.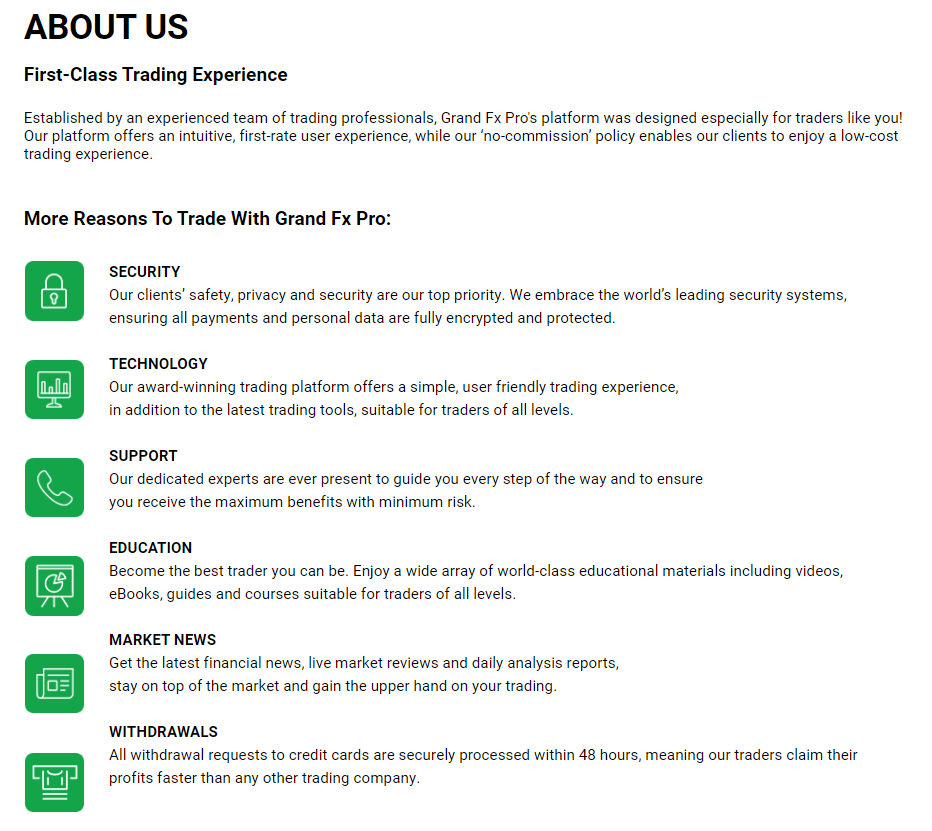 But there's a catch here. You see, St. Vincent and the Grenadines isn't a strong country with political or economic prowess. In fact, a small-time Caribbean island is a popular place where lots of financial companies are migrating.
The reasons for that are simple: the country presents a so-called "safe haven": companies go there to avoid taxes and punishment for their fraudulent activities. And we think the same is true for the Grand FX Pro scam: it's virtually not restricted by the SVGFSA.
The Grandfxpro.com review
Moving on, let's talk about the website. The interface doesn't look very appealing, so to speak. The color scheme of grey and white looks like a retro software and clearly doesn't fit current trends.
Yet there's more than that. When opening the website in Google Chrome, it'll only load a small section while the rest of it will simply be gone. This is a major bug considering it doesn't allow visitors to find out valuable information about spreads, leverage, licensing, and many more.
As for trading accounts, the broker offers six different options: Basic, Bronze, Silver, Gold, Platinum, and Black. While these accounts have many differences, the fundamental offerings like 24/5 support, educational content, and pro webinars are all the same, making it even less reasonable to go for a more elite account when you can simply choose Basic or Bronze at the most.
Finally, we need to talk about trading software. Now, if the Grand FX Pro FX brokerage offered MT4/MT5 or cTrader, we'd have nothing against it because these platforms have huge consumer bases that continuously monitor everything that's going on within it. Yet the presence of proprietary WebTrader and desktop program makes us believe that the broker wants this anonymity to plant scams into the software.
Are Grand FX Pro promotions legit?
Lastly, let's discuss some of the important numbers and other trading terms. We'll begin with the leverage and spreads. On Grand FX Pro, you can access a very high 1:400 leverage, which allows you to open trades that are four hundred times larger than your initial deposits.
Now, while this is certainly an advantageous feature, it is important to note that high leverage ratios also increase prospective losses. Therefore, if you were to lose $20 with your own funds, you'd lose $800 if you had opened a leveraged position on Grand FX Pro. What the broker fails to point out is the dangerous nature of this tool, the reason why we're suspicious of the Grand FX Pro fraud.

When it comes to spreads, we're seeing a completely different picture. There's nothing special or mind-blowing with a 2-pip spread condition. It means that the broker is taking a huge chunk of your profits and only leaves a small portion to you.
Next is the minimum deposit requirement. On Grand FX Pro, the Basic account requires a minimum deposit of $250, which is just too much if you consider who's mainly going to use this account: a beginner. If a person wants to start fresh and build some knowledge/experience without risking too much of their money, charging them $250 for the most entry-level account just won't cut it. It'll actually discourage them from trading.
To give the devil its due, we have to admit that the Grand FX Pro bonus system is pretty good-looking. Starting from the Silver account, Grand FX Pro traders can use a welcome bonus of 10%/20%/30%, which is pretty regular and there's nothing bad about it. Yet everything we've seen above are just too much to dissipate with one decent offering.
Finally, we have to talk about financial platforms. On Grand FX Pro, you can make deposits and withdrawals using credit cards, bank wire, and some e-wallets. Although there's nothing inherently wrong with these platforms, an addition of PayPal or/and Bitcoin would make payments so much faster and more secure.
Should you do business with Grand FX Pro?
In conclusion, what is our final Grand FX Pro opinion? Should you trade with it?
Based on what we've discovered in this review, it's highly possible that you get scammed by the broker. The licensing part looks very suspicious, the website is non-professional, while some trading offerings are straight-up dangerous to your financial stability, while others are just ransom by the broker.
Therefore, we wouldn't recommend doing business with Grand FX Pro.