INGOT Brokers review – Can this Forex broker be trusted?

INGOT Brokers is a firm that was established in 2006. They have over 15 years of experience in the industry.  In our review of INGOT Broker, we will be focusing on the general information about the firm which is useful to know. By doing extensive research we aim to provide our reader the intel that isn't always clear on the broker's sites.
This is an international firm, therefore the site is available in multiple languages. Other than English there are 9 more languages that one can translate the site into.
The Australian Securities and Investments Commission is the major regulating body for this company. FSP New Zealand has also granted them a license. The SVGFSA also regulates the company.
This is an Australian broker, with offices in New Zealand, Switzerland, and Bahrain, diversifying its portfolio to Asia and the Mana and International Trading Region by investigating the potential of the financial markets. one can trade a variety of instruments with the broker, including ETFs, CFDs, futures, commodities, metals, energy, and foreign exchange, as well as for cryptocurrencies.
Exclusively, INGOT brokers offer trading strategies with a specific solution for stocks and indices. Due to their appreciation of the importance of transparent trading circumstances in brokers, the general offering of INGOT  provides an inhomogeneous environment for order execution.
The minimum depositing amount required on the site is $100.The trading products provided on the platform include ETFs, CFDs, Futures, Commodities, Metals, Energies, and Forex. The INGOT Brokers MT4 and MT5 platforms are available. INGOT Broker offers a fantastic trading experience, with over a thousand trading instruments and eight asset classes to choose from. The leverage starts at 1:500 and the spreads start at 0.0.
With the INGOT Broker, there are not many perks available for the common user one has to have one of the higher leverage accounts to get access to decent features and offers.

License and Regulations – Is INGOT Brokers Legit?
Multiple authorities in Australia and worldwide have fully authorized and regulated INGOT brokers. This brokerage firm is licensed by the FSP, the SVGFSA, and the ASIC. These are the world's three most well-known regulatory bodies. Having a range of licenses simply adds to the broker's credibility.  the company may also have other identifiers of validity like its features, services, and offers. It's highly important for a brokerage firm to be regulated, however, it doesn't clearly mean that one should fully trust it without looking at what it offers to its consumers and how they display their information.
INGOT Brokers Review – Trading Features
Account Types
On the INGOT Broker website, you can choose from a variety of account kinds. To be more exact, there are four different sorts of accounts that can be used for trading. Each account has something unique to offer. Multiple accounts are available to appeal to different types of traders. ECN Professional accounts are offered through INGOT brokers. We will go over all of the qualities and features of each account in detail in this section of the study. It's worth noting that among INGOT Brokers' Forex Broker clients, the professional account is the most popular.
ECN, Professional, Prime, and Booster accounts
A hundred dollars is the minimum deposit amount for this sort of account. The spread starts at zero, and the number of instruments available is rather large. Metals, indices, and a variety of other things are among the five things that can be traded. On all ECN accounts, the stop-out threshold is set at 25%. The account's minimum lot size is 0.01. Expert advice and hedging are permitted. You can take advantage of the negative balance protection policy with this account type. It's worth noting that if you're using an Islamic account, an ECN account will not be swap-free.
A hundred dollars is the minimum deposit amount for this sort of INGOT Brokers account. This is the site's most popular and sought-after account type. The spread starts at 1 and the professional account offers a wide range of instruments. The eight products that can be traded are as follows: For professional users, the stop-out threshold is 25%. . Expert advice and hedging are permitted. Negative balance protection is available with a professional account. Swap-free Islamic accounts are available for professional users.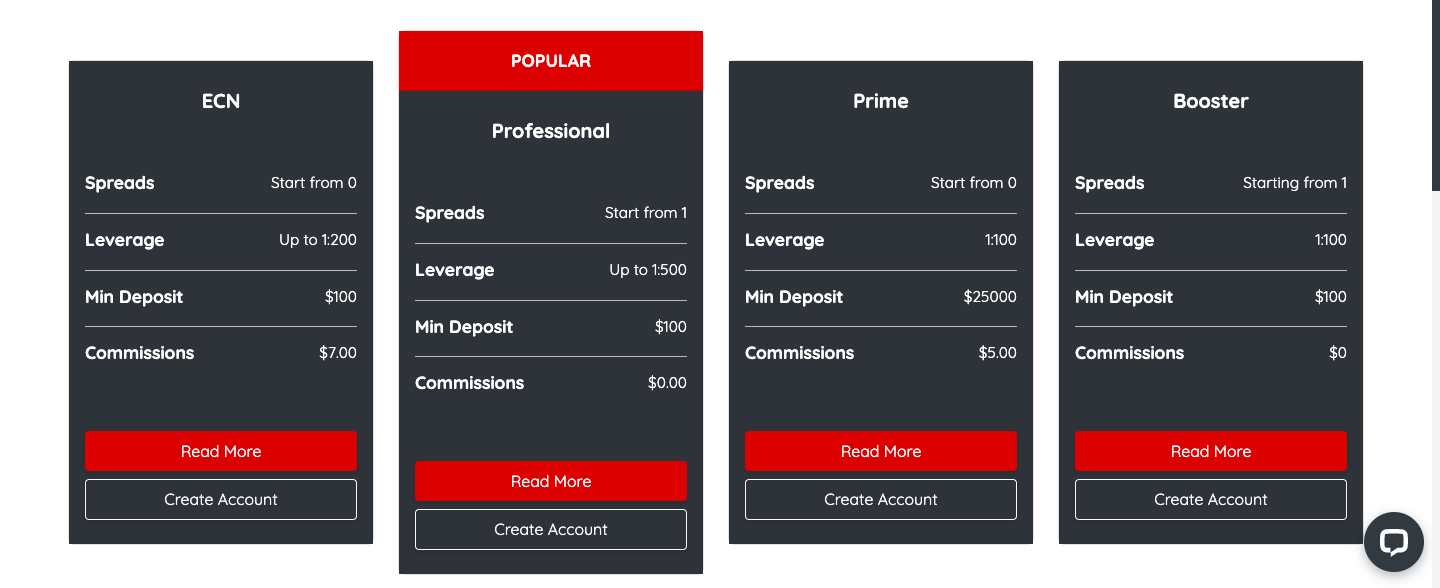 According to our INGOT Brokers Review, the prime account would be perfect for you if you are willing to make larger deposits, as the minimum deposit is $25,000. The spreads on this account start at zero, and it has many more trading instruments than the other account types covered so far.
All Prime account owners are subject to a 25% stop-out level. The prime account's minimum lot size is 0.01. Expert advice and hedging are permitted. The negative balance protection policy is in effect for your benefit with this account. INGOT Brokers Forex Broker Prime subscribers do not have access to swap-free Islamic accounts.
The minimum amount of money that may be deposited with the booster account type is $100. The spread starts at 1 and Booster customers have access to a variety of exciting trading instruments. On all ECN accounts, the stop-out threshold is set at 25%. The account's minimum lot size is 0.01. Expert advisors, on the other hand, are not permitted to hedge. You can employ the negative balance protection policy as a Booster user. Swap-free Islamic accounts are not available to Booster account holders.
Leverage
The site's lowest leverage ratio is 1:100, with a maximum leverage ratio of 1:500. When compared to the offers of other brokerage houses, this is a reasonable proportion. For most of the accounts, the maximum leverage ratio is the same and beginner-friendly at 1:100, however for high-risk takers, there is also a professional account with 5 times higher leverage ratio.
The ECN account leverage ratio is 1:200
The professional account leverage ratio is 1:500
The Prime account leverage ratio is  1:100
The Booster leverage ratio is 1:100
Spreads
For INGOT brokers FX brokerage accounts, the general spread value ranges from zero to one. If you're primarily interested in Forex trading, It's worth noting that spreads for major currency pairs like EUR/USD and AUD/USD are currently floating. In fact, this is true for all of the currency pairs available on the platform. This means that the spread's percentage is determined by the transactional value of the currency pairings. A political or economic element could, in the worst-case situation, expand the spread by a few percentage points. However, it is currently somewhere between 0 and 1.
Minimum Deposit
The minimum deposit amount on the site is $100. This is very much in line with the regulatory laws made by the countless organizations that monitor the activities of the Ingot Brokers firm.
The minimum deposit varies by account type; for example, a first-grade standard account only requires a one-hundred-dollar deposit, whereas other accounts may require a five-thousand-dollar or one-thousand-dollar deposit at the outset. Withdrawal fees are typically covered by ingot for some deposits, but payment providers may add on internet internal fees.
Bonus
INGOT Broker doesn't have bonuses, however, this doesn't necessarily mean that there are not any promotional initiatives on the site available for a wide range of consumers. in fact, one can try their luck in the various contest the firm organizes.
This brokerage firm strives to keep its clients involved and interested, which is why there is currently a massive contest on the site with a whopping $20,000 prize pool. This contest is open to both new and existing customers. Each type of trader has specific criteria. You must have a Professional Account on the site if you are a newcomer or an existing client. Despite the fact that the minimum deposit amount is five times lower, you should deposit $500. A trader can only have five trading accounts at a time.
INGOT Brokers – Final Verdict
All in all, we don't recommend trading with this site because they don't have bonuses and the site itself doesn't function smoothly. On paper, this is a nice broker with a great offer on leverages and spreads however the spreads are variable. The customer service of the site is not as good as one might think they take very long to respond to one's emails and sometimes don't even answer incoming calls by their consumers.
At Ingot Brokers, you can choose between MT4 and MT5 platforms, as well as the desired investor portfolio. This means that the range offers foreign exchange, equities, and commodities accounts, as well as accounts, splits to either standard or ECM premier offerings, so you can choose between the offering instrument size you want to trade and which technology to use. or so the site wants you to think so. on the page these are perfectly valid and even beneficial features however the way the site executes it is just terrible.
there is something of an entirely inactive feature that one can spot on the site. The structural difference between the final products of the company and there the site lacks educational material. This section of the site is not updated and is filled with different videos. The lack of written content on the site is definitely another disadvantage. the site heavily relies on visual stimuli which is never a good sign.