InvestMarkets Review – Is it Reliable Brokerage?

InvestMarkets is an overseas foreign exchange broker company located in Belize City, Belize. It was established in 2013. InvestMarkets offers financial securities such as Forex, Commodities, Indices, Shares, Cryptocurrencies, as well as ETFs. The only trading platform they provide is MetaTrader 4.
InvestMarkets Forex broker is not a very reliable company as their authorization is very questionable and illegitimate. There is almost no evidence to prove that authorization by the International Financial Services Commission of Belize truly protects the investments of clients from around the world.
Besides, When it comes to the leverage ratio, the broker company provides up to 1:500 leverage for various sorts of traders with a $500 minimum deposit. This means that the broker company is not an appropriate one for beginner traders, for people who are just starting their trading career and want to deposit a very small amount of money in order not to lose much.
In the InvestMarkets Reviews, we are going to further talk about the legitimacy of this forex broker, how user-friendly their website is, and what kind of trading conditions do they provide to their customers. So let's get started to explore a lot more about this Foreign exchange brokerage firm.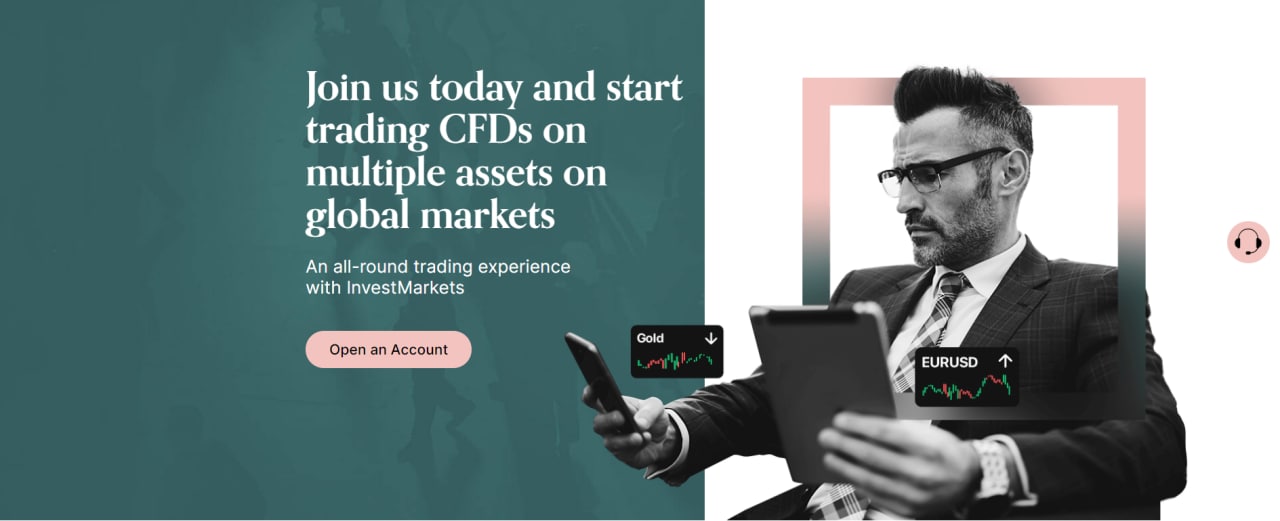 Can InvestMarkets be trusted? Are they a legitimate brokerage?
We must take a careful look at their licensing to assess whether or not the broker company can be trusted. Fortunately, that is not hidden on the website and it lets us see all the information. As we have already mentioned, the company claims that they are regulated by the International Financial Services Commission of Belize. They will enable them to register in their country, however, they do not have to be held accountable for their conduct by their financial authority.
This is comparable to the possibilities of Investmaket frauds, and because of this scenario, it was reported that hundreds of fraudsters were registered in Belize. So this fact already tells a lot about how legitimate this authorization body is and overall, how reliable this broker company can be in general.
This is why we can not actually state that the writing and claim that they have a license from that nation makes us calmer, instead, it enhances the likelihood that the InvestMarkets scam is true. However, let us ignore that we have discovered this fact first and try to assess this broker company against established market criteria. So let's get started.
Is the website user-friendly?
We must pay attention to the website itself before even addressing the terms of service and see if it is user-friendly and permits newbies to quickly navigate around.
First of all, when we enter the website the initial expression is quite positive. The design of the webpage is minimalistic and beautiful at the same time. The information provided on the website is transparent and visible. Almost all the necessary material was shown before us, which in the first place began this  InvestMarkets Review.
On the other hand, there is much irrelevant information provided on the homepage when you enter different parts such as Forex Trading and Cryptocurrencies which makes the site extremely worthless. It is not a broker service but a blog where a lot of useless general information is written on the whole page.  A tiny and accurate copy of the content would be very relevant but not this. The customers should be able to readily locate the information they want without having to explore the website further.
On top of that, we spent a long time finding the relevant information such as minimum deposit or even minimum leverage. We believe this is a big minus of the webpage.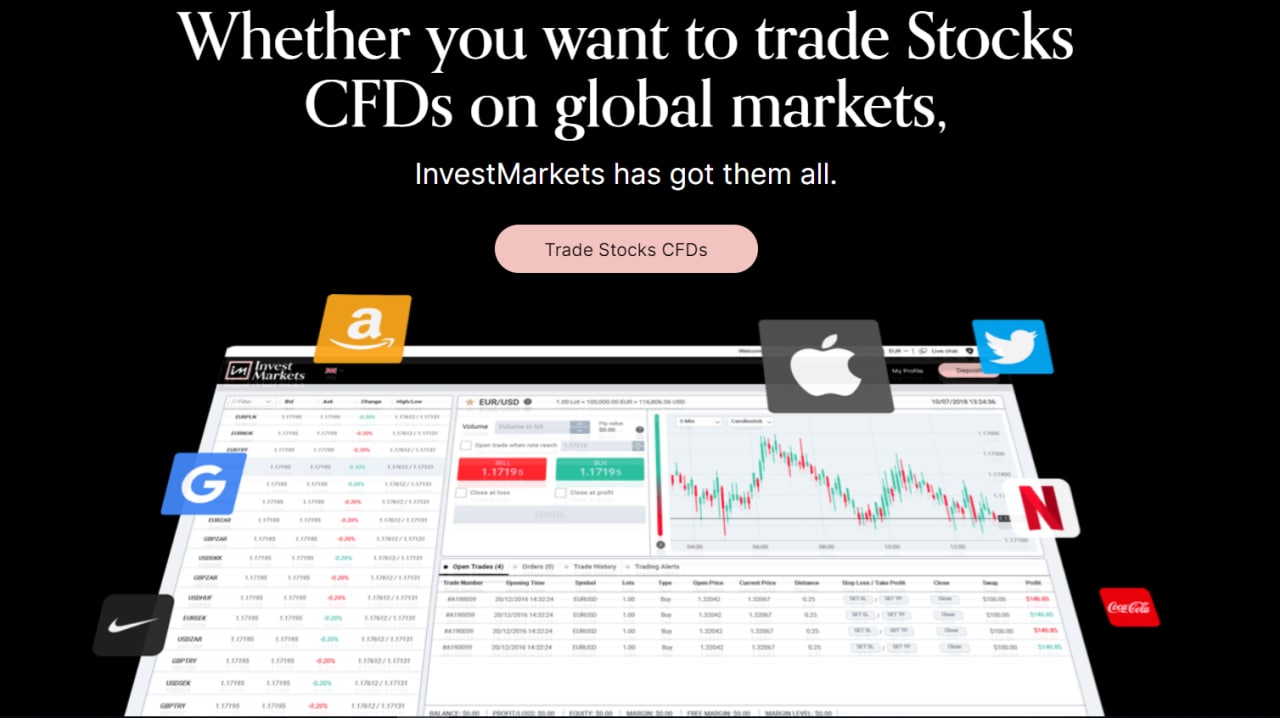 InvestMarkets trading options – are they really good?
The primary part of this review is ready to be discussed such as The InvestMarkets Forex broker trading characteristics. Are both experienced as well as novice traders worth trading with them anyway? Or are they medium or even less than average broker companies? What if they have terrible trading conditions that validate our InvestMarkets concerns? This part deals with topics like leverage, spreads, removals, software, and many other company components. Let's start with the InvestMarkets brokerage and learn more about it.
What is the Maximum Leverage They offer?
We all know that leverage is an important aspect of every good forex broker. The higher the potential leverage amount, the higher the chance of the customer to gain a lot of money from their trading. As far as we learned, InvestMarkets offer a maximum amount of leverage of 1:500. This means that the company is not very competitive compared to the other brokers in this industry who offer a lot more leverage ratios such as 1:1000 or even more 1:2000. This means that people who want to generate a substantial income by trading forex, for example, they will not find InvestMarkets brokerage leverage offering very interesting.
On top of that, another important fact to note is that individuals can not be completely confident that the money they have earned is safeguarded, because the broker is probably the scam. Therefore, it's extremely difficult to state that by using InvestMarkets to trade you may make a considerable amount of profit.
What are the live Trading Accounts offer?
The trading accounts they provide to their customers is another essential issue to emphasize here, in this InvestMarkets Review. Forex is a trading account that investors maintain with brokerage firms for trading different financial items. Brokers can provide traders with a variety of accounts on different levels of skill, competence, as well as comprehension.
The following is a list of what types of live trading accounts can InvestMarkets FX brokerage provide their clients with:
Basic Account
Gold Account
Platinum Account
VIP Account
A maximum leverage level of 1:500 is provided to every type of trading account and the only difference between the trading accounts is the minimum deposit needed which is the following:
Basic Account – $250
Gold Account – $25 000
Platinum Account – $100 000
VIP Account – $250 000
Besides, another drawback of this broker company is the fact that The InvestMarkets fraud does not provide Islamic/Swap-Free accounts for Muslim clients from all around the world which means that a lot of people will not be able to choose to trade with this brokerage.

Deposits & Withdrawals
The capability for deposits and withdrawals is a crucial aspect to take into account in evaluating forex brokers. InvestMarkets offers traders a choice of retirement and deposit alternatives including:
Credit cards
Debit cards
OKPAY
Neteller
Skrill
Perfect Money
Bank Wire Transfer
However, the important thing is that the withdrawal process in this broker company takes too long. Besides, they also have very high limits which make the process very uncomfortable. On top of that, withdrawal fees and commissions tend to be very high. This is a lot of people we do not recommend this broker company to trade with.
Is Investmarkets legitimate? Should you trade with them?
In general, it is worth noting that now is indeed time to make a verdict on our InvestMarkets review after significant considerations. Is trading with this broker firm beneficial? Or is this just another mediocre company with almost everyone else outperforming?
Yes, in some ways. Forex Broker Investmarkets has some distinguishing features that differentiate it from rivals. On the other hand,  it delivers primarily inferior and insufficient services compared to industry standards. The cases of licenses are also somewhat doubtful as Belize's International Financial Services Commission does is not considered to be a very reputable organization that provides the authorizations of broker firms. Overall, while there are a lot of better choices available at the moment we can say that it is not worth trading with InvestMarkets.