Investizo – Is It A Scam Or Can I Trust This Broker?

Interest in Forex trading is increasing dramatically. More and more investors are trying to reach the market and create the best platforms for their customers. Increased interest and the level of competitiveness, caused an increase in the number of brokerage platforms that use unfair strategies to increase the areal of the customers and annual income. For that reason, we are seeing a big number of victims who lost their funds because of scam brokers. We aim to outline such platforms and avoid the risks and losses to future potential victims.
To make sure that the Forex broker platform is safe and under the high-standardized regulations, every customer needs detailed information about real operating principles and mechanisms, official web page analysis, and legislation framework. That way, investing or becoming a customer of the broker company will be safer.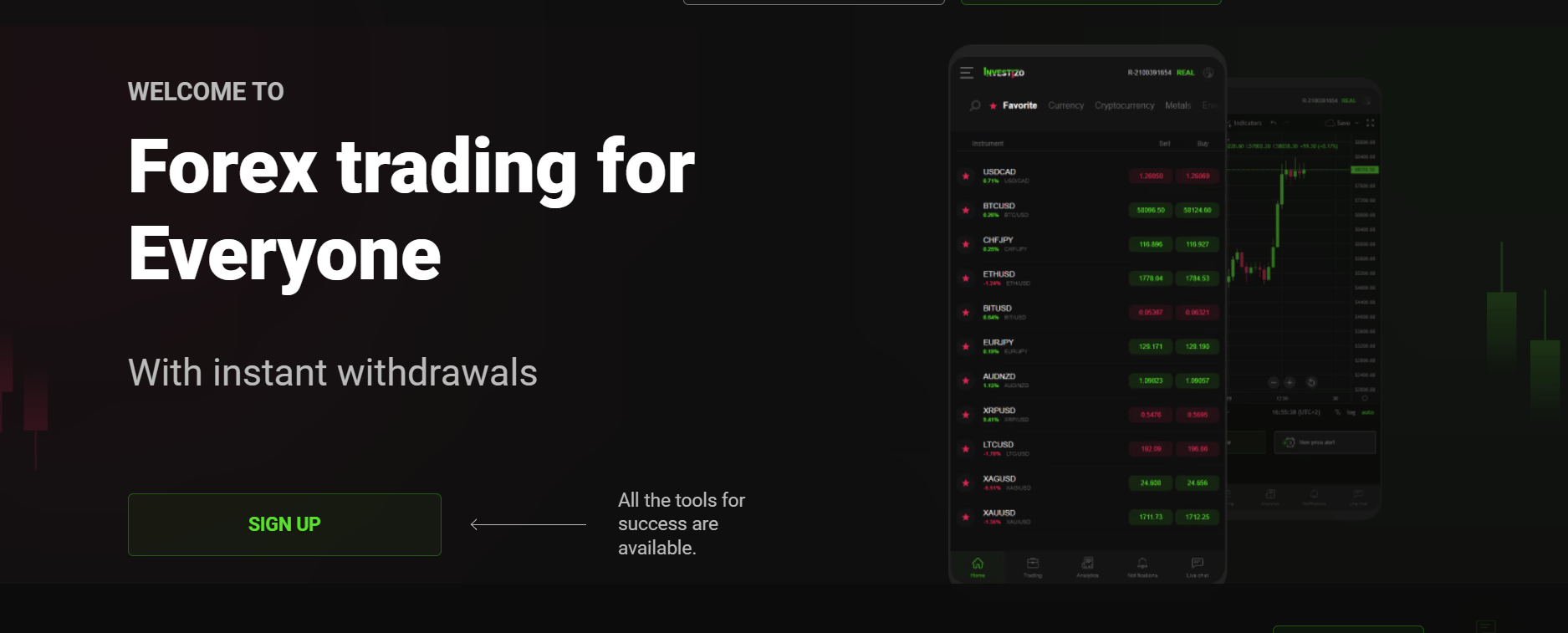 To protect potential customers from such kind of unfairness and prevent risks, down below we will outline the detailed information about one of the well-known broker companies called Investizo, which has a quite large customer auditory.
Investizo was founded in 2020 and is operated byInvestizo LTD. The minimum deposit for Investizo is 250 USD, and the platform comes with the opportunity of using MetaTrader 4. The company gives you access to Forex, indices, different commodities, and stocks.
The platform is available with the mobile app and it does not include any social trading. On the other hand, we have discovered some flaws with this website, which let us say that Investizo should be checked for its safety and fairness. That is why down below we will describe every important feature in detail.
The Website
From the first view of the official website, their security system and high legislation are already suspicious. To be honest, Investizo uses a pretty impressive design for the official web page. When you enter the website, you will see a pretty well-designed dark-themed space with general information about offers. But, when it comes to licenses, customer support, or any other important data, you won't be able to find much.

That is the main red flag because a secured platform is oriented to transparency and gives the customer detailed information. On the website, you can see that they are offering the option of automated trading software which outlines the probability of an existing scamming scheme.
Also, they do not have a phone number indicated and instead, only offer Email and Chat customer support which is an easier way to handle the questions from traders. All in all, the lack of information creates a suspicious look even from the first impression.
License
As an offshore broker company, Investizo is not under any regulation of international licensing authorities. The official website does not include such kind of information too. That means they are not legit and already caution users about safety risks.
The high-secured and prestigious brokers are generally regulated by the Australian Securities and Investments Commission, or other famous authorities – Investizo is not connected to any of them. We have to mention that ASIC is one of the high-regulated commissions with strict requirements. What this means is that when the broker owns a license from it, it is required to follow some guidelines about leverage, spread, and other important features.  Not being licensed by any trustworthy companies, makes Investizo an unsafe platform.
The broker mentions that the company is operated by Investizo LTD which is already registered in the offshore zone of Saint Vincent and the Grenadines. This zone is well-known for a high number of scam brokers who choose SVG because of easiness and low costs. Also, the brokers are not forced to be under the government regulations and they can operate on the market easily, without anyone supervising their activities.
Trading Platforms
For those who do not know the exact definition of the trading platform, this is the tool that is used by broker platforms to allow trading operations for the customers. Only by clicking on the device, a person can check and use some analytical tools, price movement, and graphics and plan the trading strategy with consideration of the data.
Investizo uses MetaTrader 4 trading platform which is a quite frequently used and old platform. The new version of MetaTrader 5 is an improved version compared to the old one. It is easy to use with its personalized functions and high accessibility on other devices.
The fact that MT4 is available to traders is definitely good, however, this alone is not enough for the platform to be considered trustworthy. With that being said, let's take a look at other things Investizo broker offers to its customers.
Payments, Deposit And Withdrawal
Another great strategy from Investizo is to offer a low amount of deposit to look like a secured option. The minimum deposit is 50 USD but with the unrealistic and persuasive offers, you can easily lose more than 50 USD from your account. Also, they will convince you to deposit 250 USD because it gives you access to better features, bonuses, and profits with this amount of money. Generally, the minimum deposit amount is somewhere between 50 and 100 USD. We believe that making a deposit of 250 USD to a website that is not regulated, is definitely a bad idea.
We wanted to see the list of available payment methods, however, the broker does not mention specific options. What we know is that you can make transactions with debit and credit cards. This general and non-transparent information increases the risk and makes Investizo a scam broker.
We have discovered that Investizo uses some technical issues as an excuse to decline or delay the transaction of withdrawal. For instance, its bonus offer looks very attractive from the first look but in reality, you won't be able to withdraw any profits generated from it. This allows us to say that the expectation that you will earn a big amount of money from Investizo is a lie.
Can You Trust Investizo?
Depending on our research, we wouldn't say that Investizo can be trusted by traders. By avoiding this broker, you won't be exposed to the huge risk of losing your money. As you have seen, we have some valid and detailed examples, facts, and reasons why Investizo is considered a scam and not a safe platform for you.

First of all, it is not regulated by any international commissions, and most importantly, not having the Australian Securities and Investments Commission license already outlines that the broker has no system which will be relevant to the international safety requirements. Also, the available information on the website is not detailed and only consists of attractive offers that will try to assure you that by creating a big amount of deposit you will earn hundreds of USD daily.
Not active customer support and access via email also are great tactics to avoid suspicious questions from the users. Not being able to withdraw your money is the worst thing you will encounter with Investizo.
Finally, if we compare Investizo to other licensed broker companies we will see that it does not include any segregated account and has no negative balance protection feature. Also, not having a license and the guaranteed funds with the offshore zone registration, allows us to say that Investizo is a scam and it is better for you to stay away from this broker.