InvestMug Review – Is This Platform Worth Your Time?

At the first glance, InvestMug.com looks like a regular news website where you can find information about cryptocurrencies, including crypto coins, wallets, and crypto exchanges – mining in general. However, there is much more behind this platform than one might expect. What we mean is that this website has a hidden page with account registration but you will not actually be able to find this page as it is set to no-index. Basically, what owners of this website do is that they spam users on Telegram and other popular messengers or apps (such as Tinder) telling them to sign up for their platform, make a deposit with cryptocurrencies and get a specific guaranteed return somewhere between 5 and 25% either weekly or monthly.
The reality is actually much different. InvestMug is a company that is not regulated by any reputable financial authority, meaning that once you deposit, you will never be able to get your money back. What's even worse is that no one can help you in such times of crisis, and the company will not face any legal consequences as well. That's why we advise you to always check the background of such platforms because there is a high chance that they are scammers who are simply trying to steal your money.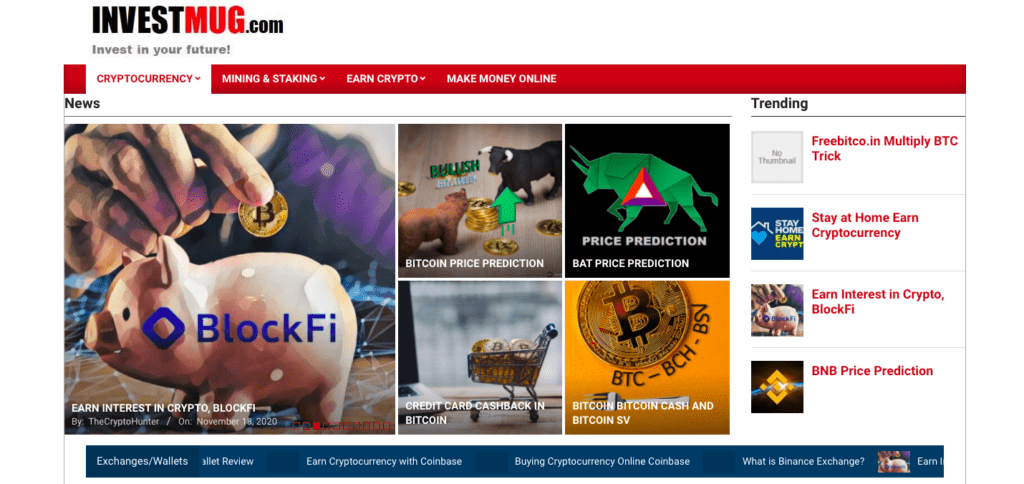 How Does InvestMug Scam People?
Generally, such companies choose people who have recently lost money in a risky investment, however, it does not mean that the regular person can not be the victim of their scheme. As already mentioned earlier in this InvestMug review, they choose a specific platform where they can easily get in touch with customers, offering them to invest money on their platform. The person is persuaded to pay money to get significantly more in return in the near future (the offers are mostly monthly or weekly). In order to convince you that the company is real, they will send you to their website which looks quite normal at the first glance.
In the case of InvestMug, the website is a fake news page about the related topics such as how to earn cryptos, how to make proper investments, etc. You can find information about price predictions, daily cryptocurrency news, and exchange platforms. They have a hidden registration page that you will not be able to find on your own. It is important to note that they might offer unreal conditions that might include low risk and high returns. They will pressure you to buy the investments right away, so be sure that you avoid them at all costs. The site was created back in 2019, and below is some additional information in case you are interested.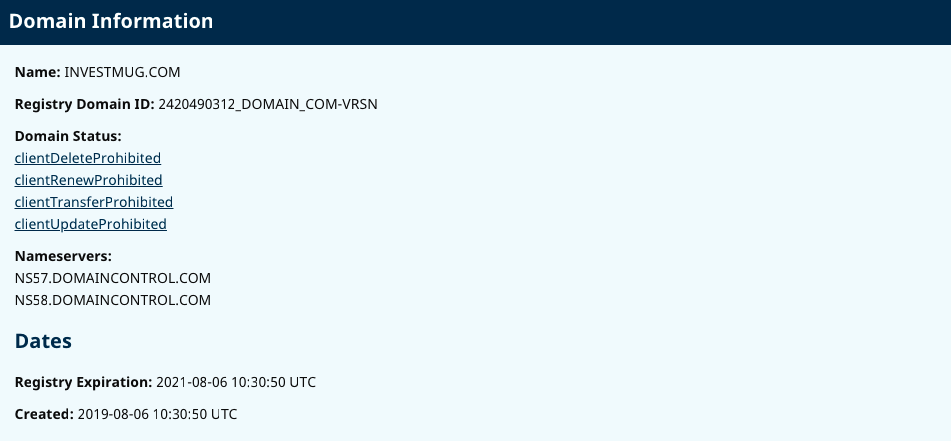 Is InvestMug.com Legit?
No, InvestMug.com is not legit, and we advise you to stay away from this platform. There is no available information on whether or not this platform is trustworthy and there is not a single reason why you should trust them with your money. Not being registered to sell investments means that there is a high chance that you are involved with a scammer. Additionally, there are a lot of other reputable brokers available on the internet that hold a decent license and are authorized by reputable authorities, where it is possible to invest money and make significant profits, without worrying about your money or privacy.
What to Do if You Already Deposited at InvestMug?
If you already made a deposit at InvestMug, then we have some bad news for you. Considering the fact that the company is unregulated, you will not be able to do anything about the lost money. The best idea for you is to take it as a lesson and never again trust a website that is not licensed and reputable.
InvestMug Reviews
Another thing InvestMug.com does to position itself as a successful company is that they write positive reviews of their own website on the internet, in order to prove to customers that their services are real. The majority of reviews state that this is a fast-paying platform where you can invest your crypto coins, however, this is far from the reality, and once again aims to scam investors and other digital coin users.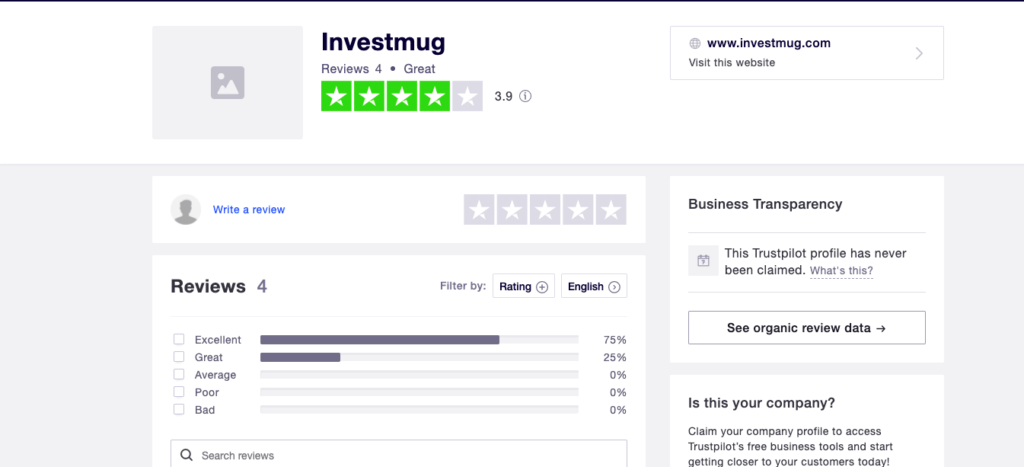 Is Investmug.com a Scam?
Yes, Investmug is definitely a scam and the main indicator of this is the lack of regulation. Nothing about this platform evokes trust, including the overall investment of around $19 into the development and design of their platform. The main aim of it is for you to deposit money as soon as possible. After that, you will not be able to contact the owners of the platform anymore, as they will already have moved onto a new victim of their scam scheme. Always check the registration of the business that is trying to sell investments. Finally, once again, we do not recommend using this platform for all the reasons mentioned above.