Lot-Forex Review – Is This Forex Broker Worth Your Attention?

Lot-Forex Forex Broker is a trading platform that offers financial services and trading tools to different types of clients. The website claims to be having over 1 million live accounts, more than 10 years on the market, and 35 plus awards in the industry. Considering all these facts, it means that the company is quite experienced and has been in the industry for a lot of time, but we have not heard of it much, and the internet does not store any valuable information about this broker itself, which is already suspicious. That's why we decided to re-check all these facts and find out whether Lot-Forex is what it claims to be. The main webpage suggests that the company is licensed by CySEC (also known as Cyprus Securities and Exchange Commission) – this is a highly reputable financial regulatory, and after digging out, we discovered that Lot-Forex is not on the list of licensed companies by CySEC, meaning that it is an unregulated broker, trying to lie about its legitimacy.  Moreover, the design of the Lot-Forex FX Brokerage website is a clone of another Forex & CFD Trader XM, and it is possible to notice that just at the first glance.
The maximum leverage on this platform is up to 1:1000, while spreads on EUR/USD start from 1 pip. The website has both – MT4 and MT5 available, which are powerful trading tools used by the majority of popular brokerage companies. In order to start trading at Lot-Forex, you need to deposit $1000. When signing up, customers have 6 different options of accounts, and with these, it is possible to trade Forex, Indexes, Metals, and Cryptos.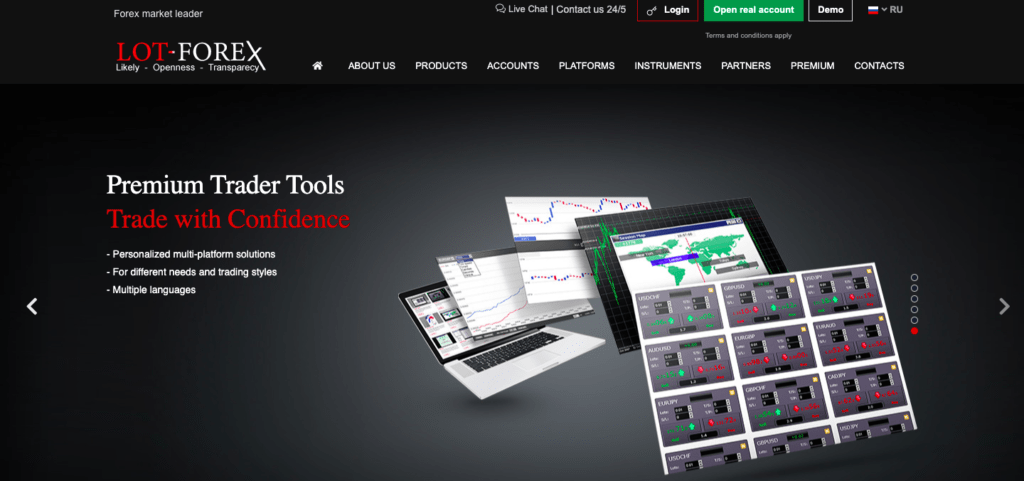 Is Lot-Forex Legit?
No, Lot-Forex is not a legit company simply due to the fact that the license information they provide us with is false and very far from reality. This broker even has fake license documentation uploaded on their website, hoping that customers will be tricked into their system without checking the actual credentials. However, we advise you to avoid this company at all costs, because you are at risk of being lost. Trusting an unlicensed company with your financial assets means that if something inconvenient happens and they steal your funds, you will not actually be able to do anything about it. There will not be a financial regulatory who will take all the necessary steps to protect you from fraudulent activities.
Lot-Forex review – Trading Features
We've already seen that Lot-Forex is trying to position itself as a trustworthy broker, however, it is clear for experienced traders that this is just a mask. In order for you to see why trusting this platform might be a bad idea, we decided to further review its trading features that might influence your decision-making process.
Leverage
The maximum leverage at Lot-Forex is up to 1:1000, which is very excessive and above the industry's average. If a beginner deals with such a high ratio, it means that he is at high risk of losing money, and it can even result in going into debt. The majority of financial regulatory bodies restrict leverages to a certain level, so customers are protected.
Spreads
As we already mentioned earlier in this Lot-Forex Review, spreads start from 1 pips, and this indicator is also above the industry's average (it is 0.5 pips, some companies even have 0.1). Even if the spreads correlated with the standards, it alone would not be enough for us to recommend this company to you as there are a lot of other red flags that need your attention.
Account Types
Once signing up for Lot-Forex, you can choose from 6 different types of accounts including Micro, Premium, Zero Spread, Auto, Pamm, and VIP. Each of them comes with different specifications and requirements, for instance, if the maximum leverage for a Micro account is 1:1000, the same for the VIP is 1:300. They might also come with different daily profit, withdrawal times, and spread types.

Minimum Deposit
The minimum deposit amount at Lot-Forex is $1000, meaning that you will not be able to start trading until you have deposited $1000 in your personal account. This amount is very high compared to the industry's average (somewhere between 50 and 100 dollars). Considering the fact that we have our concerns about the fraudulent nature of this company, it might be due to the fact that the website wants you to deposit as soon as possible and after that, you might never see your money ever again. The minimum deposit amount can even go up to much more (50000$ for the VIP) depending on which type of account you decide to use.
Bonuses
Bonuses are quite common for such platforms, as they give you the ability to attract new customers to your system. Lot-Forex says that it has a 100% deposit bonus, along with a 30% match bonus, however, we were not able to find any additional information about them, which means that either they do not have any promotional offers, or you can get it after signing up.
All in all, it is very clear to see that the trading features offered by this forex brokerage company do not correlate with the industry's standard – leverage along with spreads and minimum deposits are high, and there is no additional info about bonuses.
Lot-Forex – Final Verdict
We do not recommend using Lot-Forex to any of our readers, and the main reason behind this is that they are not regulated, and your money with them is not in safe hands. What's even worse is that the company lies to their customers about important stuff, which already means that the owners of this site do not care much about users. It is always a better idea to go for the broker that has a decent license and offers good trading features, so you don't waste your money and time on something that will result in negative consequences.