Participate in the Cryptocurrency Markets with Maxwise

The exploding enthusiasm regarding cryptocurrency is ascribable to many factors, the primary ones being its enhanced liquidity, decentralized structure, and transactional transparency.
However, a seamless trading experience is only possible with a reliable and secure broker. Consequently, traders should carefully assess the services and security network provided by the brokerage platforms before opting for one.
Here, we have reviewed the primary features and components of Maxwise, an online trading broker offering an extensive collection of crypto assets.
About the brand
Maxwise is a crypto broker providing users access to the dynamic digital currency markets. The broker incorporates a technologically advanced and user-friendly trading platform suitable for both professional and emerging traders.
Maxwise's platform integrates multiple technical analysis tools and charting objects with an easy-to-use interface to maintain a smooth user experience.
Moreover, the broker offers customer services and an educational blog to help members trade without reservations and build their trading knowledge. According to the brand, their priority is to ensure the satisfaction of their clients by the maintenance of a robust security framework, swift trade execution, efficient payment pathways, dedicated customer support, and a high-technology trading platform.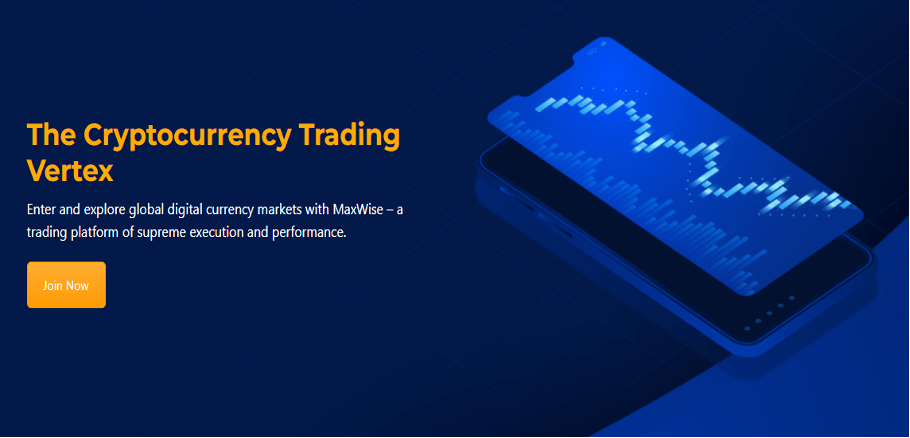 Assets
Maxwise allows users to trade various leading cryptocurrencies with a real-time market overview. The platform lists all the popular coins, such as Bitcoin and Ethereum, and several altcoins, including BNB, Polkadot, Ripple, Tether, and many more.
Moreover, the recent price changes, volume, and circulating supply of the assets are regularly updated to help the members make timely trading decisions.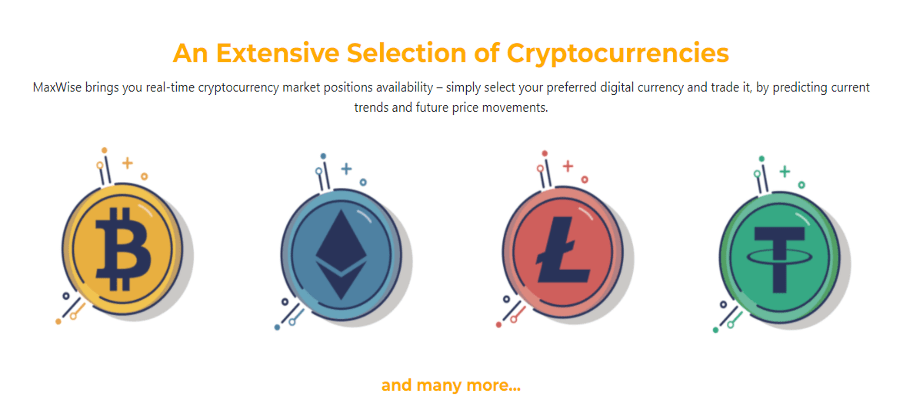 Security
Maxwise has employed a solid security framework and industry-standard protection system to cultivate a trusted and secure trading environment. The broker has implemented the Anti-Money Laundering (AML) and Know Your Customer (KYC) policies to prevent fraudulent and prohibited activities.
The platform also requires various identification documents from the members when processing withdrawal requests, to halt illegal transactions. Moreover, members are urged to use strong passwords and change them once every three months to maximize their account security.
Payment methods
Maxwise offers various payment methods, including debit/credit cards, wire transfers, and several leading E-wallets. It is noteworthy that the withdrawals are processed via the same payment method utilized for depositing. Moreover, the accounts need to be fully verified as per the KYC policy, for approval of a withdrawal.
Pros
Access to dedicated customer support 24/7
24/7 access to the crypto markets
Industry-leading security infrastructure
Various digital assets
Transparent deposit and withdrawal policies
Cons
There is a minimum withdrawal amount via a credit card/wire transfer
The educational blog has limited material
No mobile trading app
Summary
With a diverse collection of digital coins and an intuitive trading platform, the Maxwise brand stands out as an eminent cryptocurrency broker. The platform has integrated a solid security infrastructure to give users a secure approach to the digital currency markets. Moreover, at Maxwise, there are multiple payment methods, numerous tradable coins, and a reliable customer service team to boost traders' experience.