Detailed review of Milton Prime – Steps to start trading
There are many Forex brokers online offering services to traders all around the world. However, finding one that fits your needs best is not easy. One of the fastest-growing Forex brokers online is Milton Prime, which offers services to traders all over the world.
The Forex broker focuses a lot on the safety and security of its clients, which is the primary reason why it is among some of the best-performing Forex brokers in the market today. As our review of Milton Prime shows, the broker is largely focused on Forex trading. That said, the broker also offers traders access to CFDs trading.
Through CFDs, you are able to trade assets such as stocks, indices, precious metals, and many others at this Forex broker. Such a diverse amount of trading assets makes this broker a perfect choice for different types of traders. In addition to this, Milton Prime is a heavily regulated Forex broker, offering safety and security to its clients.

How are your funds kept safe at Milton Prime?
Safety and security should be your number one concern when trading Forex. The market is full of different types of scam companies that are trying to scam as many people as possible. One way to avoid getting scammed in the Forex trading market is to only trust regulated Forex brokers.
Milton Prime is among licensed Forex brokers and it actually owns licenses from two separate regulatory agencies. These two licenses make this broker a very safe place for trading. One of the licenses of the broker is from the Cyprus Securities and Investment Commission, which is the main regulatory body in Cyprus.
Simply known as CySEC, this regulatory body is one of the best-known agencies in Europe. Because of the local regulatory framework in Europe, Milton Prime is able to offer its services to the whole region with this one license. According to the MiFID II, which is a financial directive aimed at harmonizing the financial markets in Europe, Forex brokers registered in any of the EU-member states are able to offer services to the whole region.
Another license of the company comes from the Financial Services Authority Seychelles, which is the regulatory agency of Seychelles. Although it is an offshore regulatory agency, it is still very well-known around the world. One of the main reasons for it is that there are many reputable brokers registered under this regulatory agency.
What can you trade at Milton Prime?
When it comes to choosing a trustworthy Forex broker, you need to go with the one that can offer you access to numerous trading assets so that you can trade the instruments that you understand the best. There are numerous trading assets that you can trade with this broker, including:
Currency pairs
Stocks
Indices
Energies
Precious Metals
According to our review of Milton Prime, this broker largely focuses on Forex trading. This should not come as a surprise, however, since it represents the largest financial market around the world. There are millions of people trading Forex every day.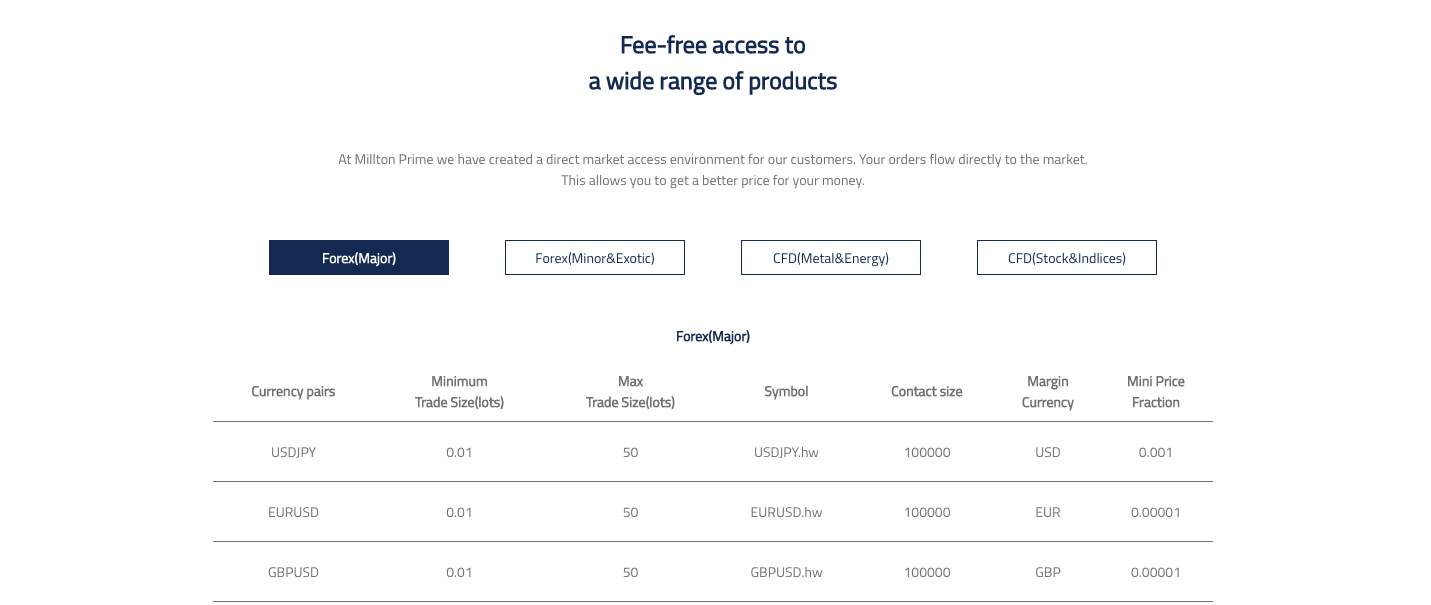 You can also invest in numerous other markets with this broker thanks to CFDs trading. CFDs are very well-known around the world and are used by millions of people to invest in different types of markets. The main reason for it is that trading CFDs is very easy.
While trading CFDs you do not have to own the underlying assets directly, rather, you are speculating on the possible price movements in the market. However, keep in mind that this does come with some risks.
Trading conditions at Milton Prime reviewed
There are many things that we liked about this broker while reviewing Milton Prime, but something that really strikes us is the trading conditions of the Forex broker. The team behind the broker has worked very hard to create a place for traders of different backgrounds, and what they came up with works very well.
The Forex broker is very generous with its leverage offering, which goes up to 1:1000. This is very high leverage and should only be used by professional traders who know exactly what they are doing. However, keep in mind that such high leverage won't be offered to you if you are trading from Europe.

According to the local Forex trading rules and laws in Europe, Forex brokers are required to limit the leverage offering to 1:30.
One thing that makes it a really great place for Forex trading is the low commissions. The broker does not charge any commissions for deposits and withdrawals. The only fee that the broker charges are the inactivity fee, which will be charged after 60 days of inactivity on your account.
As for the spreads, they are very low and largely depend on the assets that you are trading. In general, the spreads start at 0.2 pips.
Steps to create a live account at Milton Prime
Creating a live trading account at Milton Prime is very simple. However, keep in mind that it could take up to one day to get registered at the Forex broker due to the KYC procedure. The Forex broker very strictly follows the KYC policy, which means that you will have to verify your location as well as your identity.
Other than that, creating a live trading account is very simple. All you have to do is to provide personal information about yourself, answer a few very simple questions, and provide some documents for verification. After you do so, you will be able to start trading Forex with this Forex broker.
Demo account of Milton Prime
Milton Prime's review shows that the broker also offers traders access to the demo trading account. A demo account is one of the best ways to start trading Forex for a number of reasons. When you create a demo account, the Forex broker will provide you with a certain amount of virtual cash.
Although you will not be able to make any profits with that virtual money, you will be able to trade Forex and see how the market works. It is a great way to get used to the trading platform and the way price moves in the market. But, this account is not only for beginner traders.
In fact, there are many experienced traders who keep a demo account open. The main reason for it is to go back to the basics, try out different types of strategies and see what works best for you.
Trading platforms of Milton Prime reviewed
While trading Forex, you will be spending most of your time with the trading platform. Because of this, it is very important to find a broker that offers a very good working trading platform. Our review of Milton Prime shows that this broker offers clients MetaTrader 4 trading platform, which is one of the best platforms in the market today.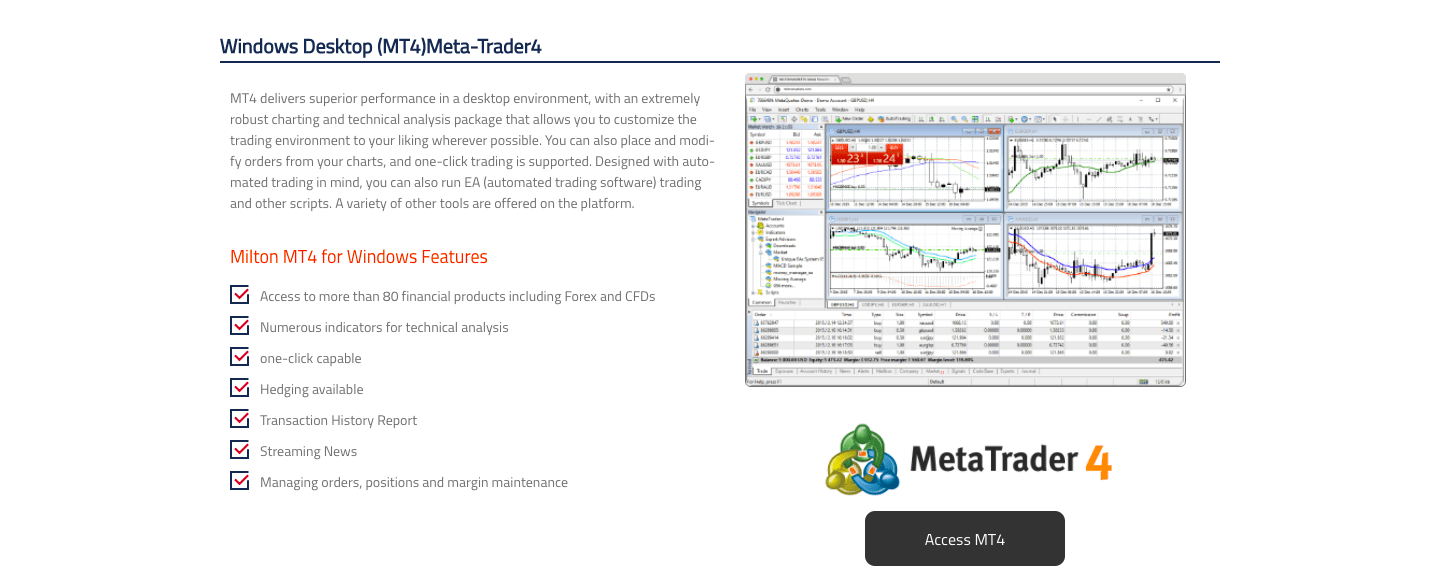 Created in 2005, MT4 has forever revolutionized the way people trade Forex. It offers you access to numerous charting solutions, including charts like Candlestick, Bar, Heiken Ashi, and many others. This trading platform also offers traders access to rumors trading indicators which can be very helpful for a beginner as well as experienced traders.
There are several different versions of MetaTrader 4 available at Milton Prime. There is a regular, downloadable version available for traders, and another browser-based one as well, which can be used directly from any browser without having to download anything.
In addition, the broker has also created smartphone versions of the trading platform for those who want to trade Forex using their phones.
So, is Milton Prime a legit Forex broker?
After reviewing this Forex broker, we are able to say that this is a 100 percent legit Forex broker. There are some amazing services that this broker has to offer to its clients. The broker is regulated and licensed by leading Forex regulatory agencies around the world, which includes European regulators.
The Forex broker offers traders access to numerous trading assets, which includes over 50 currency pairs. Because of this and many other reasons, we recommend traders using Milton Prime FX broker.