Nextmarkets review – Can this broker be trusted?

The past few years have seen a massive increase in the number of brokerages around the world. As more people are showing interest in the trading markets, more companies globally are trying to meet this demand. While some brokerages are doing this successfully, others are lacking behind. One of such brokerages is the Nextmarkets.
Although this broker has worked very hard to develop high-quality services, there are numerous problems and challenges that is facing. There are numerous disadvantages associated with this brokerage, which makes it hard for their clients to make good profits.
While the broker is regulated by the EU-based regulatory agency, its services are simply not on the same level as those of others. The Forex trading market has become very competitive over the past few years, and the services of Nextmarkets are simply not on the same level as many other brokers offer.
Today, we are going to review Nextmarkets and discover everything that it lacks to be a good broker. While it might not be a scam, there are numerous problems associated with this broker that every single trader should be knowledgeable about. So, follow our detailed guide and see what makes this broker stay behind other market leaders globally.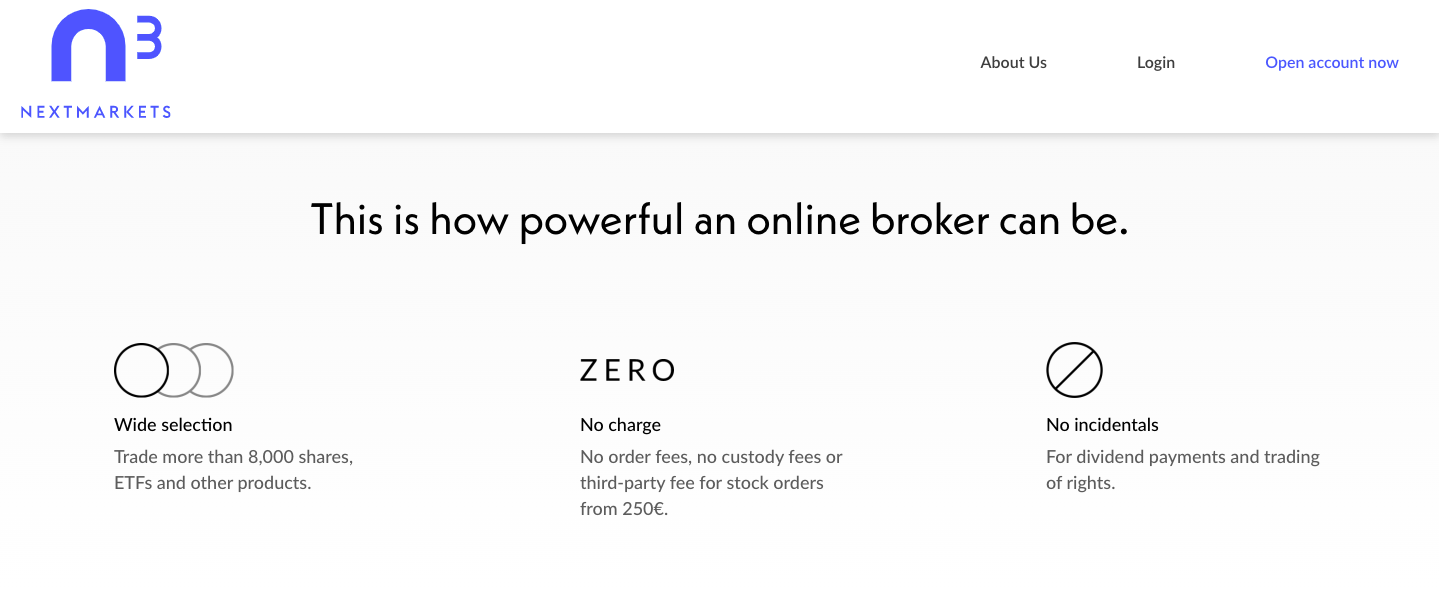 Nextmarkets – A quick overview
The team behind the broker claims to be a market enthusiast with very long experience in the trading industry. The company, according to its official website, was created to make trading easier for beginners. The idea behind this broker is to let professional traders share their experiences and knowledge with beginners.
While not the best broker, there are some advantages to this company that should not be disregarded. They have truly worked very hard to create a place that is different from the others. It offers traders something new, but is it enough? Should you give up on the Forex broker that you are using and start trading with Nextmarkets?
Well, not really. The thing about this broker is that while the idea behind it is great, the execution is not so good. There are many other brokerages available in the market that have managed to offer much better services that are a lot safer, more secure, and better tailored to the individual traders' needs.
Is Nexmarkets a regulated broker?
While Nexmarkets does have numerous disadvantages, it is a regulated broker. Our review of Nexmarkets has found that this broker has offices in three different cities of Europe, which gives it a really good representation throughout the region. Although the broker has offices in three different countries of the EU, it is only licensed in one – Malta.
While this seems to be shady, it is not the biggest problem of the broker. The regulatory body is good enough to ensure that the broker is not a scam, but it is not a guarantee of 100 percent safety of your funds. There are many better-established regulatory bodies in the EU, and it is a bit hard to understand why the broker would decide to get licensed in Malta instead of other jurisdictions, especially considering the fact that the broker is from Germany.
Whatever the reason might be, it does raise some questions which are a bit hard to answer. However, it does not mean that the broker is a scam, it simply means that it does not really offer 100 percent safety.
What does Nextmarkets has to offer?
While regulations are very important, there are other factors that should be considered by traders as well. For example, it is the services offered by the brokerage. While reviewing Nexmarkets and the services that it offers to clients, we were able to find some good, as well as bad things that should be noted.

First of all, we should talk about the available assets at this broker. While the company claims to be offering Over 1,000 ETFs, and over 8,000 shares, it does not really mention any details about it. For example, we do not know how much the broker focuses on the CFD trading, how many actual shares it offers, and how they can be traded.
Also, another shady thing about this broker is the leverage it offers. The website of the broker claims that the leverage is restricted to 1:30, according to the regulations in the EU. However, it also says that the leverage could go up to 1:200. This is a very interesting fact, how exactly does the broker offer this type of leverage? Sadly, there is no information provided about this. Due to the lack of details, numerous questions arise.
The website of Nextmarkets – Is it any good?
At first, when you go on the website of the broker, nothing seems to be wrong with it. But, after spending just a few minutes there, you will notice how bad it really is. First of all, it looks very generic and there is nothing special about it. But, that would not be too much of a problem.
The worst part about the website of the broker is that there simply is not many types of actual information available on the website of the broker that might be important for traders to know. Everything on the website of Nextmarkets is very vague and can be interpreted in all different ways by traders.
This raises a lot of questions about the legitimacy of the broker. The website should be something that the traders see first about you, so it is very important for Forex brokers to ensure that their website is good. But, this is not the case for this brokerage. In fact, the website is very laggy and lacks any actual quality. This is making it very hard to use and to find any type of information.
Trading platforms available at Nextmarkets reviewed
A very interesting thing about Nextmarkets is that it offers its own custom-made trading platform. The trading platform was created specifically for the clients of the company, and while it might sound good, it certainly is not the best trading platform that you can find.
First of all, the platform looks very generic and there is not much that you can do with it. The worst thing about this platform is that it only offers Forex traders the opportunity to do the technical analysis, there are no tools available for fundamental analysis, which is also very important for making the right decisions in the Forex trading market, or any other market, for that matter.
The broker also offers their clients a special version of the trading platform for iOS and Android devices, which is nothing new.
The broker does not offer traders access to the MetaTrader 4 or MetaTrader 5 trading platforms, which are some of the best-known and most-used trading platforms around the world. This is considered to be a huge disadvantage of the broker. If you are a trader who has experience in the trading markets, it might be a bit hard for you to get used to the way Nexmarket's trading platform works.

On the other hand, had the broker offered the MetaTrader 4 or MetaTrader 5 trading platforms, the clients would be able to easily use the trading platform and not spend too much time getting used to the new trading platform.
Is it truly commission-free?
One of the biggest selling points of this Forex broker is that it claims to be commission-free and does not charge any commissions to its clients. When we first heard it, we were very shocked. It is very hard to imagine a Forex broker functioning without charging any type of fees.
Our concerns became reality when we found that the broker is not really commission-free. In fact, it charges several different types of commissions. While spreads are not usually referred to as commissions, they still are some type of money that you pay for trading. The broker certainly charges spreads on every single trade.
Also, traders should keep in mind that for every single trade that is above 250 euros, will be charged with a 1 euro fee. The commission-free trading, as it turns out, only applies to orders that are above 250 euros. We believe that the information provided by the broker is misleading and can lead to a number of problems for Forex traders. Thus, it is very important for every single trader to understand that the broker is not actually commission-free and there are some fees that they will have to pay while trading with this brokerage.
Educational material of Nextmarkets review
Another huge selling point for this Forex broker is that it offers beginner traders the opportunity to connect with some of the most experienced traders in the industry and use their experience to grow and learn more about the market.
For a broker that claims to be worried about the knowledge and skills of their clients, the broker offers very few opportunities for learning and future growth. There is almost no educational material offered by the broker, which. is a huge disadvantage, especially today.
Majority of the well-established Forex brokers in the market offer traders very detailed education material. Some of them even offer traders special courses to help them learn more about the market and grow as traders. This is a very important factor in the financial markets. But, there is no such educational material available at Nexmarkets, which is truly a huge disadvantage.
The broker offers traders a demo account, which can be used by beginners to understand more about the financial markets and the way they work. The demo account can be used by traders to try out different types of strategies and see how useful they can be.
Account types offered by Nextmarkets
While reviewing Nextmarkets, we wanted to focus on every single small detail about the broker. We believe that it is very important for traders, especially beginners, to be offered detailed information about brokers to help them make the correct decisions.
One of the factors about Nextmarkets that we focused on a lot was the account types. Since the broker claims to be so focused on the individual development of their clients, we thought that it would have different types of accounts offered to their clients. But, the truth is that there is only one type of account available on Nextmarkets and every single trader should use it.
This was a very disappointing thing to know about this broker. Also, another huge disadvantage is that it takes a very long time to create a trading account. The broker claims that it should only take 15 minutes for newcomers to start trading, but, in fact, it takes a lot longer. This is especially true when it comes to account verification.
Another huge issue is that whenever you try to contact the customer support team of the broker, it has very hard to have any luck. The customer support team is not helpful at all, and they are very hard to get in touch with.
Is Nextmarkets a scam?
We do not think that Nextmarkets is a scam. In fact, we believe that the broker is legit. However, just because a certain broker is legit does not mean that you should go on and start trading with them. There are many other, much better brokers available in the market, and using this brokerage just does not make any sense.
Although it has grown a lot over the past few years, there are still many issues associated with this broker. It has a lot of growing to do and without it, it seems to be impossible for traders to have any success with this broker.