OboFx Review – What should you know before signing up with it?

If you consider entering the Forex market, you're going to be prepared to take a lot of precautions, be it for the trading education or the selection of the broker. The latter is no less important than the former – if you choose a scam broker, you're even more likely to lose big money.
Unfortunately, the internet is full of such brokers; they compete with one another to get as many clients as possible. But if you keep a cool head and see through suspicious offerings, you can avoid being scammed.
In this Review of OboFx FX brokerage, you're going to find out whether this broker is a scam or the real deal.
Are OboFx promotions real?
First off, let's take a look at what the promotions at OboFx look like. As we have found out, being an OboFx client unlocks the following instruments:
Currency pairs
Gold and Silver
Commodity CFDs
Indices
Even though you're getting different asset classes, these aren't the most impressive asset classes that you can get with a credible Forex broker. Besides, the actual offerings that accompany these assets are pretty suspicious, even at first glance.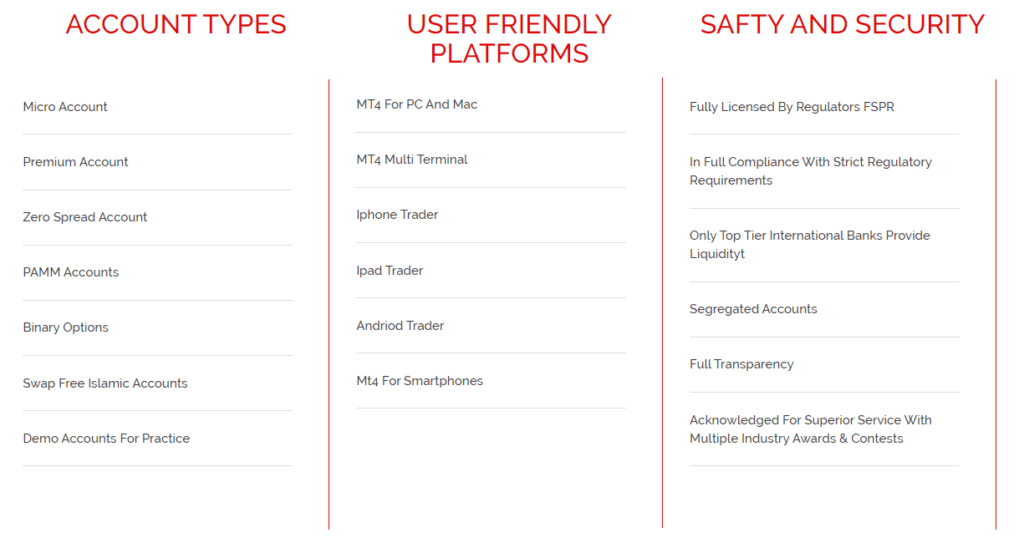 For example, the maximum leverage for currency pairs goes as high as 1:1000, which is way higher than what a decent broker should offer. The reason why our OboFx opinion is so low in this sense is that the company doesn't seem to be concerned about the dangers that come with large leverage ratios. While it certainly increases the upcoming profits, 1:1000 leverage also boosts losses by a whopping x1000 multiplication rate. This can easily destroy your whole financial account.
When it comes to spreads, the broker claims to offer you the minimum of 0 pip on bid/ask spreads. Now, OboFx also says it doesn't have other commissions on trades, which is super-suspicious as it gives us no clue how the broker funds its trading platform.
Another very suspicious condition is the minimum deposit requirement. As we've already noted, the minimum deposit for the Micro account is just 1 USD, which really lowers the entry threshold at OboFx. This may seem beneficial for novice traders but in reality, it gives them a false sense of accessibility of Forex when instead, they should be constantly warned that Forex trading requires a lot of experience and big financial commitment.
Finally, we peeked into financial platforms that power OboFx withdrawals and deposits. Unfortunately, though, the website didn't disclose much about the exact details about the transactions. The only thing we know is the actual methods:
Wire transfer
Visa
E-wallet (CashU, WebMoney, FasaPay, Ukash)
As for what the maximum withdrawal or minimum deposit amount is, we know absolutely nothing. The same is true for transaction times. In short, while OboFx may be boasting about transparency, it still fails to disclose some of the most important details.
What does the website look like?
When it comes to the online experience, we can pretty easily argue that OboFx has one of the worst websites in terms of its design. We're not sure who would be drawn to a red background of the website but for us, it is a clear sign that OboFx hasn't put a lot of forethought or effort into designing its website. The only thing it really does successfully is throw off people's attention and not let them concentrate on the actual details.
Speaking of details, we managed to mine some information about how trading is done at OboFx, such as the maximum leverage, minimum spreads, execution types, etc. however, we had many suspicions about these conditions and considered them not very transparent – these we'll discuss further down below.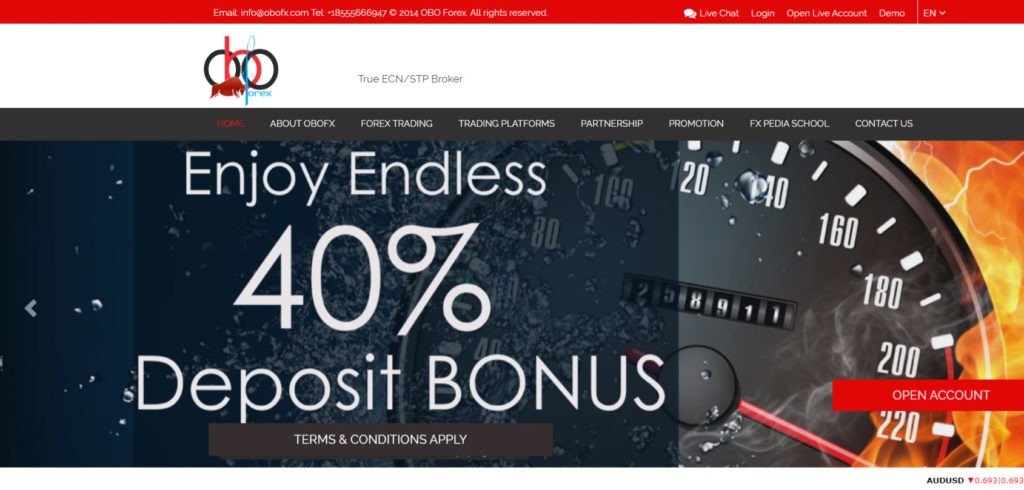 Now, let's turn our attention to which account types you can get at OboFx Forex broker. As we have found, OboFx offers four live accounts, as well as one Islamic and one demo account. The live accounts are:
Micro – 1 USD minimum deposit
CurrencyX – 500 USD minimum deposit
Premium – 1,000 USD minimum deposit
Zero – 25,000 USD minimum deposit
To be fair, these accounts are quite different from one another and at some point, justify such high minimum deposit requirements. For example, the more high-end accounts offer a personal account manager, more instruments such as oil, etc. However, there are still some similarities between them like the support of all trading platforms and significant bonus offerings.
Finally, let's take a closer look at how an OboFx user can actually trade, i.e. which trading platform powers the whole thing. This is actually one of the most intermixed areas on the website, and here's why: one area says you can trade using the OboFx MT4 with both desktop and web support, yet another area only mentions MT5 with the same setup. Since the two versions of the software aren't mentioned together, it's impossible to determine whether you can actually use one or the other.
Can OboFx be trusted with its license?
Finally, let's take a closer look at the regulatory measures at OboFx and how your funds are protected. After a quick search, we came to the very bottom of the website that points out that OboFx is registered as an International Business Company in St. Vincent and the Grenadines.
On top of that, the broker also says that it is fully licensed by the FSPR regulators – something that is supposed to convince you in the trustworthiness of OboFx but it doesn't, and we're going to explain why.
The Financial Service Providers Registration (FSPR) is nothing more than a plain registry that brings many brokerages into one place. It doesn't enforce strict financial guidelines or standards and is certainly not equivalent to a full-blown government license.
The fact that the broker tries to "sell" FSPR as a legit license further stamps our OboFx scam suspicions. It proves that the broker doesn't really care about lying, as long as it convinces people to sign up on its platform and make deposits.
Should you trade with OboFx?
As our OboFx review shows, this is a Forex trading broker that offers other assets as well. But despite this diversity, there are lots of grey areas that can make even a moderate trader suspicious.
Trading terms and conditions looked overly suspicious when we reviewed the website. The leverage at 1:1000 and spreads at 0 pip indicate that OboFx deliberately chooses extravagant offerings to attract as many customers as possible.
Then we checked out the website, which was very unwelcoming and not pleasing to the eye with its design. While the information can be found about pretty much everything, yet there were some other areas that didn't really disclose much information.
Finally, we looked through the broker's license and found that it doesn't actually have a legit license.
With all that in mind, we believe that the OboFx fraud suspicions are real and you shouldn't compromise your finances by trading with this broker.