One Royal Review – An honest broker or a fraudster?
Ask any Forex trader what their main goal is when buying and selling securities and virtually always their answer will be to get a profit. And to achieve that, they undertake serious preparations, be it mentally or intellectually. However, preparing yourself isn't enough to protect you from the beasts that roam the world of Forex.
And by beasts, we mean scam brokers that only strive to steal your money. You have to be able to distinguish fraudulent companies from those that you can trust, and in order to do so, you can delve deeper into the broker's platform and examine all of its offerings, or you can read online reviews that basically do that for you.
This One Royal review is exactly that. In it, our team of reviewers will take you through every important detail you need to know about One Royal and its offerings. Finally, you'll be able to make a distinction yourself. So, let's get started.
Initial impressions
First, before we delve deeper into the broker's offerings, let's take a quick look at what we're going to discover during our review.
So, One Royal is a Forex broker established back in 2006. During its 14+ years of operation, one would think that One Royal should have already learned its lessons to be conservative and not offer too overzealous conditions. Yet that's exactly the opposite of what we're seeing on the broker's website.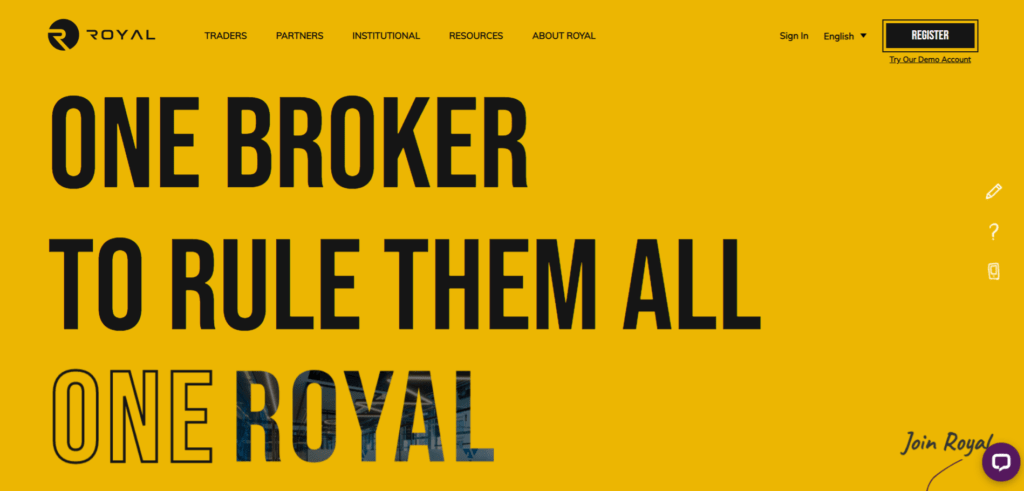 Speaking of the website, its design is, to put it mildly, weird. The yellow and black tones and fancy phrases make the user experience off the point. The main point of this website should be to convey as much information as effortlessly as possible. Yet it deliberately complicates things.
One Royal offers six account packages that are divided into two categories: Zero Commission and Raw Spread. While these accounts are certainly different from one another, the steep rise in minimum deposits from one to another account is not entirely understandable.
The last portion of our website/software review will concern the One Royal MT4 trading platform. Surely, there's nothing bad to say against MetaTrader 4 – it is a streamlined and simplistic software. Yet because of its simplicity, it's not clear-cut for trading instruments other than Forex.
After the website, we'll move to One Royal's regulation. During our review of the website, we found that One Royal proudly points out that it has licenses from Cyprus, Australia, and Lebanon. Now, if it were true and the broker indeed had these three licenses, we wouldn't have anything against it. In fact, we'd pretty much end our review, stating that you should definitely trust One Royal. However, as we'll see down below, that might not actually be true.
As the final discussion point, we'll take a look at what trading conditions look like at One Royal. We'll talk about the maximum leverage, as well as spreads and minimum deposit requirements and determine, whether these are in compliance with the regulatory guidelines of the above-mentioned licenses.
We'll end our review by taking a quick look at deposit and withdrawal methods. As we've discovered, you can only use credit cards, bank transfer, and a couple of e-wallets. This is a very limited set of financial platforms, and we'd be much more content is we saw Bitcoin or PayPal here.
A detailed Oneroyal.com review
Now, let's take a closer look at One Royal's website and software support. As we noted earlier, the interface doesn't have a very appealing design. Sure, it looks fancy and all that, but for a Forex broker, this is not a very desirable effect. A decent broker website should be as simplistic as it can get so that it conveys the information effortlessly.
Speaking of information, we should admit that the One Royal Forex broker discloses pretty much every detail about how trading is done on its platform. Yet its design choice makes things more complicated than they should be.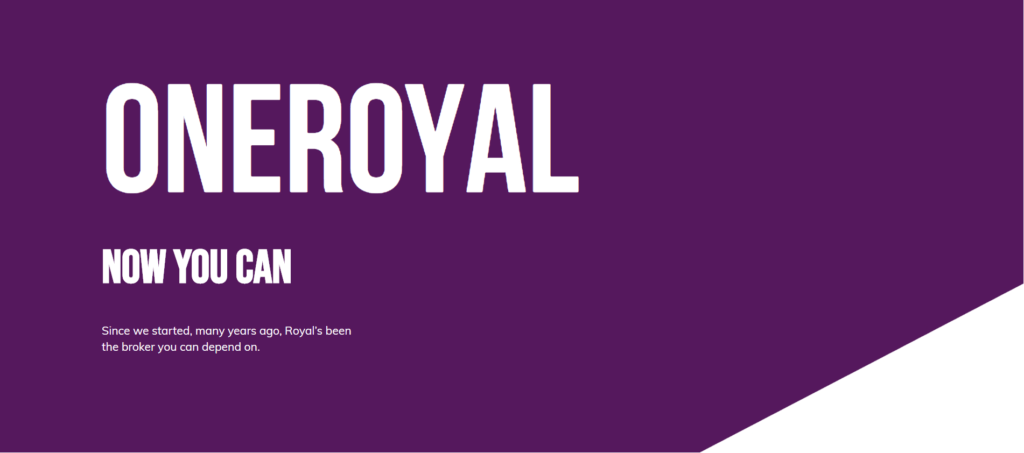 Next up, let's talk about which account types you can choose at One Royal. Currently, there are two main categories on the website: Raw Spread and Zero Commission. For each category, there are three account types:
Classic – 50 USD min. deposit
Premium – 20,000 USD min. deposit
VIP – 100,000 USD min. deposit
If you choose the Raw Spread account, you'll get 0 spreads on your trades, whereas the Zero Commission account eliminates trading fees. Now, These accounts are different on many levels, yet we don't think that their differences are enough to justify the transition from 50 USD to 20,000 USD for minimum deposit requirements.
Finally, let's take a look at One Royal's trading platform and see how it performs. As we have already pointed out, there's one software, MetaTrader 4, that facilitates all trades, whether it's Forex, stocks, or anything else. To One Royal's defense, MT4 is a great trading platform with streamlined features and an easy-to-navigate interface. However, it is not a very complex software outside the Forex market. Our One Royal opinion would be much higher if it featured MT5 or cTrader for cryptos and other instruments.
Should you believe the licensing claims of One Royal?
Moving on, let's take a look at what regulatory materials there are at One Royal. As we have already noted, the broker claims to have three licenses from three separate jurisdictions:
Cyprus Securities and Exchange Commission (CySEC)
Australian Securities and Investments Commission (ASIC)
Capital Markets Authority (CMA) of Lebanon
Again, if these licenses were really monitoring One Royal's financial activities, we would immediately abandon our One Royal fraud suspicions and believe that we're dealing with a trustworthy broker. We know that CySEC and ASIC licenses are quite powerful to punish illicit activities.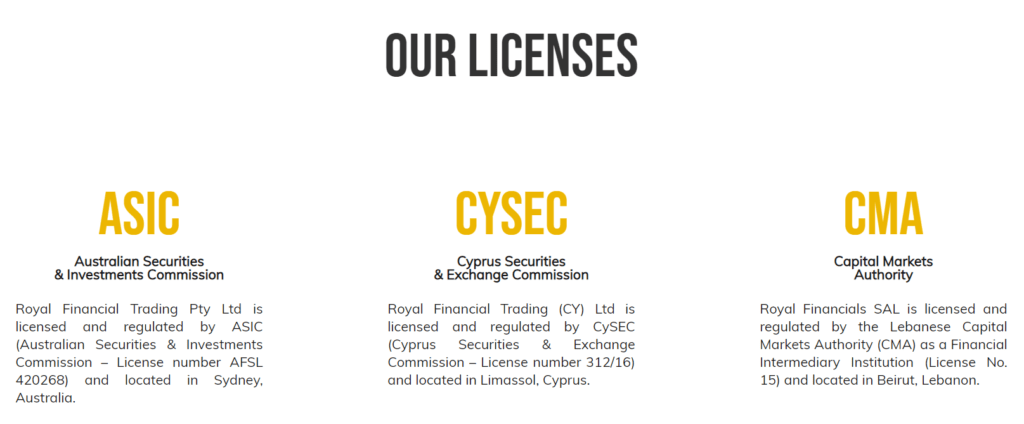 However, when we further examined the platform, we found out that One Royal is actually regulated by Lebanon's Capital Markets Authority. And this Middle-Eastern country isn't exactly a financial beacon of its region, let alone the area outside of it. That's why we don't think that the CMA license achieves much in terms of preventing One Royal's fraudulent activities.
In fact, it even helps the broker mask illegal actions. The CMA regulation acts as a cover for its schemes: people will think that because One Royal has a license, it cannot be a scam and blindly trust its offerings. And that's where all the trouble begins.
What about the One Royal promotions?
Last, but certainly not least, let's see how trading terms and conditions fare at One Royal. First off, we have to give the broker some credit for allowing its clients to trade multiple asset classes, including:
Forex pairs
Metals
Oil
Indices
Cryptocurrencies
Shares
Despite the number of tradable assets, though, our One Royal opinions are still undermined by other aspects, such as leverage and spread conditions. You see, One Royal claims to have a license from CySEC, yet it doesn't seem to concur with the regulatory requirements for the leverage. In the EU area, brokers can go as high as 1:30 with their leverage offerings, but One Royal goes up to 1:400, which is way more than the regulatory threshold and makes trading even more dangerous.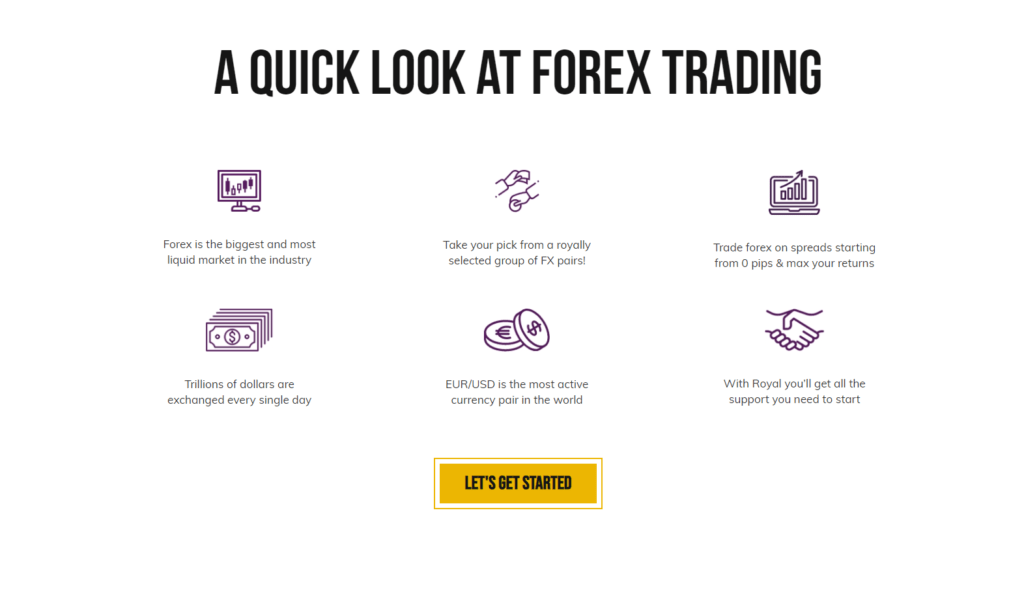 As for spreads, we have the same impression. Based on which account type you choose from, you're either charged 0 pip or 0.7 pip for spreads. Now, One Royal also stresses that it has very low or even non-existent commissions. Therefore, we thought the broker would compensate this with higher spreads to fund its platform and services. But that doesn't seem to be the case, which further enhances our scam suspicions.
When it comes to the minimum deposit requirement, we have to admit that it's pretty normal at 50 USD. Now, mind you that this is for the Standard account, yet if you decide to go for a Premium or even a VIP account, the price will increase significantly – at least by two grand! This is something that we cannot fully understand because the differences between the account types aren't that great as their prices are.
And when it comes to One Royal withdrawal and deposit methods, you can only use credit cards, bank wire, and some e-wallets (Neteller, Skrill, and OMT). In our opinion, this is a very limited number of platforms and isn't something that many traders will be happy with. It would've been so much nicer if there were PayPal and crypto payment methods.
What is the final One Royal rating?
So, this is it: the time when you and we are going to make a final decision: is One Royal a trustworthy brokerage?
Well, the broker's website doesn't exactly convey professionalism and customer-oriented service, to be fair. One Royal clearly chooses to focus more on looks rather than the internals of its platform.
When it comes to the license, One Royal still doesn't strike us as the world's most creditworthy broker because we've found that it only has a CMA license.
As for trading terms and conditions, you can clearly see that spreads and leverage ratios are bloated and do not comply with the claimed CySEC guidelines.
For all that, we think that One Royal cannot be trusted and you should find someone else to trade with.