RFXT Broker Review

The world of online trading abounds with online Forex brokers who offer impressive trading terms and conditions, while also boast with seemingly trustworthy licensing materials. Because there are so many of them on the Internet, it becomes incredibly difficult to distinguish good and credible brokers from scammers, who only want the number of your bank account.
When coming across the RFXT FX brokerage, we had the same feeling of uncertainty – just like many traders would do. Is the broker the real deal? Can we trust it with our finances? These are the questions that every trader has to ask themselves before deciding to choose a trading companion.
In this review, we'll take a close look at the RFXT broker and determine, whether it's worth your time and money, let alone safe to trade with them.
Brief outlook
First things first, let's focus on positive details about the broker. One thing that makes a good impression is how well-rounded the information is on the website. You can easily find almost any detail on the broker with a single click of a mouse.
The broker supports the most common – MetaTrader 4 – trading platform, as well as WebTrader, and mobile applications. You can literally trade from any part of the world, as long as there's an internet connection.
These are the details that are, without a doubt, real and trustworthy. Other than that, there are plenty of boastful and flashy conditions and claims that have to be taken with a grain of salt.
First off, the website again. Even though you can find almost anything with ease on the website, it still looks very complicated and stuffed with unnecessary visual effects and transitions, not to mention saturated and moody images that shift our focus to insignificant details.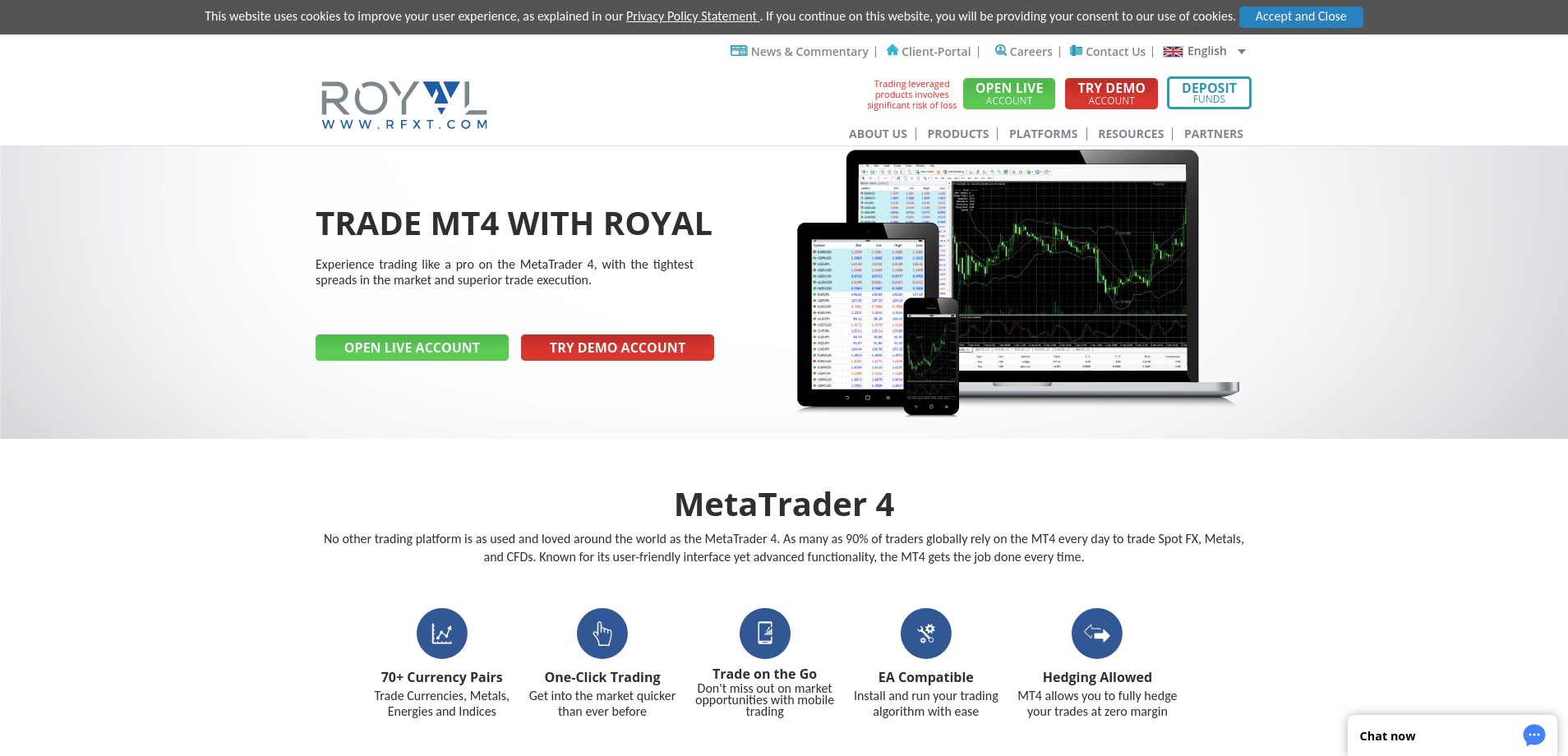 And then, there's regulation. The RFXT broker claims to have a license from the financial regulatory bodies of Australia, as well as Cyprus, and Lebanon. Now, at first this might seem legit and credible, however, when we dive a little bit deeper and consider all of the details, you'll see how many hidden flaws and blemishes there are with them.
The trading conditions and numbers are also very suspicious. We'll list them in detail down below, but for now, let's just say that they paint a picture of the lucrative trading experience with no complications. Besides, these numbers far outweigh the market average indicators which, surely, deserves a second thought.
As for the money deposits and withdrawals, the customers are limited to using only the obsolete payment methods such as wired transfer, credit/debit cards, paper checks, and e-wallet – the recent one is fairly recent, however, it doesn't come close to the alternative payment methods like PayPal or Bitcoin.
There might as well be other factors like 24/5 customer support, various awards and prizes, and diverse trading accounts, but still, to trust someone with your finances, you have to be sure they're properly regulated and don't flash tempting numbers in front of your eyes just to catch your attention.
To give a more sophisticated RFXT rating, let's dive deep into details.
Rfxt.com review
Now, let's talk about the website more thoroughly. As we've mentioned above, the website is very well separated which lets the customers easily find preferred information about the broker. However, there's one minor detail with the arrangement of the thematic tabs: the About us tab is placed the first, which is a counterintuitive move because most websites position it at the very end of the tabs. This way, the customers will find a minor dissonance with the website.
However, even in light of this streamlined approach, there's a lot more negative to say about the website. The interface is overcomplicated with lots of pictures, visual and transition effects, and too much text, that ultimately exhaust the visitors' eyes and prevent them from efficiently getting the right information.
The website features some of the most common trading platforms on the market, which is a good thing. The RFXT MT4 is sophisticated software that allows a seamless trading experience with minimized lags and interruptions. Furthermore, the broker also supports WebTrader for a simple browser trading experience, as well as iOS/Android applications because who wouldn't want to have a trading assistant in their pocket on the go?
As for the deposit and withdrawal methods, however, the broker doesn't really shine. It supports conventional payment methods like the debit/credit card transfer, as well as bank wire, e-wallet, and classic cheque. We consider this a downside because these methods have been susceptible to the security breaches and slow transaction times for quite a while now. The trading experience would be much better if RFXT had featured PayPal or cryptocurrencies.
In conclusion, the website, for us, is the most bitter-sweet aspect of the whole RFXT experience. The next chapters will be more on-point and decisive.
What it's like to trade with RFXT?
In this chapter, let's take a look at the trading terms and conditions that the broker offers. First, let's discuss the trading accounts.
RFXT features 5 trading accounts to include a diverse trading audience: Classic, Premium, Edge, VIP, and Pro 100. These various account types ensure that traders from across every experience levels will be able to either kick-start their careers, or improve existing knowledge, or ultimately gain large profits – or at least, that's the idea behind such diversity.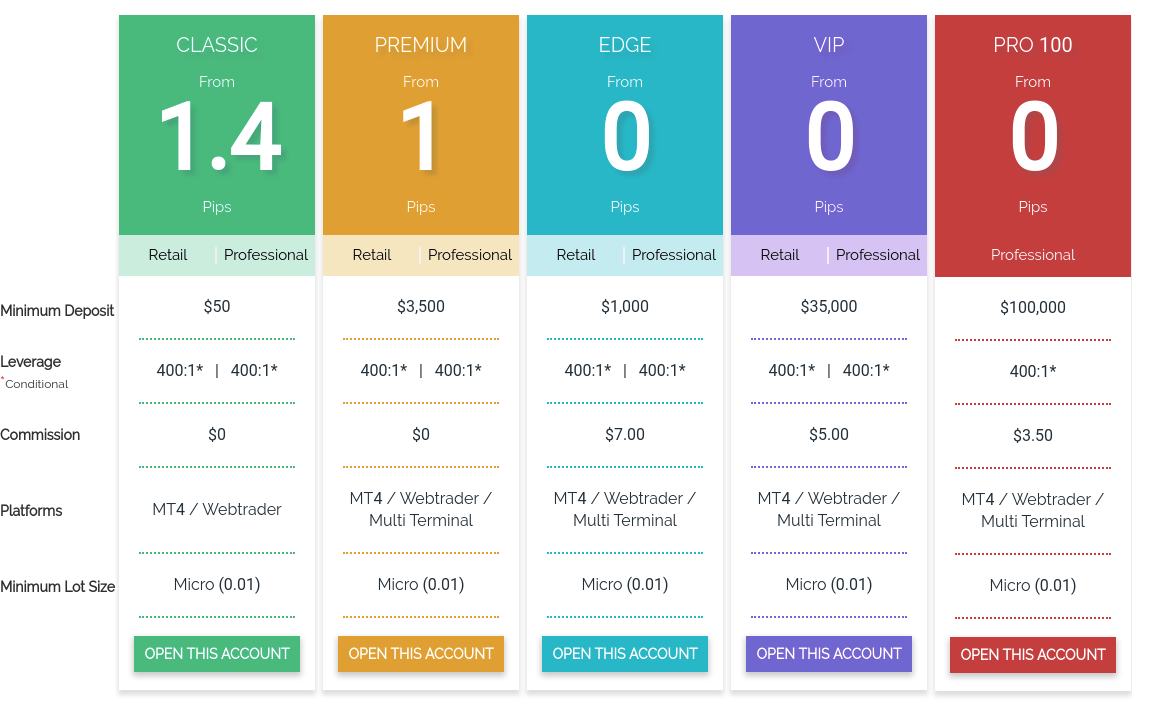 Depending on which trading accounts you choose from, you'll be subject to different conditions. But first, let's see some common offerings. All five accounts promise a very lucrative 1:400 maximum leverage. What this means is that for every dollar you deposit on the platform, the broker will add an additional 499 to increase the revenue possibilities.
All of the accounts have an MT4 and WebTrader platform support for more streamlined trading experience. And what's more, everyone can open micro-accounts and make a minimum lot of just 10 cents.
Now, let's move to the differences. The minimum deposit requirement starts from $50 dollars for the Classic account and goes all the way up to $100,000 for Pro 100. But, with the smaller deposits come larger spreads. The classic account has a spread of 1.4 pips, the premium account – 1 pip, while the rest have no spreads whatsoever.
While these numbers certainly look impressive and tempting, we have to consider one thing: if the broker is the real deal, then everything's great! You're up for a tread, as they say. But if there's a chance that these RFXT promotions are fake and the broker might be a fraud, then you should perceive these numbers as lures. The broker wants to flash beautiful numbers in front of your eyes and make you subscribe to their services. And when you do that, they'll compromise your financial accounts and stability as a whole.
You should be careful when looking at these numbers. To better distinguish scammers from the real brokers, you can look at their regulatory issues. Those can actually tell a lot.
CySEC, ASIC, CMA licenses – do they weaken RFXT fraud suspicions?
The broker claims that right after its establishment, it was licensed by three regulatory bodies: Australian Securities and Investment Commission (ASIC), Cyprus Securities and Exchange Commission (CySEC), and Banque De Liban (BDL). These claims do certainly look impressive on paper, but how they rate in the real world?
Let's consider them one-by-one. Australia is a developed country. It should be capable of closely curating the financial activities of a given company. However, the country is still located in the furthest part of the world. Besides, the country is famous for its soft gambling and trading legislation. This way, many brokerages find its legal framework pretty comfortable and flexible. We suspect that this is certainly the case for RFXT.
As for Cyprus and Lebanon, things are a bit more apparent. Both are small countries with an unstable political environment and weak governments. We strongly doubt that they'll be able to control RFXT's financial activities, let alone punish them for scams and fraudulence.
Overall, these three countries were probably selected randomly in order to fill a regulatory section of the website, when in fact, they don't really make much difference.
This RFXT scam hypothesis is further enforced by the fact that the broker doesn't mention whether it's allowed to the US territory or not. We suspect that they don't provide service to the US citizens, which leads us to believe that their activity is somewhat dubious, to say the least.

Can RFXT be trusted after all?
In this comprehensive review, we explored some of the main characteristics of the RFXT Forex broker and assessed them in terms of their credibility.
First, we visited their website which is neatly separated into thematic sections and features easily-accessible information for every user. However, the interface is so overpowered and stuffed with insignificant visual details that the website feels rather amateurish – as if it was overdone for the sake of putting as much stuff in there as possible.
The trading terms and conditions are some of the most competitive on the market. With maximum leverage up to 1:400, spreads down to 0, and the minimum deposit requirement of $50, the brokerage offers pretty lucrative prospects. However, when we examined these numbers closely and added our assessment of the regulatory remarks, it becomes more obvious – the broker wants to trick new customers into paying for its service.
Licensing also, and probably more so, proved our point that the RFXT broker can actually be a scammer. Australia, Cyprus, and Liban are not the countries capable of overseeing the financial activities of the company that operates across the globe. Their political prowess and regulating bodies simply cannot achieve such a feat.
In conclusion, we think that you should avoid having anything to do with the RFXT broker. Or at least, be extremely cautious when committing to them.