TMGM Review – Is This Broker Trustworthy?

TMGM Forex Broker is an online Forex broker providing customers with trading conditions that are powered by the industry's innovative platforms. Founded in 2013, TMGM should already be an experienced player in the industry, knowing how to treat its customers. According to their website, the company has more than 15000 trading products, 7 asset classes, and 7 top-tier liquidity providers.
As there are a lot of competitors in the industry, we decided to re-check if the facts stated on their site are actually true, so you will make the right decision about using this broker as your trading destination. If you are a newcomer to the trading industry, you should know that while dealing with online financial companies, the most important thing is if they are licensed or not, as you are going to trust them with your financial assets.
TMGM notes that it is regulated by 2 different financial jurisdictions and upon checking, we discovered that all these facts are actually true. However, the fact that a broker is regulated is not enough to trust it with your funds. We decided to continue our review to find out more about the broker.
The maximum leverage available for users is up to 1:500. Spreads may differ depending on which account you use, it can either start from 0.0 or 1 pip. The customers trading at TMGM FX Brokerage has the possibility to use two of the most popular platforms including MetaTrader 4 and MetaTrader 5. Both of these are available for desktop, tablet, and mobile devices, making it easier to access markets from anywhere at any time.
The minimum deposit amount is set to $100, which is not very excessive. We were not able to find any bonuses or promotional offers available. If you decide to sign up for TMGM you will have 2 options of account, including Edge and Classic. With these, it is possible to trade Forex, Indices, Shares, Metal, and Energies. Assets come with their own specifications, for instance, leverage may differ depending on what you decide to trade. For precious metal, the leverage is up to 1:400, while for energies it is 1:100.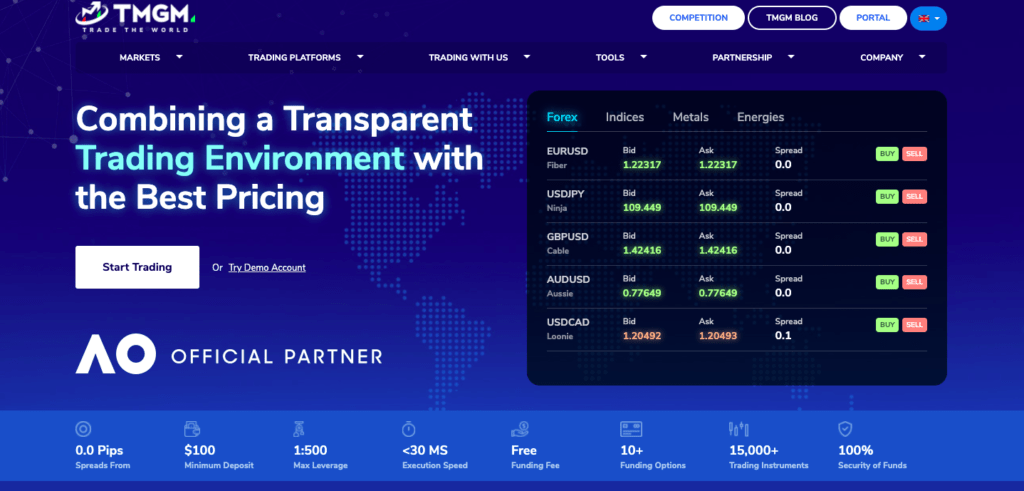 The level of support is another indicator of quality. At TMGM, there are multiple ways of contacting the support team, including the phone number and email. The VIP clients have exclusive support, however, you can only get help on weekdays, which might a minus for some traders. The live chat option is also available and if you need help immediately, then you can easily use this function and get in touch with customer service as soon as possible.
Is TMGM Legit?
Although the broker is regulated by two different entities, it is very hard to recommend its services to our readers because there were several problems that we found about the broker. Although it offers traders two different account types, there is not much that differs between these two accounts, which makes no sense.
In addition, the leverage offered by the broker is too high. Trading using such high leverage is a very risky thing to do. What's more, offering such high leverage goes against the regulations of one of the regulators of the broker, ASIC, which is creating a lot of questions.
TMGM Review – Trading Features
Having a license is already a good sign, but there are a lot of other things that one should keep in mind before going for a trading website. That's why we decided to further review trading features offered by TMGM, so you will not feel like you are missing out on something, and make the decision based on all of the valuable information that is available to you.
Leverage
The leverage offered by TMGM is up to 1:500, which can be considered high compared to the industry's average. The downhill of high leverage is that you can either land a big win or lose all your funds. The risks involved with it are worth considering, as beginners might struggle with it and their trading experience might have a bad start. It is worth mentioning that other reputable financial jurisdictions in the US and EU, restrict leverages to 1:50 and 1:30, so traders are prevented from taking high risks.
Recently, the same restrictions were adopted by Australia's regulator, ASIC. Since the broker offers higher leverage than it is allowed in the country, we believe that there might be something shady going on around the broker.
Spreads
As we already mentioned earlier in this TMGM Review, spreads might differ depending on which type of account you use. For the Edge account, the spreads start from 0.0 pips, and for the classic, it starts from 1.0 pips. We can say that this indicator is actually competitive, and the majority of reputable brokers like to keep their spreads as low as 0.1 pips.
Account Types
TMGM offers a variety of trading accounts to match different trading styles for all levels of traders – started from beginner, ended with experienced ones. You can either open edge or classic account – let's take a look at each of them.
The Edge account comes with a 7$ commission per round turn and gives access to both – MT4 and MT5 platforms. Available base currencies are USD, EUR, AUD, GBP, CAD, and NZD. There are no withdrawal fees and you can trade on 46 FX, 6 commodities, and 10 indices. As we saw, there is not much difference between classic and edge account, besides the spreads and the existence of Islamic account. The classic account also does not have a commission and comes with no additional withdrawal fees.
If you are a starter and want to try out their services for free, TMGM gives you the possibility to sign up for free for a Demo account – this means that you don't actually have to make deposits with real money, instead, you can simply use virtual money and try different trading strategies without risking any of your financial assets.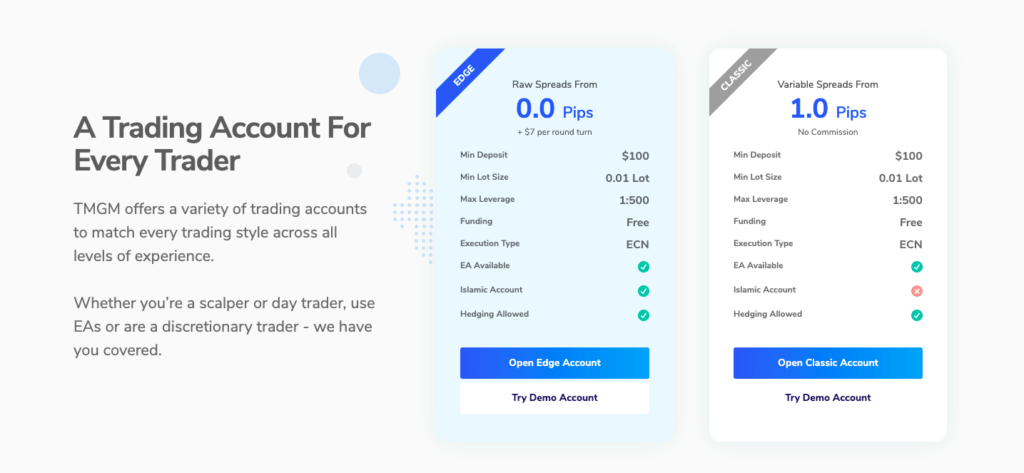 TMGM also offers an interest-free account for users that are not able to earn or pay swaps. Swap-free accounts do not pay/receive any charges on overnight positions and this option is available for Edge accounts only. It is also important to note that interest-free accounts are only available in specific countries, so make sure you check the list before deciding to sign up because of this feature.
Minimum Deposit
The minimum deposit requirement for both accounts is $100, which is not excessive, but you can definitely find other brokers where you have to fund your account with much less to start trading than TMGM offers. Basically, the average amount is somewhere between 50 and 100 USD and we can say that this indicator is normal but not very competitive.
At TMGM, it is possible to make deposits and withdrawals using different payment methods that include Visa, Mastercard, Skrill, Neteller, and many more. We were not able to discover any trace of cryptocurrencies, meaning that you can not trade them and it is also impossible to make deposits using digital coins. Considering the fact that cryptos are a quite popular and comfortable way for people to pay, not having them available might be a disadvantage to some traders. We would like to see cryptos in the list of available payment methods in the near future.
Bonuses
Some brokers use bonuses and promotional offers in order to attract new customers to their system. What bonuses do is that they add extra value to your current bankroll, giving you the chance to trade with more than was intended. However, it is important to note that the majority of reputable financial regulatory bodies restrict broker companies from attracting new users to their sites through promo codes. Right now, TMGM does not have any bonuses available. That is due to the regulations, which once again prove that the company is legit and trustworthy.
All in all, we can say that the company definitely has some good features, however, some of them do not really look attractive to us. For instance, the leverage is very high involving risks of losing money, there are commission fees for the edge account, there are no bonuses. What we are trying to say is that there are a lot of other brokers available on the market that might have better trading conditions – it is always a good idea to compare between brokers and choose the one that suits your interests the best.
TMGM – Final Verdict
Once again, we need to mention that TMGM definitely has some good features in it, and having the license is one of them. However, this alone is not enough for us to recommend this broker to you. Other trading conditions are also very important, and as we have the experience of trading on a lot of brokers, we know that it is worth your time to test out different brokers and choose the one that is worth your time, money, and attention.
FAQ on TMGM