TradeEU Review
Foreign Exchange, or Forex in short, is a huge market. It's highly liquid and active 24/5. For these very reasons, beginner investors are mostly interested in CFD trading. The first thing that needs to be done is selecting a trustworthy broker. In this review, we provide a detailed analysis and research on TradeEU Forex broker. The first thing to look for when selecting a broker is whether they are regulated. TradeEU is a regulated Forex broker operating in European countries. On TradeEU, Europeans can select and trade their favorite trading assets  on MetaTrader 5 platform from a desktop or smartphone. This means traders can use any indicator or tool they want; since MetaTrader 5 is professional trading software, it has a dedicated programming language for robots and indicators.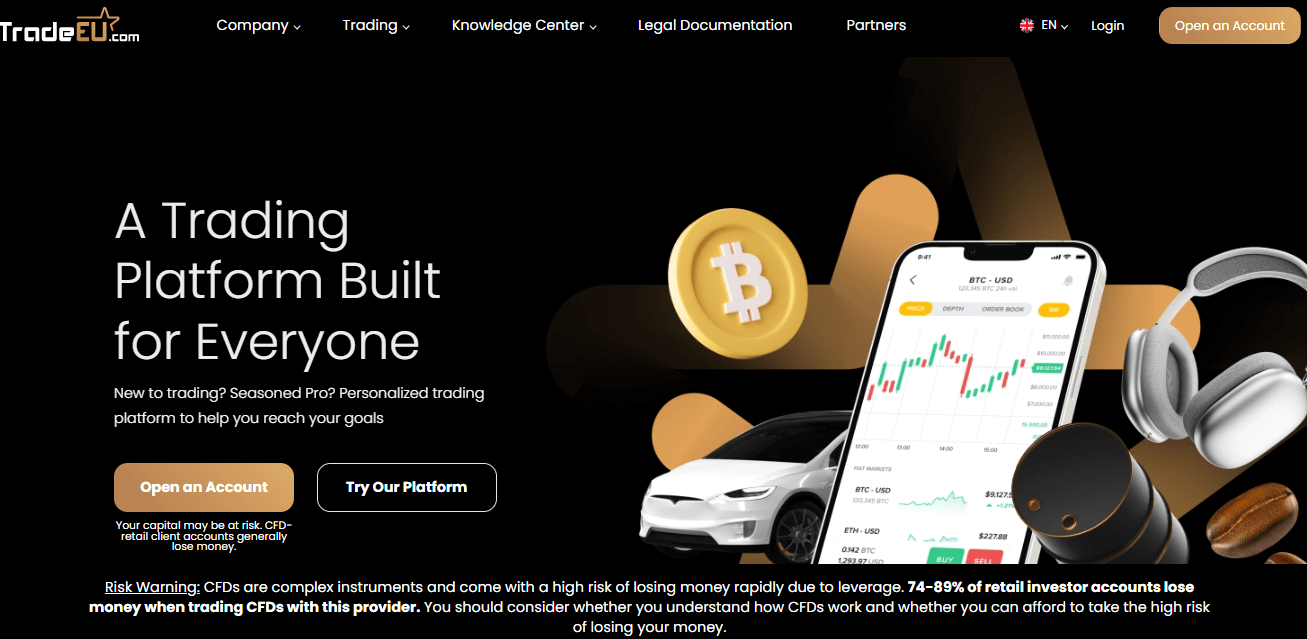 TradeEU is the trading name of Titanedge Securities Ltd. The broker is authorized and regulated by the Cyprus Securities and Exchange Commission, better known as CySEC. They got their license in 2021 and are relatively new on the market. One main advantage though, TradeEU is operating exclusively on European markets. This means that they are aiming for highly regulated markets and with their offices in Cyprus, they definitely seem committed to shining as a broker. The TradeEU website is simple and easy to navigate. Any useful information can be found with 1-2 mouse clicks. They have built a very fast and responsive website. Which makes it easy to access any feature quickly, open a trading account and start trading CFDs. The broker provides more than 250 assets for trading: Forex, Indices, Commodities, Cryptocurrencies as CFDs and stocks as CFDs.
What are trading conditions?
TradeEU offers MetaTrader 5 as its main trading platform. Users can trade from PC and smartphone with the same credentials. There are various advantages related to MetaTrader 5, the main one is the vast amounts of custom and built-in indicators. The platform also allows you to download or build your own Expert Advisor software to fully automate your trading. Both Expert Advisors and hedging are allowed on the TradeEU platform. Hedging is  one of the important trading tools that may help  limit risks when trading in an uncertain market. To explain it simply, hedging is simultaneously buying and selling the same currency pair or any instrument. Why should anyone use hedging? When traders believe that the market is going to be heading in a certain direction, they enter a trade. Sometimes markets tend to go in the opposite direction of the trade before they reverse to the desired direction. In this case, some professional traders are limiting their trading risks by hedging the asset against certain news announcements. When the threat is gone, hedging orders get closed.  . With TradeEU, using hedging strategies is allowed on all three account types.
The minimum starting capital is only 250 Euro, which adds to TradeEU's flexibility. Users can deposit money using Visa, MasterCard, or Maestro cards, or via Bank Wire transfer.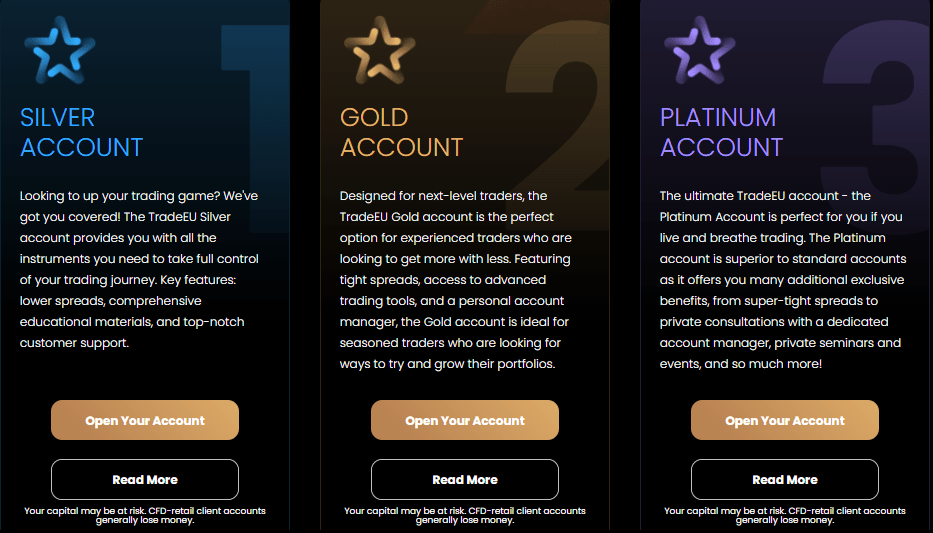 They offer 3 types of accounts, Silver, Gold, and Platinum. These account types all have many similarities and offer all basic trading features. The main difference is in spreads and account manager support. Below are the list and details for each account.
Silver – spreads start from 2.5 pips. Minimum volume 0.01. No account manager. 24/5 support.
Gold – spreads from 1.3 pips. Dedicated account manager and support 24/5;
Platinum – spreads from 0.7 pips. Dedicated live support and account manager.
The spread and dedicated account manager and live support are the only difference between all three account types. Other key specs are the same. All three offer 250+ instruments for trading. Stop out level is 50%, as per regulations, so take this into account and always try to minimize risks of loses with a proper stop-loss strategy. Since the only main difference is spread, traders should select account types depending on their trading style and preference.
Trading platform and automated trading
TradeEU offers MetaTrader 5 to their clients as the main trading platform. Anyone who is not familiar with MetaTrader 5 should know that this is the most comprehensive and professional multi-asset trading platform on the Forex market. It offers a vast number of indicators and Expert Advisors. Traders can download free robots and custom or build one for themselves.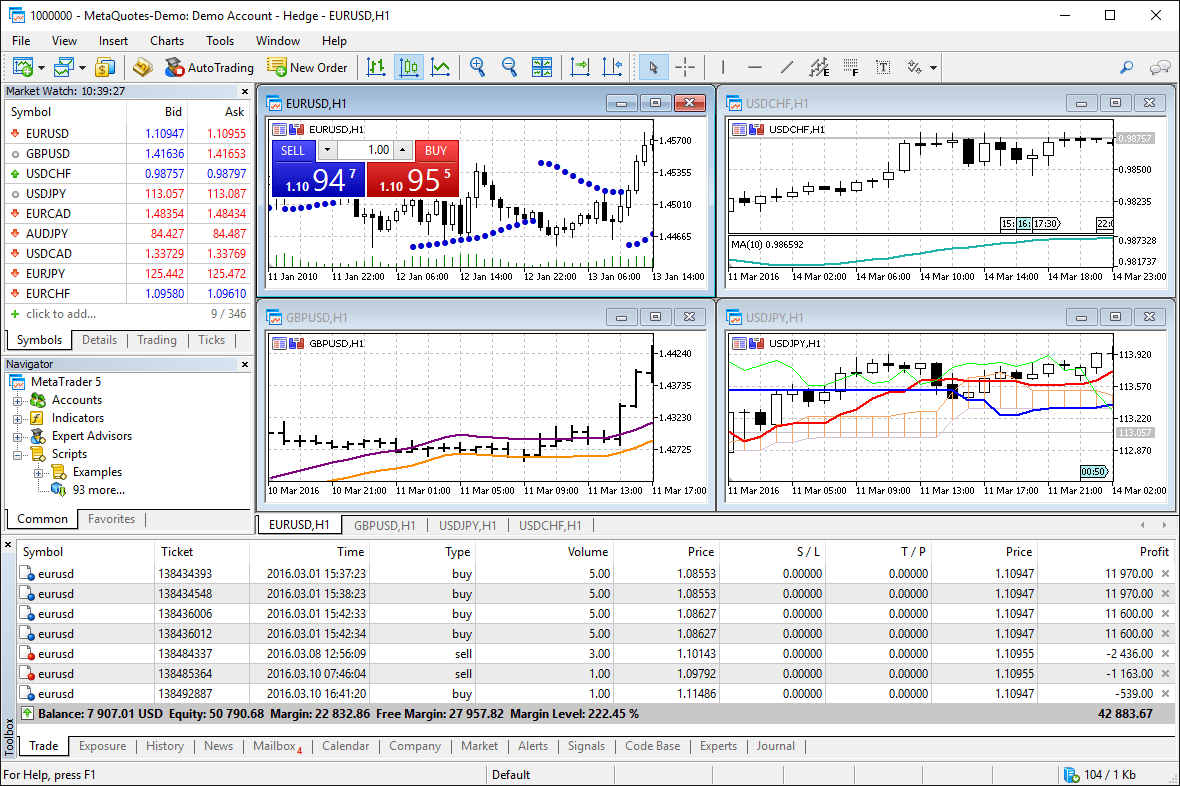 It has a dedicated programming language called MQL5. Which is constantly updated and perfected.
There is no trade copying service as of now, as TradeEU is relatively a new broker. But they allow trading robots and hedging. This gives traders the ability to reduce risks or time needed to trade. Depending on the account type it is possible to get low spreads which may greatly assist in intraday trading activities.
Trading instruments
It is important for traders to be able to select and trade their favorite trading instruments. TradeEU offers 250+ Currency Pairs, CFDs, Indices, Metals, Commodities, and Stocks as CFDs. The maximum available leverage is 30:1 for retail clients, which lowers traders' exposure to risks because they cannot amplify their buying power more than 30 times. Actually, professional traders prefer trading using low leverage. The right way to trade is to have atrading edge, for instance, you can spread out your risks on many trades, and let that edge generate potential returns . Well-regulated brokers offer low leverage to protect their investors.
Partner program
TradeEU has a dedicated partners' page button on its website. They offer maximum advantages and benefits to their partners. Generous commissions for  affiliate partners. Real-time tracking and analysis tools, Full marketing kit, Fast and secure payments, Real-time performance tracking, and Tech Customer support for partners. It is simple to register as a partner and start earning money. There is a registration form available on their website for this purpose. TradeEU promises to support partners with industry-leading tools, advanced data feeds, and customized links. TradeEU focuses on their clients and partners long-term success, as it offers returns for them, too. This is a positive sign as they seem to care about their traders being successful and profitable. This further decreases the chances of them being a scam broker. Payments methods are the same as with trading deposits.
Conclusion
TradeEU is a regulated Forex broker which offers 250+ trading instruments that include: Forex, Indices, Commodities, Cryptocurrencies as CFDs and stocks as CFDs. The broker got its CySEC license in 2021. The minimum starting capital is only 250 Euro and the account base currency is in EUR. Deposits are made via either card or wire transfer, withdrawals are made with the same methods as deposits. The broker offers its services exclusively to European customers. There are three account types to choose from after registering and verifying an account. The main difference between each type is in spreads and live account manager support. None of the three accounts charge commissions, but there are spread markups. Trading fees are low compared to the industry. They offer daily analysis and other training tools to their clients. The website is responsive and easy to use. TradeEU doesn't have live-chat support for everyone , only Gold and Platinum account holders can use the feature. They can be contacted via email or phone and seem knowledgeable and friendly. The main trading platform is MetaTrader 5 and traders can use it on a Desktop or android.