Can TraderUR be trusted or is it another scam broker?

TraderUR is a broker that markets itself as the crypto and CFD broker. While it is not a long time since the broker is operating on the market it has a well-established reputation among the CFDs and crypto traders community. The broker has a unique approach to the trading experience and offers services designed for traders with various experience and knowledge levels. As the broker itself claims it is striving for building a community of the confident traders and hence, provides multiple opportunities to its customers to educate themselves and understand the financial market better. Yet the broker is not widely known and hence, many traders might be interested is TraderUR legit or a scam broker? This review will discuss the offerings and the service of the broker to see if the broker can be trusted or no.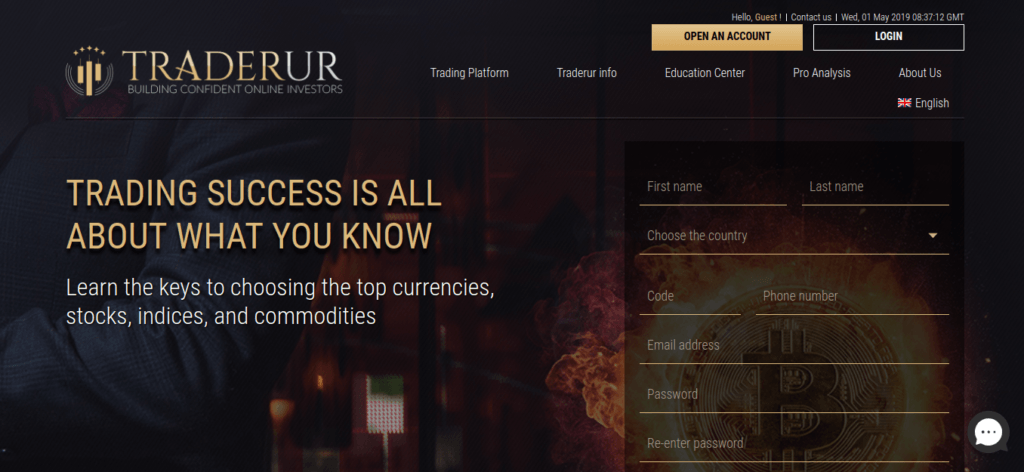 What does the broker offer
TraderUR offers to trade with over 200 trading instruments from different asset classes. One can find some of the most popular cryptocurrency pairs, currency pairs, and CFDs on commodities, stocks and indices. The choice is quite broad and gives the possibility to the traders to try multiple trading instruments and see which one works best for them. TraderUR offers its own webTrader platform for trading. It is convenient to use and can be opened with multiple devices as long as it has an internet connection. The platform offers an intuitive design and navigation which makes it easy for use by the beginner traders.
Another thing to be mentioned separately is the educational content on the website. TraderUR.com review can be helpful especially for the beginner traders since the broker offers various content for education. Most of the content is readily available for the visitors, some of them are only accessible for those who open an account with the broker. The broker has an educational centre where one can find ebooks about trading, videos and courses, analyst blog, and chart analysis videos. TraderUR also has helpful content for traders, for example, Forex glossary, Aset Index, and news articles that are daily updated. It also offers webinars, that are only available for the customers of the broker. Another thing that raises up the TraderUR rating for us is that the broker describes all of the features in details. Traders are able to get all the related information about the trading, services, terms and conditions of trading with the broker and etc. The FAQ section is designed very nicely as well and answers all the possible questions. In case the trader will not find the information needed, the broker has an online chat that is readily available for the visitors.

TraderUR account types
Traders who want to register with the broker have a choice between three account types – Self Manage, Gold and Platinum. There is a big difference between the accounts in terms of the minimum deposit and features that come along the account.
Self Manage Account
This is the standard account that offers minimum features to the traders. It has the lowest minimum deposit of 250 EUR and offers leverage up to 1:100. Those with this account will have access to all trading assets, market reviews and trading central research.
Gold Account
One can open a gold account with the minimum deposit of 10,000 EUR and use the leverage up to 1:200. Apart from the standard features that come with the self-manage account, the broker offers TraderUR bonus, dedicated account manager, financial planning, risk management planning and monthly webinars.
Platinum Account
The customers of platinum account have some additional advantages such as private analyst session, priority withdrawal, trading signals and weekly webinars. The minimum deposit required for this type of account is 50,000 EUR and it comes with the leverage up to 1:300.
VIP Account
Besides these account types mentioned above, the broker offers a VIP account. It cannot be attained by any trader that desires to have it and is up to invitation only. Those who will be granted VIP status will have unlimited access to webinars, an invitation on VIP events and leverage as high as 1:400.
While some of the account types require high minimum deposit it is good that the broker offers different choices and customers can open which one is better for them based on their requirements and trading budget.
Deposit & Withdrawal
Another important thing to review is TraderUT withdrawal and payment methods. The payment method trades can use is credit/debit card, wire transfer or might deposit funds with Bitcoin. The same payment method should be used for cashing the money. The minimum amount one can withdraw is 30 EUR/GBP/USD, the maximum withdrawable amount is 300 EUR/GBP/USD. There is a small withdrawal fee that the broker charges per withdrawal which is 1% of the money cashed out. Withdrawal fees are never something that one might welcome, however, the maximum fee charged per withdrawal is 3 EUR/GBP/USD only.
Can TraderUR be trusted?
The TraderUR review proved us that the broker is legit and offers a good service to those who prefer trading CFDs. It has a good selection of trading instruments and well-designed service for traders. The broker does not market its services aggressively and from the website, you can understand that the broker is mostly focused on educating its community of traders rather than trying to lure customers into investing more. This alongside other features of the broker excludes TraderUR scam possibility and makes us confident to conclude that TraderUR can be trusted.
1.7

out of

5

based on

4

reviews.
Overall rating:
Problem with withdrawal
★☆☆☆☆
Am trying to withdraw money from the account for ten days already but they still have not approved my withdrawal, hope I will not get scammed but after reading reviews I doubt it
"
Liars !!!
★☆☆☆☆
They lie to the customers on every step, I had an account for two weeks only and got fed up with their lies and scam
"
My friends got scammed by TradeUR
★☆☆☆☆
Don't believe anyone who says this is a good broker. It is an absolute scam, they scammed my friends and thanks god it was before I opened an account with them
"
Good broker
★★★★☆
Started trading with TradeUR recently, so far so good! Everything goes smoothly and I got access to the educational materials that help me a lot!
"